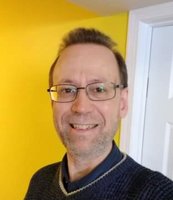 David Denton
David Allan Denton passed away at Lloydminster Hospital, Lloydminster, Saskatchewan, April 25, 2021 at the age of 57 years.
David was born on August 18, 1963 in Regina, Saskatchewan and is the fourth sibling of twelve. As a youngster David was a very gifted model builder. David was very proud of his electric train sets, and was an avid collector and history buff. David loved children and they loved him. David spent many hours providing childcare and taking care of the home after our mother passed away at the age of 53. He also provided frequent caregiving for his siblings' children and grandchildren over the years, in particular for Sandra because he lived in her home and cared for Jacob. David helped with the care of our father as well until his passing in June of 2019 at the age of 94. David was an avid walker and was involved in the community through the Olive Tree charity in Lloydminster. David was a Christian and was an active member of the Christ-Committed Community Fellowship. This is where he spent many hours engaged in church activities including singing in the Praise and Worship Band. David continued his caregiving profession with church members, particularly one family who he lived with for a time.
David was a compassionate, gentle, quiet, private soul and was also a knowledgeable, animated conversationalist when the occasion arose. David, will always be remembered for his easy smile, laugh and witty humour. David faced his recent diagnosis with courage, dignity, and grace, always thinking of other's needs first right to the end. David will be sorely missed by all those who knew and loved him.

David is survived by: siblings; Rob (Marian) McMahon and children, Jill and Steve; Marla (Robert) Rauser and children, Claire (John) and their children, Sophia and Isabelle, Emma (Zach), Kathleen and her son, Josiah, Hannah (Vincent) and Adam; Kevin (Miriam) Denton and children, Cory (Kyla), Tyler (Brianna) and their children, Benjamin and Gabriel, Jessica (Mike) and their children, Jacob and Jonah; Jim (Lillian) Denton and children, Michael (Amanda) and their children, James and Frankie, Stefanie Denton and her daughter, Lila, and Claire Denton; Sharon (Blair) Erhardt and children, Kyle (Laura), Sean and Ella; Heather Kambeitz and children, Brittany, Logan, Savannah, Evan, Kieran, Kelton and Isaac; Kenneth Denton; Sandra (Nick) Anderson and children, Emily (Liam), Maryanna and Jacob; John (Mary Ann) Denton and their son, Jason; Jeff (Alexis) Denton and children, Chistopher, Talia and Keira; Lindy (James) Denton, and their children, Roland and Sophie.
David is predeceased by: his parents, Louis & Claire Denton.
The Funeral Service for David will be conducted from McCaw Funeral Chapel, Lloydminster, Alberta on Thursday, May 6, 2021 at 2:00 PM. Due to the current restrictions the service will be by invitation only.
Donations in memory of David may be made to The Olive Tree.