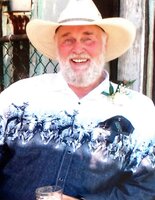 Karl Moffat
Karl Kenneth Moffat passed away in Lloydminster, Saskatchewan, surrounded by his family, on Sunday, October 3, 2021 at the age of 85 years.
Karl is survived by: his loving wife, Eva Moffat; children, William Moffat, Karl Moffat and Melissa Milos; 16 grandchildren; 22 great grandchildren; and numerous nieces, nephews and other relatives.
Karl was predeceased by: his son, Rodney Moffat; parents, William J. Moffat and Marjorie E. Moffat; and sisters, Sally-Anne Chapet and Billie Jane Marquis.
Karl lived a full life on his own terms. Serving 31 years in the Windsor Police Service, he retired to many new adventures, including Bible College, serving as a Missionary to children and youth, raising his many grandbabies, fulfilling his dream of owning his own ranch and cattle, and never giving up his passion for advanced marksmanship. He loved his ranch in Quesnel, BC and it's where his heart remained. He truly was our "John Wayne". In his final years, he relocated with his wife Eva to Lloydminster, AB to surround himself with all his many great-grandchildren, always eagerly anticipating each new arrival.
Karl loved the Lord God and his favorite passage of scripture was John 3:16. He loved his family dearly and was a wonderful Grandpa and Great-Grandpa. Karl loved his wife Eva beyond all measure; doting on and sweet talking her faithfully for 64 years. He showed us all how a kind, loving husband could be.
Never short of love, he had a soft spot for his puppies and seemed to always be collecting new furry friends. He was a giant of a man both in stature and heart, determination and integrity, honor and love. He was our gentle giant.
Most importantly, he was a Godly and righteous man; having a kind heart, a wealth of patience and a steadfast character. His eternal soul has passed into Glory, in the presence of his Saviour Jesus. We look forward with confidence and anticipation to the day when we are re-united.
The Funeral Service for Karl will be conducted from New Life Community Church, Lloydminster, Saskatchewan on Wednesday, October 13, 2021 at 2:00 PM. The service will be live streamed and posted on Karl's obituary at the time of the service.
Donations in memory of Karl may be made to the Heart and Lung Foundation.