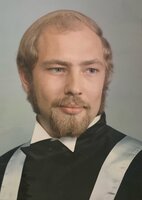 Donald Walker
Donald Wayne Walker of Lashburn, Saskatchewan passed away unexpectedly on October 1, 2021, just days after his 69th birthday.
Donald is survived by several loved ones in his life including: two sons, Devon Walker and his wife, Pam and Warren Walker and his wife, Christa; daughter, Mandy and her partner, Claudiu; seven grandchildren, who he was known to as 'Poppa Don'; his older sister, Lorna Schwartz (Walker); his older brother, Larry Walker; and numerous nieces, nephews and extended family.
Donald is predeceased by: his parents Daniel and Leona Walker (Roth).
He was the kindest, hardest working, and most caring person. He will be incredibly missed
The Memorial Service for Donald will be conducted from Lashburn Community Hall, Lashburn, Saskatchewan on Wednesday, October 13, 2021 at 2:00 PM. If you are unable to attend, you may view the live streaming of the service which will be posted on the McCaw Funeral Service website under Donald's obituary at the time of service.
Donations in memory of Donald may be made to donor's charity of choice.