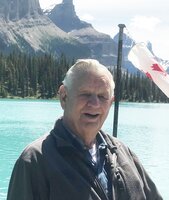 Ronald Byers
Ronald George Byers passed away at Lloydminster Hospital, Lloydminster, Saskatchewan, October 5, 2021 at the age of 86 years.
Ronald is survived by: two daughters, Bonnie Byers and Brenda (Richard) Carroll; one son, Jim (Shannon) Byers; six grandchildren, Christa Lubianesky (Paul Kiat), Bryan (Jennifer) Olsen, Jordan (Amber) Byers, Joshua Byers, Logan Kohlman, and Justin Byers; seven great grandchildren, Brooke Gazdag (Bethany Pritchard), Ava Gazdag, Autumn Olsen, Leah Olsen, Sarah Olsen, Isla Kiat and Mateo Kiat; and numerous nieces and nephews.
Ronald is predeceased by: wife, Lila Byers; grandson, Braydon Lubianesky; and his parents, James and Ruth Byers.
The Memorial Service for Ronald will be conducted from First Baptist Church, Lloydminster, Saskatchewan on Thursday, October 14, 2021 at 1:00 PM. If you are unable to attend, you may view the live streaming of the service which will be posted on the McCaw Funeral Service website under Ronald's obituary at the time of service.
Donations in memory of Ronald may be made to Thorpe Recovery Centre.