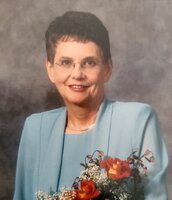 Gail Trimble
Gail Margaret Trimble passed away at Lloydminster Hospital, Lloydminster, Saskatchewan on Monday, October 11, 2021 at the age of 76 years.
Gail is survived by: her loving husband, Brian Trimble; son, Dave (Lynda) Clark and their daughter, Katie; son, Daren (Donna) Clark and their family, Mitchell, Brayden (Leah) and Sherrissa; daughter, Doreen (Dean) Haaf and their children, Kaybrie (Steven) Middleton, great granddaughter, Carolyn Middleton; Cole (Jessica) Haaf; Brian's children and grandchildren; siblings, Dorthy Lane, Marlene (Allan) Whyte, Karen (Wes) Mah, Randy (Debbie) Waldron and Jim (Jessie) Waldron; sister-in-law, Pam Waldron; and numerous nieces and nephews.
Gail was predeceased by: her parents, George and Arabella Waldron; brother, Rick Waldron; and brother-in-law, Allen Lane.
A public visitation will be held at McCaw Funeral Chapel, Lloydminster, Alberta on Friday, October 15, 2021 at 7:30 PM.
The Funeral Service for Gail will be conducted from McCaw Funeral Chapel, Lloydminster, Alberta on Saturday, October 16, 2021 at 2:00 PM. The service will be live streamed and posted on Gail's obituary at the time of the service.
Donations in memory of Gail may be made to Pioneer House Comfort Fund.