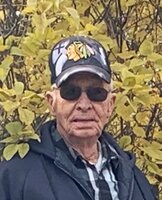 Bud Graham
It is with heavy hearts that we announce the passing of, William "Bud" Graham who passed away in the Turtleford Hospital, Turtleford, Saskatchewan, November 20, 2021 at the age of 82 years.
Bud is survived by: his loving wife, Bev, of 61 years; two daughters, Laurie (Trevor) Kostiuk and Lynda (Brian) Letwin; sister, Sharon (John); six grandchildren, Kyle (Kelly), Janelle (Kayde), Sydney (Colton), Darien (Devon), Hunter and Phoenix; two great grandchildren, James and Aiden; brother-in-law, Jerry; and numerous nieces and nephews.
Bud is predeceased by: his son, Lennie; parents, Joe and Sophia Graham; sister, Betty; father-in-law and mother-in-law, Sam and Jean Bonner.
Bud's wish was to have a private family service held in his memory.
The Graham family would like to say a special thank you to Dr. Latif and the entire nursing staff at the Turtleford Hospital for all the loving care they provided for Bud.
In lieu of flowers, donations in memory of Bud may be made to Alzheimer's Society or donor's charity of choice.