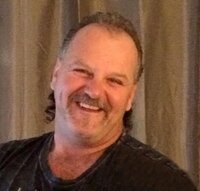 Alan Herle
Alan Matthew Herle passed away at Maidstone Health Complex, Maidstone, Saskatchewan, November 18, 2021 at the age of 56 years.
Alan is survived by: daughter, Casey (Nathan) Blanchette; two grandchildren, Knightley and Drew Blanchette; girlfriend, Susan "Molly" Turner; sister, Nicole Herle Moore and husband Dave, and their family; step-father, Bob Miller; step-sisters, Barbie, Misty, Cindy and all of their familes; step-brothers, Randy, Robbie and all of their families.
Alan is predeceased by: his father, Albert (Kathy) Herle; mother, Lena Miller.
A private family service will be held.
Donations in memory of Alan may be made to charity of choice.