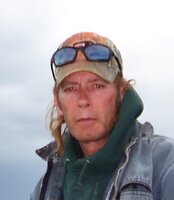 Darren McEachern
Darren Bruce McEachern passed away at Riverside Health Complex, Turtleford, Saskatchewan, December 6, 2021 at the age of 59 years.
Darren is survived by: two sons, Cory McEachern and Quinten McEachern; two daughters, Justine (Robert) Richard and Emma McEachern; sister, Marcelin McEachern (Darin Cressman); brother, Ross McEachern; friends, Holly Schneider and Sheldon Gardiner; and nephews, Sean Clarkson and Jack Munro.
Darren is predeceased by: his parents, John and Helen McEachern; and brother, Brett McEachern.
No Service will be held at this time.
Donations in memory of Darren may be made to Lori Craven Memorial Fund.