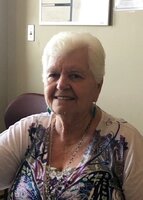 Mary Nolin
Mary Bridget Nolin passed away at Maidstone Health Complex, Maidstone, Saskatchewan, January 13, 2022 at the age of 83 years.
Mary is survived by: children, Rox (Janice) Nolin, Rhonda (Doug) Dudar, Greg (Deborah) Nolin, Brent (Mamie Boyer) Nolin, Cory (Tarja) Nolin, Anthony Nolin and Bridget Nolin; and numerous grandchildren, great grandchildren, nieces and nephews.
Mary is predeceased by: her husband, Tony Nolin; son, Fayne Nolin; daughter-in-law, Sherry Nolin; and parents, Jacob and Amelia Blatz.
A Private Memorial Service will be held at a later date.
Donations in memory of Mary may be made to Alzheimer's Society of Alberta.