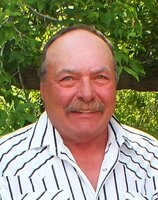 Randy Belliveau
Randy Robert Belliveau passed away at Lloydminster Hospital, Lloydminster, Saskatchewan, January 17, 2022 at the age of 64 years.
Randy is survived by: his loving wife of 39 years, Brenda Belliveau; son, Shane (Alicia) Belliveau; daughter, Jacqueline (Bill) Senchuk; grandchildren, Alexis, Jaxon, Claire and Kaitlyn; mother, Marion Belliveau; brother, Wendall (Lori) Belliveau and their children, Robert, Samuel and Sidney; brother-in-law, Bill (Judy) Krips and their children, Michael and David; and numerous extended family.
Randy is predeceased by: his father, Robert Belliveau.
A Celebration of Life for Randy will be held at the Stockade Convention Centre, Lloydminster, Saskatchewan on Wednesday, January 26, 2022 at 2:00 PM.
Donations in memory of Randy may be made to donor's charity of choice.