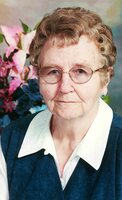 Lorraine Villeneuve
Lorraine Villeneuve passed away at Pine Island Lodge, Maidstone, Saskatchewan, April 23, 2022 at the age of 89 years.

Lorraine was born to Alfred and Mary Langevin and was raised at Half Moon Lake. Shortly after graduation she taught for three years in a one room schoolhouse. Lorraine married Alphonse Villeneuve in 1952 and they lived in the log house at the Villeneuve homestead. Eventually they built their own house on the farm, where they began raising their family. In 1991, Lorraine and Alphonse moved to Paradise Hill and they continued to help at the family farm. Years after Alphonse's passing, Lorraine moved to Heritage Homes and then to the Paradise Hill Care Home where she has resided for the past four years.

Lorraine was a lady with many passions and hobbies. She loved spending her time outdoors tending to her yard. When she was living on the farm, she would grow 1500 hills of potatoes. When she was not outside, she would be inside crafting, playing cards or visiting with friends and family. She loved knitting, crocheting, needlepoint, scrapbooking, playing cards, playing bingo, baking, fishing, traveling and cuddling with cats.

Lorraine is survived by: her three children, Blanche Villeneuve, Judy Zeller and Daniel (Cindy) Villeneuve; grandchildren, Tyson Villeneuve (Katie Barron), Kelsey Villeneuve, Nicole (Shannan) Brodbin, Josh Zeller, Justin (Lucy Sun) Villeneuve and Elysha Villeneuve (Dan Wakefield); great grandchildren, Kingston, Kacen and Emersyn Brodbin; brother-in-law, George (Lila) Villeneuve; sister-in-law, Marg Riesach; as well as numerous nieces, nephews and extended family.
Lorraine is predeceased by: her husband, Alphonse Villeneuve; parents, Alfred and Mary Langevin; and brother, Lawrence Langevin.
The Prayer Service for Lorraine will be conducted from Our Lady of Sorrows Roman Catholic Church, Paradise Hill, Saskatchewan on Friday, April 29, 2022 at 7:00 PM.
The Mass of Christian Burial for Lorraine will be conducted from Our Lady of Sorrows Roman Catholic Church, Paradise Hill, Saskatchewan on Saturday, April 30, 2022 at 11:00 AM. The interment will follow at the Butte St. Pierre Cemetery, Paradise Hill, Saskatchewan.
In lieu of flowers, donations in memory of Lorraine may be made to Paradise Hill Care Home or charity of donor's choice.
Lorraine's funeral card can be viewed or downloaded from the link below.
https://indd.adobe.com/view/0fd0709b-481e-429b-9ccf-498c4cf6b931