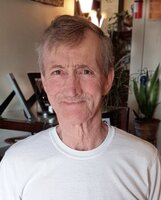 Robert Waugh
Robert Edward Waugh passed away at home in Maidstone, Saskatchewan, May 26, 2022 at the age of 65 years.
Robert is survived by: his loving wife of 40 years, Debra Stacey; three children, Tim (Shauna), Nicole (Colin) and Caitlynn (Matt); seven grandchildren, Tanisha, Freya, Kaitlyn, Alexis, Kayleb, Emmaly and Hunter; mother Carole Waugh (nee Norh); sister, Karen Moore; and brother Gordon Waugh; as well as numerous other extended family and friends.
Robert is predeceased by: his father, Edward Waugh.
No Service will be held at this time.
Donations in memory of Robert may be made to Canadian Cancer Society (Liver Cancer Research).