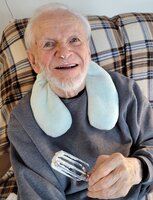 Harold Biensch
Harold Edward Biensch passed away on July 8, 2022 at the age of 93 years.
Harold is survived by: his four daughters, Glenda, Gwen (William), Genia, and Gayla, and their mother, Edna; six grandchildren, Hannah, Tyrell, Kelly, Price, Haley, and Lex; and brother, Roy (Joan) Biensch; and many nephews and nieces.
Harold was predeceased by: his parents, Gottlieb and Gretchen Biensch; his three sisters, Elsie, Catharine, and Lillian; and his three brothers, John, George, and Bob.
There will be no service held.
Donations in memory of Harold may be made to STARS.
Card of Thanks ~ The family would like to thank homecare workers, Shauna and Elaine, Dr. Islam and Maidstone Hospital staff, and all those who have shown their support during this difficult time.