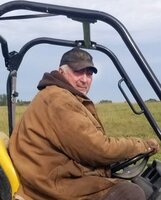 Pat Markevich
Patrick "Pat" Frank Markevich passed away at Maidstone Health Complex, Maidstone, Saskatchewan, October 23, 2022 at the age of 75 years.
Pat is survived by: his four children and their families, Doug, Trish, Rhonda and Karla; and special buddy, Bugzee.
Pat is predeceased by: his wife, Mary; parents, Frank and Mary Markevich; and grandparents, Frank and Mary Viglas.
The Memorial Service for Pat will be conducted from Waseca Memorial Hall, Waseca, Saskatchewan on Thursday, November 3, 2022 at 2:00 PM.
Donations in memory of Patrick may be made to Maidstone Health Complex - Palliative Care or donor's charity of choice.
Pat's memorial card can be viewed or downloaded from the link below.
https://indd.adobe.com/view/21206cdf-7a12-49f8-ac99-3958717b0fb2