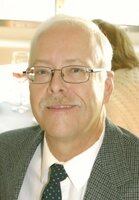 Norbert Lorenz
It is with sadness that the family of Norbert Wayne Lorenz announces his passing on December 7, 2022 at the age of 70. Norbert was born on January 25, 1952 in Lloydminster, SK.
Norbert is survived by: his loving wife, Elayne; son, Jonathan (Tawnya); daughter, Tannis Lazerte; grandchildren, Tristan, Fynley, Hayden, Abigail, Jaeger, Jacob and Jack; siblings, Louise (Terry Pearson); Lionel (Gail); brother-in-law, Ray Dexter; Edward (Linda), Marlene Risling, Ron (Barb) and Annette (Barry Davidson); brothers-in-law, Dennis Harris (Darlene) and Arnie Harris (D'Arcy); as well as numerous nieces and nephews.
Norbert is predeceased by: his parents, Simon and Clara Lorenz: sister, Vivian Dexter of North Battleford; nephew, C.A. Gregory Pearson of Edmonton; and brother-in-law, Mel Risling of Lloydminster.
The Prayer Vigil will be held at the Descent of the Holy Spirit Ukrainian Catholic Church, Lloydminster, Alberta on Wednesday, December 14, 2022 at 7:30 PM.
The Funeral Service for Norbert will be conducted from St. Anthony's Roman Catholic Church, Lloydminster, Alberta on Thursday, December 15, 2022 at 11:50 AM. *You can find the video for Norbert's service below.
Donations in memory of Norbert may be made to The Olive Tree Community Centre, LRHF - Lloydminster Hospital Palliative Care or donor's charity of choice.