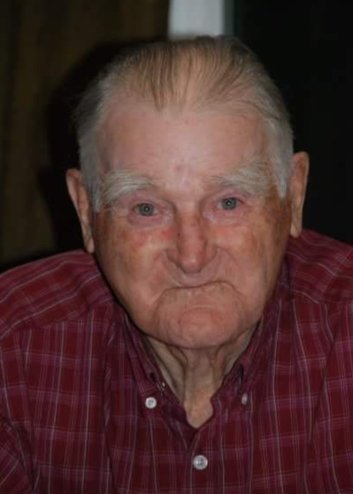 In Memory of
Wallace Gregson
1919 - 2017
Obituary of Wallace Gregson
Charles "Wallace" Gregson passed away at the Maidstone Health Complex, Maidstone, Saskatchewan on Saturday, July 29, 2017 at the age of 98 years.
Wallace is survived by: his son, Terance (Sandra) and family, Jocelyn (Gabe) Warkentin and children Reid, Mya and Coen, Chelsey (Jon Bonnar) and children Jaxx and Zowy, Arlinda (Jason) Foley and children Barrett, Kianna and Ashton, Adrienne Gregson and daughter Fallon, foster daughter Tamara Prior; his son, Keith (Elizabeth) and family, Landon, Cory and Shayla; his sister-in-law, Sheila Barrett.
Wallace was predeceased by his wife, Joan.
The Memorial Service for Wallace will be conducted from the Paynton Gymnasium, Paynton, Saskatchewan on Monday, August 14, 2017 at 11:00 AM.
Donations in memory of Wallace may be made to Pine Island Suites or to the Maidstone Health Complex.
Wallace's memorial card can be viewed or downloaded from the link below.
https://indd.adobe.com/view/3f47b515-6760-43d2-947e-550b2ec91142
Good day,
I asked Terry and Keith if I could deliver the Eulogy in honor of Wallace and as a thank you to him for everything he taught me over the some 19 years that I was lucky enough to be around him.
Not only did he teach me much about wood working and history but he also taught me how to be a more patient and forgiving person, through his own actions. Of course anyone that really knew Wallace would know that he was as cool as a cumber and never spoke ill of anyone. A kind and gentle man…..
At first I thought he was always like this but as of late I've heard many stories from his 2 boys here and have come to the conclusion that he likely got tired of ruining all of his good hats by jumping on them and by the sounds of it these 2 probably caused him to stomp on quite a few….
There's absolutely no way to cover everything that happened in Wallace's 98 years with us. Especially considering could recount just about every major going-on, weather event, good crop and breakdown to the day.
Wallace just missed the end of WWI by a few months , but was around for the first trans-Atlantic flight, the forming of the RCMP, the first nickel, the first television (not color, but t.v. period), WWII, the cold war, the great depression, Korean War, Vietnam War, Canada's first TV station, the Bill of Rights, the new Canadian flag, and so on…all of these events and so many more that shaped our country he was here for. Let's start at his beginning……
Wallace was born Feb 11, 1919 in Paynton in the old phone office. Nobody can recall his size but we're all quite certain he had a full set of eyebrows and a plaid shirt the time….. This is where his mother and father lived and ran a livery and dairy business. Shortly after, they purchased the half section where Terry and Sandy now live. In 1919 they built a house and moved in the following year. This house still stands at the farm and its bannister is now a piece of our home in Maidstone.
He left school at 14 to work at Chisholm's store for a year or so and other jobs like blacksmithing, surveying the old highway, he worked as a lineman when the telephone first came in, then started farming full time with his father.
In 1935 he would ride his bicycle back and forth from Paynton to Prongua where his father also had farm land….. A roughly 60 km bicycle ride…before he did any work…….
He rented all of the land from his father in 1940, bought his first tractor (which was smaller than most yard tractor nowadays) and continued to farm while also working on numerous threshing crews.
In March of 1948 he married his longtime pen pal and love, Joan Barrett in London England. ( Remember this was the modern social media of the time…) They then built a new house on the farm so they too could start a family. Not too much longer……1954, Terry came along, then Keith in 1956...his family was complete...for now...
Wallace decided in 1965 to expand his horizons and enrolled in a T.V./Radio repair course through correspondence from DeVry…once completed he was invited there to teach but turned it down due to his love of farming
Throughout the years Wallace continued farming and repairing electronics. He and Joan were also avid members in the Genealogy Branch in North Battleford and moved there in 1986.
In his 60's he was still heavily into genealogy, stamp collecting, astronomy, woodworking and of course farming still. He taught himself Morse code to pursue his interest with his Hamm radio hobby.
This is when the grandkids started showing up……first Jocelyn, then Chelsey, Arlinda, Adrienne...all four are Terry and Sandy's daughters. Keith married Beth who brought with her Corey and Landon then had a daughter together, Shayla. In later years Terry and Sandy took in Tamara Prior who Wallace loved like a granddaughter as well.
Unfortunately Joan passed away in 1994 leaving a huge gap in Wallace's life… he filled that gap spending more time with his grandchildren, farming and all of his many hobbies.
Wallace eventually moved to Maidstone to be closer to much of his growing family (now that the 9 great grandchildren were starting to arrive) and yes still help on the farm….Wallace still ran the combine at 95 years old, still harrowed, drove grain truck and put an honest day's work in.
Farming wasn't the only thing Wallace did well into his 90's……he kept all of his usual hobbies including woodwork and volunteering and had also picked up a new hobby……..Facebook! Wallace was a Facebook regular for many years…..even before Terry joined up, he was posting and sharing and his most favorite was talking to his relatives abroad as well as keeping up with his grandkids and great grandkids. Not every kid gets to say their great grandparent is a Facebook friend.....
This was just a snapshot folks…into the life of a man that nobody on Earth could honestly sum up in anything less than a novel. We must all be honored to have known this amazing soul and find peace in knowing he put in one heck of a shift. He now has all the time in the world to catch up with Joan, pursue his love of farming, his many hobbies, keep watch over his sons and their families…..probably watch over the farm to make sure his grandson in-laws don't break anything…..maybe he'll find the time to get those eyebrows taken care of but I doubt it…..but most importantly he can finally put his feet up and relax ….. I can honestly say, he likely won't have a tall drink and a smoke considering in his 98 years, he had neither.
Three things he would want to pass on to the world (he would want to keep this light, he always cracked jokes.)
Always look on the bright side of life.
Never turn down a good cup of tea.
When in doubt, choose the fish and chips
Thank you,
5101 - 50 Street
Lloydminster, Alberta T9V 0M2