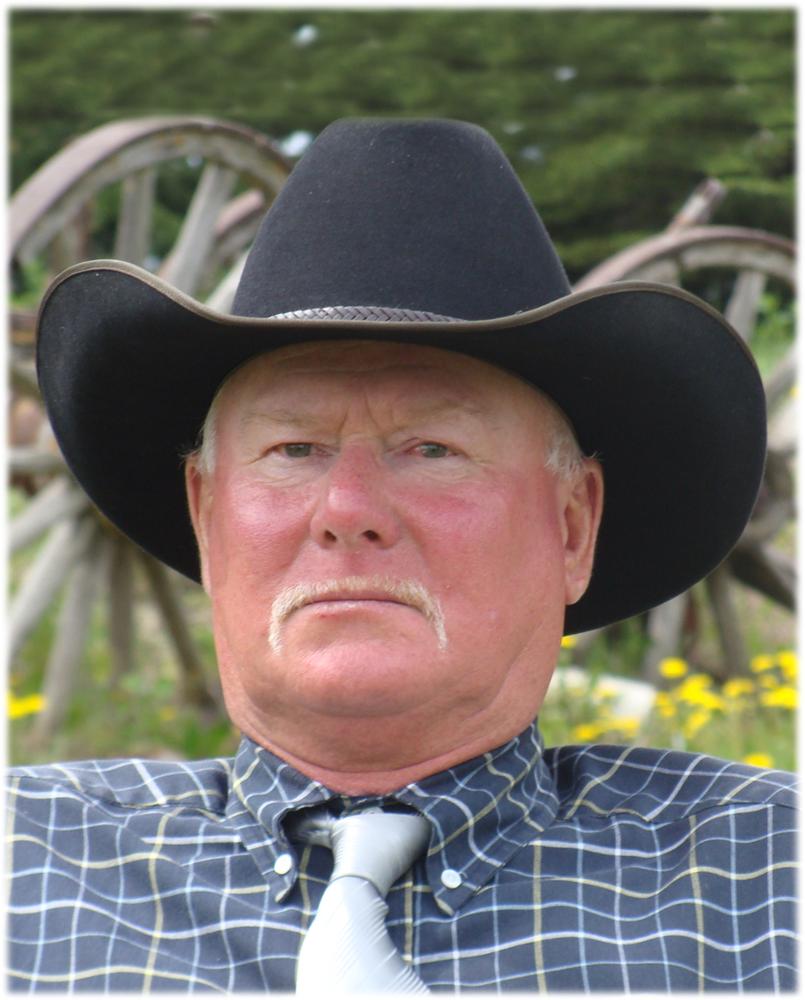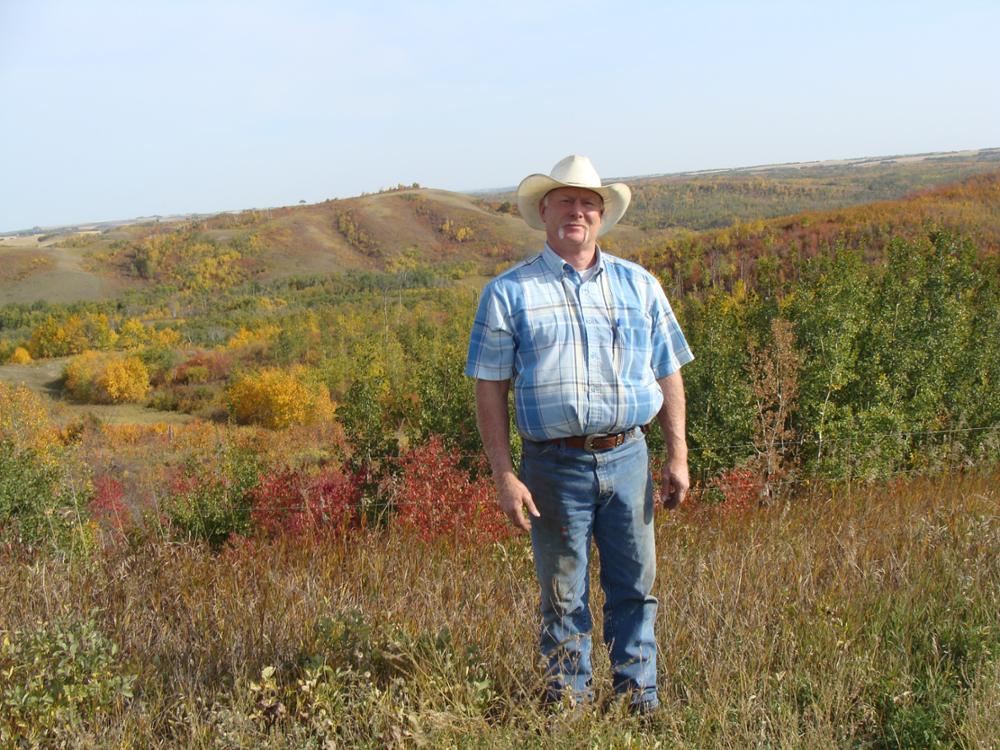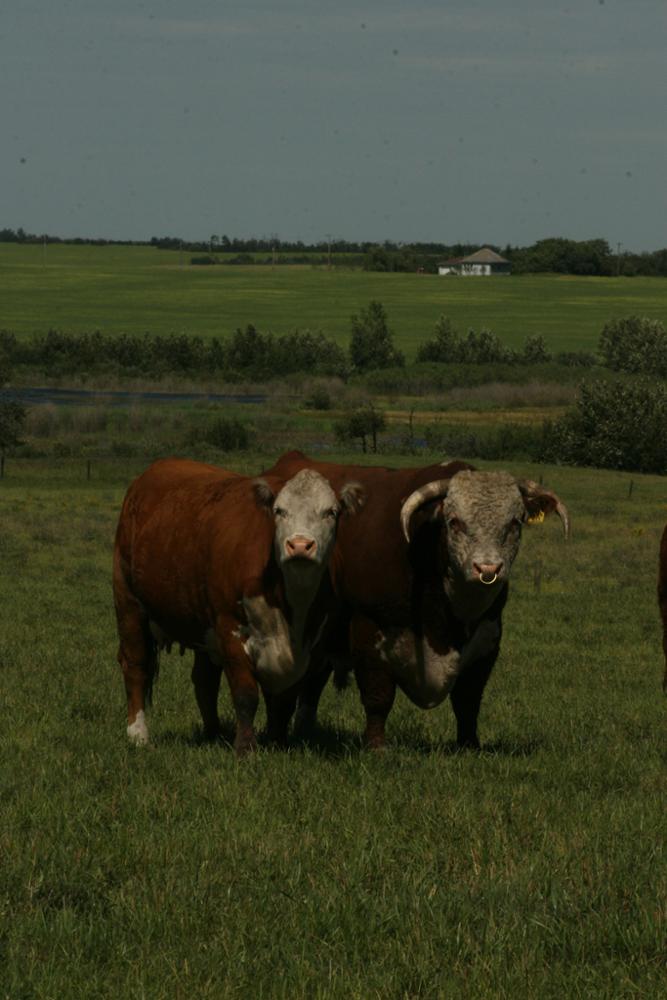 In Memory of
Douglas "Buddy" Robert Leachman
1955 - 2015
Obituary of Douglas "Buddy" Leachman
"Buddy" Leachman passed away at the Riverside Health Complex, Turtleford, Saskatchewan age of 60 years.
Buddy leaves to mourn his passing: his wife, Frances; sons Lance(Shari) and Tyler(Amanda Renaud); his mother Pam; his brother Charlie(Sally) and their children Daegan(Joseph) Coyne, Ryan, and Allie; and his mother-in-law, Agnes Oddan as well as numerous brothers and sisters-in-law, nieces and nephews, aunts, uncles and cousins.
He was predeceased by his father Lloyd in 1992 and his father-in-law Vick in 1997.
Donations may be made to Big Gully Farm Beef Cattle Learning Award, set up in memory of Buddy, to help young cattle enthusiasts.
Card of Thanks
We would like to thank Dr. Pam, nurses and staff, and Buddy's "Special Girls" at Riverside Health Complex Long Term Care for their care and compassion during the three and a half months he was there, also the ambulance attendants who toured him through the farm before transporting him to Turtleford. Thank you to the Home Care nurses who came out weekly to check on Buddy, and Brenda Servold, who stood by us through this journey. Thank you to Joyce Carson, Ryan Dorran and Arlyss Lehmann for your parts in the service; also the honorary pallbearers, and Stephen Myer for preparing the slide show and Buddy's special music. Thank you to the Lloydminster Exhibition Staff for the use of the facilities and serving Buddy's "special" luncheon. We would like to thank everyone for all the cards, flowers, donations, phone calls, visits, food brought to the house and attendance at the service. Thank you to Glenn McCaw and everyone at McCaw Funeral Service for your outstanding care and compassion during a very difficult time. Our biggest thank you goes to Krista Eclarino, Buddy's devoted caregiver at home and later in Turtleford - our angel here on Earth, we couldn't have done it without you.
Frances
Lance & Shari
Tyler & Amanda
Pam
Charlie, Sally and family
Agnes Oddan and families
Eulogy for Buddy Leachman, by Ryan Dorran
It's a great honour to be able to give the eulogy for a man that I had the utmost respect for – Buddy Leachman. It is very fitting to have this celebration of Buddy's life in this building here at the exhibition grounds. This is a place where many of you would have visited with Buddy over the years, he would have had a lot of good times, long nights and the occasional whiskey.
Buddy was an astute cattleman, a loving husband, a great father and a Hereford enthusiast. He was a man that stod up for what he believed in, and if you wanted to know what he thought about something, just ask him. He would speak to everyone, just some more than others – that was his communication philosophy.
Growing up as his sons, I'm sure Lance and Tyler would have stories about Buddy that could go on for days. But the life lessons he taught them will be treasured forever. When it came to competing in the show ring, he used to say, "Second place was the first loser." If the boys found themselves in trouble with Buddy after they had done something wrong, he would say, "It's time to start the healing process."
Since 1977, Frances has been Buddy's partner in the farm and probably would be known as the most patient and understanding woman in the Hereford business… They put a lot of hardwork into what the farm is today. Over the last several years, Frances has stood by Buddy's side, serving as his strength and caregiver, a true testament for their love to each other.
At Big Fully Farm, you've always been expected to work hard, whether you were family, interns or summer help. But, once the work was done, Buddy always found time for fun – much of what included practical jokes. He once filled old purses with horse manure and left them sitting on the highway. Then, he would hide behind the bins and watch people stop to pick up the purse, then see what was inside…Or, not even check and drive away with the purse. The latter bugged him not only because he missed the thrill of seeing their faces, but he had to find a new purse!
Even in the last months of Buddy's life while at the home in Turtleford, ALS could not take his sense of humor away. He would have his care giver push him around and poke the sleeping seniors with a cane just to make sure they were still alive.
Over the last 6 years, gradually because of his health, Buddy attended fewer sales. However, he still kept up with ALL the sales, knowing the averages, what had sold and who had sold them. He watched numerous sales a week online. He would often chat into Shari and I, always giving me a hard time. Allowing this farm boy to watch online sales came with a bit of a risk also.
About 6 years ago, Buddy and family were watching the Colyer Herefords Internet Female Sale. They had purchased a Hereford heifer, with only 4 Angus left to sell when everyone had to leave the house for a wedding dance with the exception of Buddy. Buddy was instructed to slide his finger back and forth on the computer's mouse pad rather than tap it if the screen were to go blank and needed refreshed. About 10 minutes after leaving the house, Lance receives a phone call from Dad saying he had bought an Angus heifer. Lance thought it was another practical joke, but soon realized that it wasn't. The screen had in fact gone dark, so Buddy tapped the mouse pad which was left on the bid button from the Hereford heifer purchase. Out of sheer luck, he submitted the winning bid on an Angus heifer calf in the process. Not knowing whether to admit how pathetic his early computer skills were or to blame it on technical difficulties, he did in fact call and take responsibility for his mistake. The previous owner's offered to keep the heifer without question, but Buddy told them he had purchased her and would carry through by taking her home. That cow has had four calves and was the initial purebred Angus in a herd that now numbers about 8. That Angus cow is now known as "Easy Bid."
It was last full that Big Gully had their first on-farm bull sale. Craig Flewelling and I had went up to the house before the sale to have a visit with Buddy. He said, "You know, we've always sold our cattle OK, but I would like to have just one great sale. I would like to have a sale like a sundae with all the toppings, like sprinkles and maybe even a cherry." Big Gully had a great sale averaging over $8,000. I called Buddy on our way down the road and asked him if we got him his sprinkles for his sundae. He said, "You did, and that damn cherry too!!!"
In true Buddy fashion, he's going to have the last word. He had written his own eulogy which I will now read. Here are Buddy's words:
When I look out over this crowd today, I'd swear I've had a beer with each and every one of you at some time. I think how lucky I am to have known and been friends with young and old from such a diverse group of occupations. I've travelled with, visited, dined and drank with accountants, auctioneers, Indian chiefs, doctors, veterinarians, loggers, lawyers, contractors, ringmen, fieldmen, landmen, farmers, cattlemen, company directors, consultants, heavy equipment operators and the list goes on. That's why I've always said "I've drank out of fine crystal as well as brown paper bags".
Over the last 6 plus years I have said three letters and two words a million, trillion, gazillion times. They were "ALS" and "Why me?"
Right from a young age my life was shaped to love horses and cattle. Even as a little boy, being as the TV shows I first saw were cowboy shows such as Roy Rogers, The Lone Ranger, Palladin and Gene Autry, they helped shape my personality and direction in life.
When I was a little boy, other than both sets of grandparents, the guy I knew first was my lifelong friend, George Bonnar. Other people that impacted my life were Larry Flicek, a lifelong friend of my parents and I. Also there were 4 sisters that lived 2 miles west of me and 4 sisters that lived on the Lashburn grid.
Because of my Mom's love of horses, I've always had horses in my life. Mom and I spent a lot of time riding together, be it rounding up or working cattle, or just riding up the gully and sitting up there and talking. I truly valued that time and thank her for that. I just wish I had done more of it.
I remember when we left the Kuffner ranch and moved up to our present location I was 7 years old. I fell off my pony that morning and had to ride in the wagon. This is where I caught the bus for the duration of my education which wasn't long! The only good part about school was track and field. We lived ½ mile from Allen's Store. I would ride my pony or bicycle up there and have a 10 cent pop. Through that time frame the Stewart boys were a big influence in my life because they always worked for Dad. 4-H was a great big part of our life. It's something that every youth should have the opportunity to join. Through 4-H it took me all across North America and helped shape my chosen field of livestock production. It was through 4-H that I even met my future wife as we were in it for about 10 years together, first as members and then as leaders after we were married. After quitting school, I showed cattle and worked sales for lots of different purebred breeders. The highlights were working for Justamere and Bear Tooth Ranch which was outside of Columbus, Montana. The managers and herdsmen of these operations had a big influence on me. I got to go to the Cow Palace in San Francisco, the National Western Stock Show in Denver, and the NILE in Billings. I also got to ride the last train with livestock to the Toronto Royal Winter Fair. They called it the "Royal Train" with all the western livestock. Then we came back, also on the train that fall, to the very first Canadian Western Agribition in Regina. So I hauled cattle to Agribition, first by train, progressing to my own semi trailer unit later in life.
The girl I met in 4-H I married in 1977. Her name was Frances Oddan. Together we bought a brand new mobile home and lived in the yard at the farm. We lived in that trailer for 19 years before building our existing house in 1996. Through those years we both put a lot of blood, sweat and tears into the farm.
We had some very good times travelling in the summer. We showed cattle at summer fairs for a few years and took a few trips to the Billings area of Montana. But the trip most memorable was our 2 weeks in Mexico, the only big trip we ever took. The reason for this trip was that there was a child coming and we didn't know if we would ever get to go again. Back in those days I loved going down to the local roping arena every Tuesday and Thursday. I went to a lot of jackpots on weekends for quite a number of years. I always took great pride in the looks and quality of the horse I rode. You always know you're mounted well when people offer to buy your horse or ask if your horse is for sale. There was great comraderie but not like in the cattle business. It was the cattle people from all over the world that phoned and kept me going the last 6 years.
Over the years I loved ski-dooing and was talked into going out to the mountains with my brother. Realizing how gorgeous it was, the terrain and the scenery, I went back numerous times, either with friends or my sons.
Our sons, Lance and Tyler, were born in 1985 and 1988. They gave us great pleasure with soccer, hockey, 4-H, skidooing, fishing, and waterskiing when I could get them there. I took my boys fishing at Canoe Lake where my Dad always went and we had a great time and caught a lot of pickerel. For a couple of years we would go up to Canoe and rent their aluminum boats which served the purpose. But one time, Frances and I were up there, got caught in some bad water over by the bay and scared me. The next spring I bought a very nice boat which served for fishing, waterskiing and tubing and was used lots. I would leave the boat and camper up at Canoe or LaPlonge. Not only did I enjoy my family at the lake, there were friends that would go with me every summer. It was always an insult when they caught bigger fish or more fish. Then they would tell me that I was a better guide than a fisherman. My theory of fishing was "Give a man a fish, he will eat for a day. Teach a man to fish, he had an excuse to drink beer all day!" I had a good mapping memory, whether it be the depths all over or where the fish would be at Canoe or LaPlonge; or where the trails would be where I skidooed; or the cattle I would see, remembering the numbers. One of my best memories is of the fishing trip my brother Charlie and I took to Langara at the north end of the Queen Charlotte Islands.
In 2000 we decided that either we were wasting our time in the cattle business or take it serious. We purchased some herd bulls locally and from the USA that changed our whole operation. These were not high dollar cattle, they were high quality cattle. With the addition of other new bulls coming in, our whole operation changed around until all of a sudden we started being noticed internationally. The Colyer family in Idaho was a great source of seedstock and very instrumental and helpful in expanding our horizons. They are also a family we made a great friendship with and they have introduced us to a lot of people who have also become good friends. It seems my experience in life has been that "When you find good people, you find good cattle". Since then we have sold live cattle or frozen genetics to 8 Canadian provinces, 16 US states and 6 countries – Uruguay, South Africa, Ireland, Mongolia, Australia and USA.
I had the honor of winning numerous Agribition champions, Sr. Champion bull in Denver, part owner in a Grand Champion in Denver, a Supreme bull at Kearney, Nebraska. But the biggest was having the Supreme at RBC at Agribition in 2010 and having cattle from our farm represented in the line-up since then.
Winning my CKSA gold watch at Lloydminster 4-H Expo for Showmanship in 1975 was a BIG thing at that time. I was also inducted into the Canadian Hereford Association Honor Roll in 2012. These accomplishments are minimal as compared to the 2 sons we have raised. Both are achievers, hard workers and gentlemen. A man is so fortunate when his children grow up to be a better person than he is. I hope you pursue your own dreams and not try to live mine. I did a lot of things in my life. I don't know of much that I would have ever changed. I know that there were lots of things that people wanted to change about me, but one thing I never did was ride the fence. There was no "grey area" so you knew where you stood. I think I lived true to my rule. I spoke to everyone, some I talked to longer that others! It would have been nicer if some of you had come to say hi rather than just goodbye.
The Leachmans settled in the McLaren District in 1907. My grandpa Bob set up a very good farm, my Dad and Mom, Lloyd and Pam carried on with exceptional growth and expansion. Frances and I feel we made a great contribution to the infrastructure and expansion.
I thank you Frances for being my friend and my business partner. I want to tell you how much I love you and for standing by me through all those years of mental anguish. It looks like, as in a lot of times in our life "I'LL BE LATE FOR SUPPER AGAIN" I'M ON A BIG ROAD TRIP.
5101 - 50 Street
Lloydminster, Alberta T9V 0M2