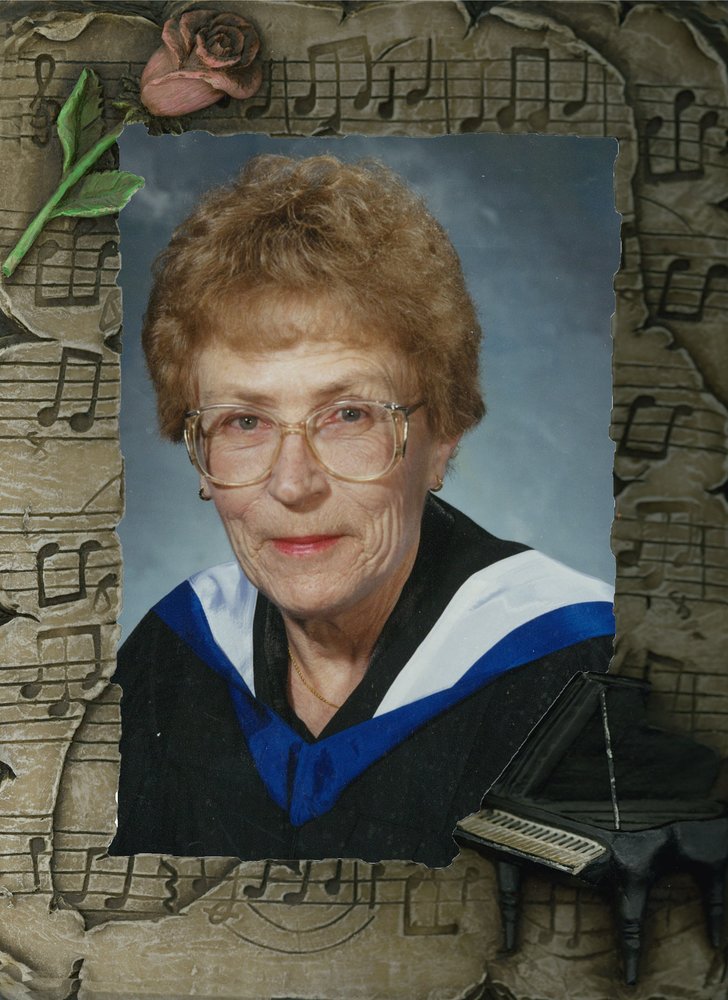 In Memory of
Lorna Chappell
1939 - 2017
Obituary of Lorna Chappell
Lorna Dawn Ardith Chappell passed away at Dr. Cooke Extended Care, Lloydminster, Alberta on Friday, December 1, 2017 at the age of 78 years.
Lorna Dawn Ardith Wescott was born on September 6th, 1939 at Tako, Saskatchewan to Albert and Isabelle Wescott. Since Albert was in the war, Isabelle moved with Lorna and her two older brothers Dennis and Alfred to Saskatoon where they lived until Albert retuned from the war. Then they followed the railway work to Landis and ended up in Marshall Saskatchewan. Here Lorna was introduced to the dashing young man from Lashburn - Winston Chappell.
Winston began courting Lorna, and remained patient waiting for her until Lorna completed her teacher's college degree in Saskatoon. They were married on July 17th, 1962 at All Saint's Lashburn. Within a year, they were expecting their first child, Kim, whom they only got to cherish for 6 months, when he went back to be with Jesus. After a difficult recovery from this tragedy, Lorna and Winton had another child, Tiffany. They made their home in Lashburn, with Winston and Glen Lypkie starting the C & L Service Center, Lorna subbing at the schools and the family being involved in various community events. Lorna shared her musical talent playing for events, weddings, funerals, church services, carol festivals, and Remembrance Day services as well as teaching many young people to love music and play the piano.
Lorna was known for her smile, her deep faithful friendships, her creativity and her ingenuity, her love for birds, Star Trek, and her quirky unique sense of humor. Lorna lived in Lashburn in the house that she, Winston and Percy Chappell built until a fall and on the onset of dementia in June of this year forced her to leave her home and take residence at Dr. Cooke nursing home. She enjoyed the home, but her health problems of years previous were complicated by the falls she had and on December 1st, at 11:15 pm, she surrendered her life and went on her journey with Jesus to her heavenly home, to be reunited with her son Kim, and parents and friends who had gone before.
Lorna was predeceased by her parents, Albert and Isabelle Wescott, Parents in Law, Percy and Elsie Chappell, son Kim, siblings in law Jean and Con Swystun and Fred and Julie Chappell, and nephew Gary Chappell, Howard Frank along with multiple close and dear friends.
Lorna leaves to mourn her husband of 55 and a half years, Winston Chappell, her daughter Tiffany and her husband Jerry Frank. Three grandchildren, Jaime and Owen Hozack, Josie Frank and Jordon Maier, Jayden Frank, and three greatgrandchildren; Hayden Roost, Oliver Hozack and Embrey Hozack, Stella Frank and the Frank Family and special life friend, Shirley Newman and her godchild Jo and Mark Boots.
The Memorial Service will be conducted from the All Saint's Anglican Church, Main Street Lashburn, Saskatchewan on Wednesday, December 6, 2017 at 11:00 AM.
Donations in memory of Lorna may be made to All Saints Anglican Church or Dr. Cooke Patient Comfort Fund.
Lorna's memorial card can be viewed or downloaded from the link below.
https://indd.adobe.com/view/883ecc86-ebae-4e04-8cdb-4fe22c597936
Share Your Memory of
Lorna
5101 - 50 Street
Lloydminster, Alberta T9V 0M2