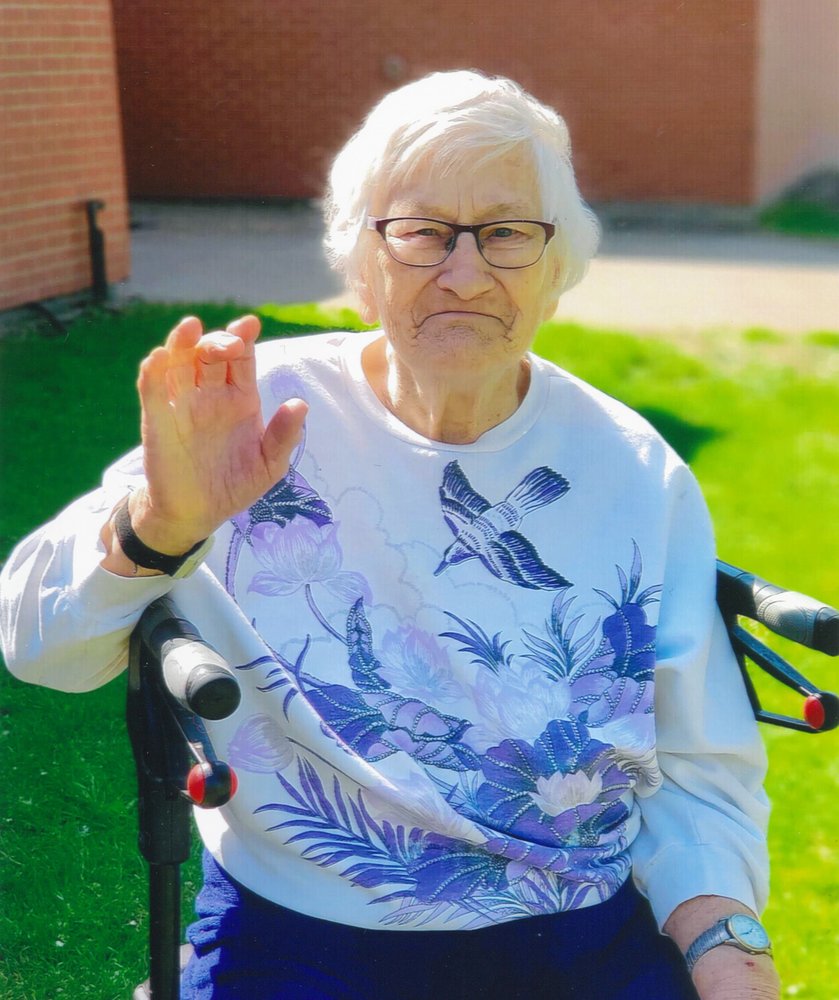 In Memory of
Elaine Senft
1930 - 2018
Obituary of Elaine Senft
Elaine Beatrice Senft passed away at the Riverside Health Complex, Turtleford, Saskatchewan on Tuesday, September 18, 2018 at the age of 88 years.
Elaine Beatrice Senft nee Russell was born August 18, 1930, at Ravenscrag, Saskatchewan, the third of seven children of Charles and Lousia Russell. Her dad farmed near Ravenscrag but he gave up the hope of making a living from farming the poor soil in the area and became an agricultural agent on various reserves.
Elaine completed high school at Broadview in 1948 and then entered Bible School in Moose Jaw in 1949 which she graduated from in 1951. While at Bible School she met John Harrison and on May 10, 1952 they were married. On February 17, 1953 their son, Brian Peter Harrison, arrived to join their family. On June 30, 1956, John was killed in a construction accident.
Elaine began teaching at Peace School, near Lemberg, in the fall of 1956 and met Herbert William Senft. They married on September 28, 1957. Herb farmed while she continued teaching for two years at Lansdowne School near Kipling. Four more children were born to Herb and Elaine Senft. Patricia Grace in August 1958, Garry Herbert in September 1959, Randal Russell in November 1963 and Terlyn Lorlee in March 1969. In 1961 the family moved to the Kaminski farm close to Lemberg. During harvest time in 1962 Gary died in a farming accident.
Elaine loved the outdoors and especially her large garden and raspberry patch. Gardening and the love of flowers continued to be an enjoyment for her. She moved off the farm and away from Lemberg in 1990 for a stay in Biggar, where she worked at a group home and has many fond memories of that time.
Elaine made one more move to Turtleford in 2001, after Herb died in a drowning accident. She continued to garden and plant flowers until 2017.
Left to mourn her passing are: her children, Brian (Carol) Harrison, Pat (Ron) Bouvier, Randy (Audrey) Senft, Terry (Dean Brown) Senft; her grandchildren and greatgrandchildren, Lorilee (Bruce) Guenter, Victoria, Kathryn, Maries (David) Tooke, Nathaniel, Arianna, Kelsi, Mikayla; Jeremy (Janie Thompson) Harrison, Blaine, Jordan, Hayley Harrison, Mackenzie Pryor, Jessica & Matthew Worden; Amee Harrsion, Natasha (Jason) Bird, Savanah, Adam, Ellyanna; Trisha Bouvier, Noah, Abbi, Kaidence; Joshua Bouvier, Courtney (Marcus) Senft, Gage; Kristen ( Marcus) Senft, Kiara, Rosalie; Steven, Tristan, Joseph ( Teagan) Brown; her brother, Chuck (Carol) Russell; her sister-in-law, Ollie Russell; as well as numerous nieces and nephews.
Elaine was predeceased by: her first husband, John Harrison; her second husband, Herb Senft; her son, Gary Senft; her parents, Charles and Louisa Russell; her siblings, Grace Adams, Jean Sweigard, Don Russell, Rusty Russell and Joy Halliday.
The Memorial Service for Elaine will be conducted from Turtleford Lions Club, Turtleford, Saskatchewan on Monday, September 24, 2018 at 2:00 pm.
Donations in memory of Elaine may be made to the Canadian Cancer Society or Riverside Health Complex Auxiliary Fund.
Elaine's funeral card can be viewed or downloaded from the link below:
https://indd.adobe.com/view/e9aa7ca5-b90c-4699-9b82-93521d47efe2
Share Your Memory of
Elaine
5101 - 50 Street
Lloydminster, Alberta T9V 0M2