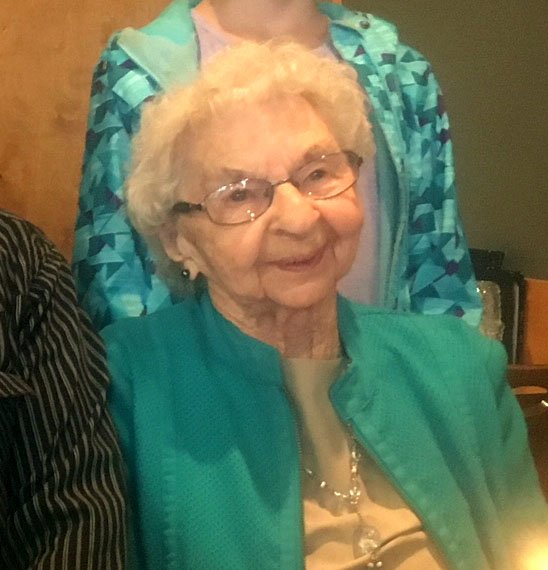 In Memory of
Agnes Oddan
1919 - 2019
Plant a Tree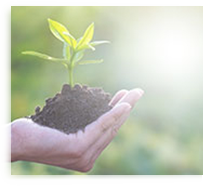 Memorial Service
2:00 pm
Friday, January 11, 2019
First Lutheran Church
2925 - 57A Avenue
Lloydminster, Alberta, Canada

Get Directions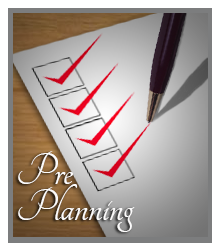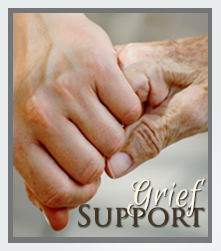 Obituary of Agnes Oddan
Agnes Dorothy Oddan passed away in Lloydminster, Alberta on Thursday, January 3, 2019 at the age of 99 years.
Agnes is survived by: her six children, Faye (Ervin) Blanchard, Carol (Bruce) Walker, Harold (Alice) Oddan, Maurice Oddan, Frances Leachman and Virden (Lisa) Oddan; her nine grandsons; her two granddaughters; her nine great grandsons; her fifteen great granddaughters; and her two great great granddaughters; as well as five brothers, three sisters and numerous nephews and nieces.
Agnes was predeceased by: her husband, Vick Oddan in 1997; her son-in-law, Buddy Leachman in 2015; her daughter-in-law, Ellen Oddan in 2017; her parents Allan and Bertha Forbes; her sister, Ella Sutton; and her brother Ken Forbes.
Agnes was 2nd eldest in a family of eleven. Her older brother Harry (Soddie) will be 101 years old in April.
The Memorial Service for Agnes will be conducted from First Lutheran Church, Lloydminster, Alberta on Friday, January 11, 2019 at 2:00 pm.
Donations in memory of Agnes may be made to STARS, Ronald McDonald House (Saskatoon), The Olive Tree, or the donor's charity of choice.
Agnes's memorial card can be viewed or downloaded from the link below.
https://indd.adobe.com/view/a931a032-7346-4493-bf78-3d4db26f867f
Celebrating Agnes
Good afternoon. On behalf of Agnes's family, welcome, thank you for coming.
Faye, Carol, Harold, Maurice, Frances, Virden, thank you. What an honour it is for me to be asked to deliver the eulogy for your mother today.
For those of you whom I haven't met, my name is Shelley Keyes, I'm Agnes friend.
Our paths first crossed in 1986,when the RCMP transferred our family to Maidstone.It was a rough start for us, there was no housing available to rent or buy, we had 2 kids under 3 and a third on the way. Feeling discouraged, we pulled into Bruce McFadden's office. He provided a ray of hope. He knew of a nice family, the Oddans, who lived north of the gully and may have a little farmhouse to rent. Bruce, we are forever grateful to you for this referral.We pulled into Misty Valley Farms, right in the middle of their production sale. While they had a farm swarming with people, the Oddans welcomed us in, made us feel like family and we've felt like that ever since.
This is where I first saw Agnes, all 5" of her, breezing around that kitchen like the captain at the helm of a ship, on top of everything, serving a kitchen full of people her delicious homemade baking and never ending coffee. Little did I know, I had just met my special friend Agnes.
Now, here are a few special memories of Agnes from her children, in the order of their arrival.
Memories from Faye
Our Mom was the most gentle & kind lady I ever knew..... EXCEPT, when Carol, Harold & I were young kids misbehaving ..... Then she would come after us with the yardstick, we would scatter and she wouldn't know who to go after.
Our Mom worked very hard most of her life. As she was the 2nd eldest child in a family of 11, she had to help her mother at home, at a very young age.....cooking, cleaning and helping look after the babies. There seemed to be a new one almost every year.
As a young wife and mother of 2 little girls, I remember Mom baking and making big meals when the threshing crew was at our place. She would take coffee to the field for the men in the morning, then go home, make dinner, bake something for afternoon lunch & take coffee or cold water out to them. Then back to the house to make another big meal for supper.
At times when Dad was busy in the field, in the evening she would take a little switch, Carol & I out to the pasture to bring the cows home for milking.... I'm not sure if she milked the cows then, but I know she did at times.
She was very passionate about her crafting and sewing. She made many beautiful grad, bridesmaids & wedding dresses and craft items.
She did lose interest in her sewing the last 3 or 4 years.
She used to sit at her treadle sewing machine most of the night sometimes, sewing new dresses for Carol & I for Christmas, or Easter or some other special occasion, when we were little girls.
One of my recent memories of Mom is how much she loved soft ice cream. We would take her with us to the lake for 3 or 4 days. We would have a big supper, she was so full she couldn't eat another bite.... then Ervin would go to the Dairy Bar at Jumbo, and come back with a caramel soft ice cream sundae for her. She would eat every last bit, and I think she would have licked the bowl if we hadn't been there to see her!
She was never too full for soft ice cream.
I will miss her so very much, but am so thankful for the long, full life she had.
Love you Mom.
Memories from Carol
Mom was a very nervous driver. She would arrive at my place so I could take her to Lloydminster shopping. Her hair was usually in curlers with a scarf around her head.
Her arrival was usually uneventful but watch out when she left to go home!
She would get settled in the old Pontiac Parisienne car, peeking through between the steering wheel and the dash, she would be ready for take off!!
She would have one foot on the brake and one on the gas, then she would take her foot off the brake and the gravel would fly!!
My boys always had a good laugh at Grandma's driving.
Another time she was one her way to my place and had a flat tire, so she proceeded to Gary and Marlene Spenst's place and had them call Jamie to come and change her tire.
All that was left was the side wall- the face of the tire was gone.
She was very upset and asked Jamie if it could be repaired.
Needless to say the tire had to be replaced.
I'm not sure if that is the tire that was hung on a fence post to remind her.
Mom was a very generous caring Mom and an excellent housekeeper, cook & seamstress.
May she rest in peace for a long life well lived!
Love you and will miss you!!
Memories from Harold
Mom would remind me that although I only weighed 6 lbs. at birth, I had doubled my weight by 2 months old. She would tell me that I never looked back!!
Mom's fingernail impressions are probably still on the dash of our '59 Chev station wagon.
We were travelling through Hell's Gate Canyon along the Fraser River in BC.
Uncle Glen was driving and admiring the scenery. She told him to pay attention to the road & she would look at the scenery but I'm sure she was too scared to look out the window!!
By grade 10, I decided I had been in school long enough.
Mom sent me to talk to Glen Weir, our veterinarian. Glen talked to me, and then decided it would be a good idea if I quit school as he said he didn't want any competition.
Needless to say Mom was not impressed.
Memories from Maurice
In the late seventies at one of our early cattle sales in Lloydminster, our partner, George Laree and myself were going to go downtown to get some liquor supplies for the after sale appreciation party.
Mom also needed to stock up on groceries to take out to the ranch so we decided to use her car.
George and I dropped mom off at Safeway while we went and made our purchases at the liquor store.
When we got back to Safeway Mom was waiting at the curb with several loaded shopping carts. She wanted her groceries put in the trunk of the car
of the old Oldsmobile. We told her there wasn't much room left, as that's where we put our supplies but she insisted.
When we lifted the trunk lid, she told us with a disgruntled tone to her voice, that it was no problem, All we had to do was take our purchases and leave them in the parking lot, because we didn't need "THAT STUFF" anyway and then we would have plenty of room for her groceries. With some creative re-organizing, George and I were able to hurriedly fit everything in, but mom still thought we should have left it behind.
Memories from Frances
One of my favorite memories of Mom is of her "to die for" raised doughnuts. Freshly made and rolled in sugar, nothing better! When she would make a batch I would always take a couple extra in my school lunch. I was able to trade them for just about anything the other kids had in their lunches, although looking back I would have been smarter to have kept them all for myself!! Then she started making them for the Production Sales. I believe she made two batches of one hundred doughnuts each, for two days, totaling 400 doughnuts. She would put oil in her deep fryer and electric frying pan and spend hours flipping the doughnuts in the oil and then setting them out on paper towels to cool. Mom's doughnuts were a well-known drawing card and enjoyed by many.
Mom was not the greatest traveller. In the fall of 1976 we were planning a holiday. Ervin told Mom that if she were updating her will, he would like her rocking chair. In January of 1977, Mom, Dad, Virden and I, along with Hilbert and Irene Ferguson of Paynton took a trip to Denmark. On our return flight we were to land in Toronto. It was storming quite badly and the captain came on the intercom and said we would be landing in Montreal instead, as they had to rely solely on instruments, as they could not see anything. In a tearful and fearful voice, Mom said "Maybe Ervin's going to inherit that rocking chair sooner than I thought". This was just one of her nerve-wracking airplane experiences.
Mom was also a nervous passenger in vehicles. I remember heading to Lloydminster with Harold at the wheel and Mom sitting between us. He admittedly had a bit of a heavy foot. We were going over Pike's Peak west of Kenny Lundquist's home. The road was a little hilly and not overly wide. All of a sudden Mom gasped and grabbed my knee. I looked over and she had a death grip on my left knee and Harold's right knee. Needless to say, Harold gave Mom a few thrilling rides!!
And lastly,
Memories From Virden
When I was a young boy I remember going to church, mom had been up late that night sewing, baking or doing something, and looking over at her and she was sound asleep during the sermon.
Years later Lisa and Kaitlynn went to church with mom.
They came home and Lisa telling me that Kaitlynn was poking her during the sermon because Grandma fell asleep.
Another story: We were at Harold's place and mom came driving in and we couldn't see her head. She was looking out the hole between the steering wheel and the dash. It didn't seem to bother her but I didn't think it was very safe. I took her car home and fixed the controls so she could adjust her seat to see better.
Shelley
Each of you have memories you will cherish, with the Agnes YOU know, as a mother, (in law) grandmother, great grandmother, sister, friend, neighbor.
I'd like to share a few memories I cherish, made with the Agnes I know, my friend, who has a delightful playful side to her, who loves a good laugh and occasionally can be an unwilling accomplice in shenanigans.
I've known Agnes for 33 years, so in cattle years that would make it, ah let me see, still 33 years.
Red Ribbon Agnes
Like everyone else, I was quickly impressed with Agnes's many talents. Her work ethic and pride in everything she did it was readily apparent.
Agnes was a small but fierce competitor at the annual Turtleford fair.
Her baking, jams and jellies and sewing abilities racked up numerous red ribbons.
Doris Texter and Agnes had a long-standing rivalry for the Grand Aggregate ribbon.
Doris won one year, having entered in more events than Agnes.
Agnes started sewing early and came back the next year to take the Grand Aggregate ribbon home. Take that Doris Texter!
The ribbon, almost taller than Agnes was proudly displayed on the wall in in her apartment.
Agnes- Indian Leg Wrestling- 2nd place
When not competing at the Turtleford fair, Agnes sewed for everyone.
Bride and grad dresses, all kinds of household items, toys, and she hemmed and patched every piece of farmer clothing ever invented.
While a superb seamstress, Agnes was not so good at charging enough for her work. This bothered me, so next time I picked up my sewing I proposed a new way of settling up.
Indian leg wresting- whoever could flip the other over with their leg was the winner and winner could decide how much the bill was. This was an area where I would have a distinct advantage.
Agnes and I went down on the floor, and from that point on Agnes's sewing rates went up.
Agnes- Courageous and Brave
There were so many attributes of Agnes that I admired that she never really gave much thought to.
I thought it was so courageous for her as young woman, wife and mother to head into uncharted territory, with no guarantees, and carve something out of nothing.
I found it equally brave for her later in life, as a widow, to leave the life and the farm, she and Vic had shed blood, sweat, and tears to build together, to create a new one for herself.
Mousetrap rescue mission
I experienced her courage and bravery first hand.
You remember we had moved into their farm hand house.
It had been vacant for a while, so there were more mice around than usual.
Jeff set what he called the trap line. He used the big family plan model, which could catch multiple mice at a time. Jeff would empty the trap each morning before going to work.
I think it's important to tell you, I pretended to be all casual and brave about this. I'm actually not; I'm terrified of Mice.
I know what they can do, and how long you have to live, after they bite you. I watch TV.
Well Jeffy went off to work one day (21 mi away) and forgot to empty the trap.
I went into the kitchen and saw their fangs trying to chew their way of the trap and I knew it wouldn't be long before they got out and exactly where they would head.
I tried to call him, and there was no answer, I tried frantically 3 more times, until I knew I HAD to do something!!
So I called Agnes.
The call went something like this.
"Good morning Agnes, how are you? Good thank you, "Ah Agnes are any of the men around? No eh? Hmm, when do you expect them back? Hmm
Okay not until the end of the day eh?" ok..
Finally Agnes said "Shelley, are you ok?" to which I burst into tears and wailed "Agnes Jeff didn't empty the traps and those mice are trying to chew their way out and they're going to get out and you know what will happen then, and I'm here alone until Agnes couldn't take it anymore and interrupted saying "Hang on Shelley, I'll be right down."
Minutes later, she arrived.
What a sight I must have been, sitting frozen on the couch, kids tucked in beside me, 8.5 months pregnant, wearing a housecoat, and Jeff's size 12 rubber boots on for protection, broom in hand.
I said " Good morning Agnes" like I was always dressed like this.
She had this funny expression on her face, struggling hard to contain herself.
She crossed the room and picked up that mousetrap FULL of mice, with her BARE hands, and disappeared out the door with it.
Minutes later she returned with an empty trap.
I threw my arms around her, hugging her and told her how brave she was to touch that trap, and thanked her.
The irony of the situation soon hit me, this little 5 ft. grandmother, 36 yrs. older than me, coming to rescue me, a 30 yr. old young woman, almost 6 ft. tall.
I said, " Agnes, I don't suppose this could be our little secret?" She cracked a mischievous smile and said " Shelley, some secrets are too good to keep!"
Giggling schoolgirls
Faye and Irv would bring Agnes up to their cabin at Loon Lake to celebrate Mothers Day weekend. I'd be there with Lorilynn Wiltermuth for our annual sleepover.
Sometime over the weekend we'd get together for a visit. I'd sashay in beside my friend Agnes. She would let me hold her hand and soon we would be deep in conversation.
She would catch me up on all of you, how you are doing, what you are doing, from kids to grandkids to great grandkids. I wish you could have heard the love in her voice and see her face beam as she spoke about each one of you. It was beautiful to witness.
We'd usually end our visit by taking a picture, and each time it was different.
Once, we dressed Agnes up in my droidy, a floor length hoodie. It swallowed her up whole, she looked like an adorable 5 foot E-wok, or another time we dressed her up in silly gigantic glasses, and birthday hat.
My favorite was when I asked her if she wanted to take selfies and make faces, a new experience for Agnes. She smiled and said I was crazy, but she didn't run away. Faye was enlisted as photographer of the event.
I'd say "Ok, Act scared, and make a face, and click, and Agnes face didn't change, then I'd say Ok act mad, and make a face and click her, face would stay the same. Then I said ok act surprised and she made a face and a sound so fast I couldn't get the shot, but we all saw it. It was priceless. When we looked at our photos together after, we laughed even more.
I treasure this memory, seeing Agnes transformed for a moment in time from Gramma to a young giggling girlfriend.
Later, I mailed the photos to Agnes. She called when she got them and said she was horrified by her faces, which I loved, and she asked me NOT to share them with anyone.
I told her "Agnes some things are just too good to keep".
Agnes the swimsuit model
I remember the time when I held a friendship appreciation weekend event., to thank my special friends.
Agnes was among the honoured guests. One of our activities was to go for a dip in the healing waters of Temple Gardens Mineral spa.
Agnes let me know ahead of time she would NOT be going swimming.
We headed to the spa, and it appeared Agnes had rethought her decision. She was escorted by Helen and showed up poolside clad in a pretty polka dot bathing suit. There were three rows of ruffles across the backside.
We all laughed when she turned around and gave us a little booty shake.
Later she told us Faye and Carol had bought this bathing suit for her, in _____years earlier from money they earned picking beer bottles from the ditch. This would be the first time she had ever worn it. What a debut.
Agnes stole the show.
Accomplice in Shenanigans
Agnes came to stay with us in Saskatoon when Vic went in for a knee replacement.
She brought her sewing machine along and soon forgot about it when I introduced her to all the second hand stores. The visits to the hospital to see Vic got shorter and soon we sent Jeff, and we carried on our adventures.
One evening I asked Agnes if she would like to go to the show to see Fried Green Tomatoes. I recognized it had been awhile when she said "It's been ages since I've been to a "picture theatre."
That clinched it. I said I would pack snacks in my backpack to save money, which appealed to Agnes thrifty nature. We were both looking forward to it until
I told her on way that I had packed "drinks" aka wine for us in an empty mayonnaise jar, and we would have to be careful.
I can still see her face, when the movie had started and I discreetly retrieved the mayonnaise jar from my backpack, unscrewed the lid, and offered her a swig. Agnes looked like a deer in headlights, yet she took it and took a drink.
She only had one.
I think the thought of life in prison for this offense scared her.
I will never forget her act of loyalty when we were leaving and she noticed the mayonnaise jar had leaked clear through my backpack. She made herself a human shield, putting herself between the security guy and me as we quickly scurried out of the theatre. We laughed all the way home, the kind of laugh that comes from being both scared and excited.
Agnes had dipped her toe into the other side. She was now an accomplice in shenanigans.
Turning 90, The Year of Firsts
The year Agnes turned 90, Mark and Tracy got married.
Faye brought Agnes to our house for a sleepover on the wedding weekend.
She had broken her hip so was using a walker; we weren't sure who was walking who.
When she came to the porch stairs she threw the walker up the stairs, and followed behind. Jeff looked at me, smiled and we followed her in.
When it was time to turn in, I checked in with Agnes to see if she needed anything.
She was smiling propped up with pillows and was so small she only took up 1/2 of her bed.
She had a pretty black bed jacket on, "Agnes" I said, "are you expecting company?" She laughed and shooed me away.
In the morning I brought her a cup of coffee and hopped in bed with her.
As we were visiting, I asked if she had anything special in mind for her 90th yr., would there be any firsts for her?
"Well this is the first time I've had coffee in bed." she said. I couldn't believe it.
"Well how about breakfast?" I asked.
"No "she said she had never had breakfast in bed. Well I'd fix that. "Wait here" I told her and returned a few minutes later with a breakfast tray.
She looked at it and said "this is the my first time eating yogurt."(I thought she might be pulling my leg on that one.)
We sure enjoyed our breakfast and coffee in bed. It was soon time to get on with the day.
As we hopped out of bed, she said "Shelley I have another one, this is the first time I broke my hip! " That was a hard one to laugh about.
Agnes
When I spent time with Agnes I was always so taken by how contented she was in her life, no matter where she was, on an enormous ranch or a tiny little apartment. None of those things seemed to matter to her.
What mattered most to her was her family and her friends and spending time with them.
When you spent time with Agnes, she had this way of making you feel special, like what you were doing was important and you were important to her.
It's why we are gathered here. To thank her for that, to honour her and to acknowledge her for the difference she made in our lives.
While some of you may be here to support the family of Agnes, and not know Agnes in the way we do, I can guarantee you, that through knowing them, you have met Agnes.
It's amazing thing when you think of it.
How one small woman could have such a huge impact on so many people.
It's the best kind of legacy one could ever hope to leave.
Agnes, my friend, I'd like you to see your legacy of love.
Legacy
Will the children of Agnes please stand and remain standing, ………..and your spouses, with you or in spirit.
Will the grandchildren of Agnes please stand and remain standing,…….. and those who know her as Grandma Agnes.
Will the great grandchildren of Agnes please stand and remain standing.
Will the great great children of Agnes please stand and remain standing.
Will Agnes' siblings please stand and remain standing.
Will the friends and neighbors of Agnes please stand and remain standing.
Will those here to support the relatives of Agnes please stand and remain standing.
Agnes, this is the Best Aggregate ribbon possible, for this, YOUR legacy, of love.
Well done my friend, well done.
With my deepest appreciation for your friendship,
I love you,
Shelley
Share Your Memory of
Agnes
5101 - 50 Street
Lloydminster, Alberta T9V 0M2