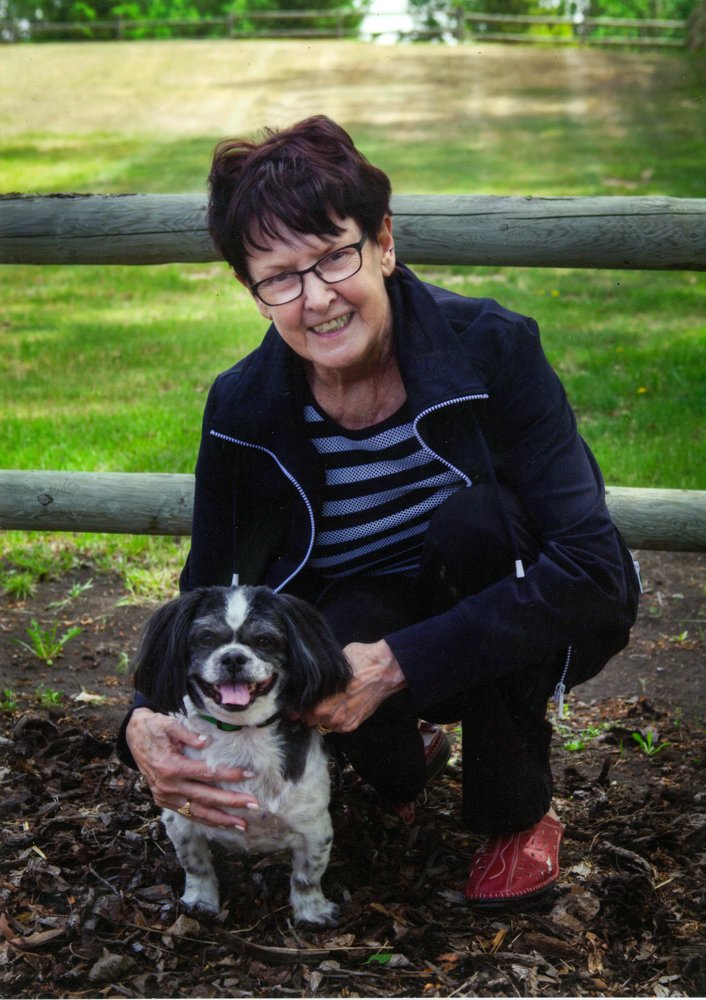 Obituary of Linda Kay
Linda Anne Kay passed away at Lloydminster, Alberta on June 26, 2019 at the age of 78 years.
Linda is survived by: her son, Vernon (Karen) Kay; her four grandchildren, Bryer Kay, Dayna Kay, Haley (G) Greenan and Jordie Kay (Gina Areand); her five great grandchildren, Mayah Greenan, Sawyer Greenan, Millie Greenan, Alaina Kay and Carley Kay;
Linda was predeceased by: her loving husband, Charles "Chuck" Kay; her son, Calvin Kay; and her parents, George and Ester English.
The Memorial Service for Linda will be held in Nova Scotia.
Donations in memory of Linda may be made to the Pioneer House.
Linda's memorial card can be viewed or downloaded from the link below.
https://indd.adobe.com/view/c65c394b-27e6-4a7e-9906-ce062e9be6d3
Eulogy ~
I am aware that plenty of you played big roles throughout grams life and some small. For each of you, no matter the size of memories you hold with her, I want to say thank you on her behalf.
Linda Kay was born and raised in the small town of Pictou Nova Scotia. She was brought to this world by her loving parents Ester and George English on June 13th, 1941. Throughout her childhood, she was accompanied by her three siblings Jo, Mary, and her youngest brother George. Grandma held great love in her heart for each of her siblings and never fell short of memories to share about their childhood.
While searching through old pictures of my grandmother I always feel both stunned and relieved. Stunned by how beautiful she was; relieved that I had to have inherited at least a pinch of that beauty.
In the year 1961, Grandma moved to Calgary to start her career at a bank. During her time there, her good friend set up a blind date, unaware this would be the beginning of great love that had lasted over 50 years. Although I do not remember much of my grandfather, one thing remains clear in my mind; their love. I remember watching him rub her back in the tub, following a foot rub. I remember his simplicity while sitting at the kitchen table reading the morning newspaper, sipping on the coffee she made him, just how he liked it. I remember how he would keep her down to earth, but not too much. While she managed to keep him on his toes, just enough. Their love did not need to be spoken but instead was fueled by actions, commitment, and loyalty. I decided at a young age, that this was the love I would want to acquire one day, the memory of it continues to inspire me each day.
Throughout their years together, they were sure to embrace each opportunity to travel and explore, meeting up with friends and family. They began to expand their family in the small town of Blackfoot Alberta, living in a small home that was ideal for the beginning of their new chapter.
They brought two boys into the world, Calvin and Vernon. One who I was lucky to call my uncle, and the other my father who has given me the world. Her children were her everything, and she held unconditional love for her boys until the end.
Years later the boys had grown, and Calvin and Leslie blessed Grandma and Grandpa with two children, Jordi, and Haley, who kept them on their feet along with many adventures. A few years later Vern and Karen brought two more children into their world, Bryer, and myself (Dayna). Each new addition brought more growing love into the Kay family.
As years of memories passed, great grandchildren started to come, and it was the light she needed. Mayah, Sawyer, Alaina, Carly, and Millie were her little beams of joy throughout the final years of grams life ,always keeping the candy dish full, as they did her heart.
Speaking of lights in grandma's life, Cujo was the brighest. He was the boss of the house for many years, and was her favorite company, we are all at peace to know they have reunited again.
For those of you who grandma called her friend, her unspoken words are full of love and gratitude towards you and your contribution in her life. Now, take her advice, and go grab and drink and get a personality.
Share Your Memory of
Linda
5101 - 50 Street
Lloydminster, Alberta T9V 0M2