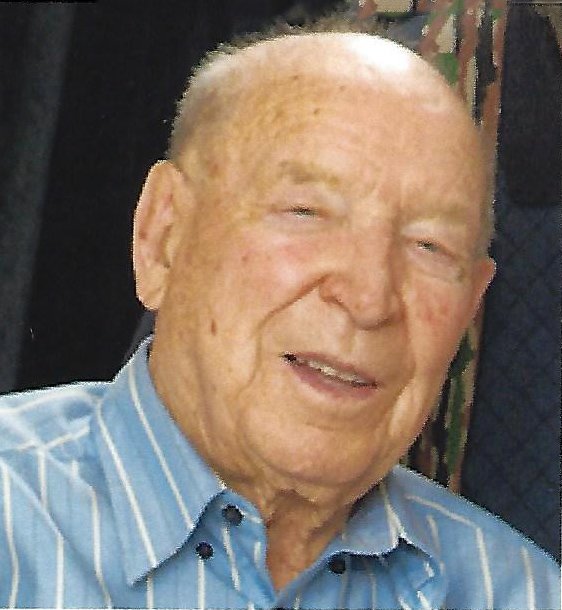 Obituary of Mac Fleming
On Wednesday, October 3, 2019 Lorne Alfred McLaughlin "Mac" Fleming passed away at the Jubilee Home, Lloydminster, Saskatchewan at the age of 93 years.
Mac was born on October 17, 1925 to Charles and Arretta Fleming in the Lashburn Hospital. He was the sixth child in a family of eight.
Mac was predeceased by his brothers – Jack, Lloyd, Sandy and Sid and his two older sisters – Myrtle and Gertie.
He is survived by his sister, Ethel Bell, of Burlington, Ontario as well as nieces and nephews and their children and grandchildren.
Mac went to Wirral School for grades one to ten. To Mac, school was enjoyable and he was blessed to always have good teachers. After finishing grade 12, he joined the Navy on November 8, 1943 and took basic training at H.M.C.S. Hunter in Windsor. In May 1944, he was posted to Edmonton at the University of Alberta for an electrical course after which he was posted to H.M.C.S. York in Toronto. Here he took a machine shop course at Danforth Tech which lasted until May of 1945. The war in Europe ended in May 1945 and Mac then volunteered for the Japanese Theatre and was posted to the H.M.C.S. Stadcona where he was until the war in Japan ended. He was discharged at H.M.C.S. Unicorn in Saskatoon on November 8, 1945. Upon discharge he worked here and there and then from 1947 - 1949 Mac rented a farm. Over the years Mac acquired five quarters of land and in 1976 he sold a half section and then quit farming after the 1985 crop.
Mac was still a member of the Royal Canadian Legion and was a member of the Kinsmen and K-40's.
Over the years Mac was involved with the Lashburn Senior Bluebirds softball team and also spent a couple of years with the Rusway Junior softball team in Lloydminster.
Mac enjoyed curling and golfing as well as being a part of many boards such as the Curling Club, Lashburn Seed Plant, R.M. of Wilton Council and the Lashburn Community Hall. He also gave a $500 scholarship for someone taking something related to health. Mac served on the executive and also canvassed many years for Donors' Choice. Mac was always involved in helping with any and all community projects and fundraising. Everyone will remember Mac for selling many tickets to help with fundraising for different groups. Another project he really helped with was the new Lashburn Sportsplex. In 1995, Mac was honoured with a Volunteer Award from River Junction.
Mac enjoyed travelling. He travelled extensively in the winters and had been on four continents.
In 2006, Mac moved to a senior home in Lloydminster.
Mac also enjoyed some fun times with friends!
The family would like to thank the staff at Jubilee Home for the wonderful care given to Mac during his time with them.
The Celebration of Life for Mac will be conducted from Lashburn Community Hall, Lashburn, Saskatchewan on Tuesday, October 15, 2019 at 11:00 am.
Donations in memory of Mac may be made to Jubilee Home Jems or donor's charity of choice.
Mac's memorial card can be viewed or downloaded from the link below.
https://indd.adobe.com/view/3a3ad93d-7dd3-4c34-a4a7-210700ee0e8e
Celebration of Life
11:00 am
Tuesday, October 15, 2019
Lashburn Community Hall
Box 25
Lashburn, Saskatchewan, Canada
5101 - 50 Street
Lloydminster, Alberta T9V 0M2