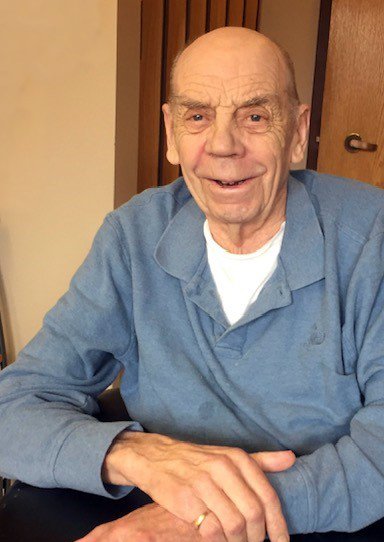 Obituary of Don Jenkins
Donald Edward "Don" Jenkins passed away at Jubilee Home, Lloydminster, Saskatchewan on Thursday, March 12, 2020 at the age of 83 years.
Don is lovingly remembered by: his wife of 58 years, Pat; his children, Janet (David) Kipps, Susan (Dale) Williams and Dwayne Jenkins; his grandchildren, Kyle (Diana) Kipps, Terra (Stuart) Coté, Dawson Jenkins and Shyla Jenkins; his sister, Anita Jones; his brother, Ted (Helen) Jenkins; numerous nieces, nephews and extended family.
Don was predeceased by: his parents, Carl and Vera Jenkins and his brother-in-law, Orville Jones.
Due to the current health guidelines the funeral service for Don will now be a private family service.
A celebration of Don's life will be held at a later date.
Donations in memory of Don may be made to Parkinson Canada or to the Lloydminster Regional Health Foundation - Jubilee Home.
Don's memorial card can be viewed or downloaded from the link below.
https://indd.adobe.com/view/5ba9a2c1-57a1-4c91-8933-5e7b66d2a006
Eulogy:
Good afternoon, my name is Kyle Kipps, Don's grandson. Today I have the honor of delivering his eulogy.
Donald (Donnie) Edward Jenkins was Born in Paradise Hill April 2, 1936, the second of three children to Carl and Vera Jenkins. Don grew up on the farm south east of Paradise Hill. As was the norm of the day he pitched in from an early age milking cows and helping out with the pig barn. He attended school in Paradise Hill, a community that was always considered his roots.
A favorite pastime of Don's when he had spare time was spent playing guitar. Don and his brother Ted self taught themselves to play. He mainly played by ear, taking his cues from some of his favorite country music heros like Hank Snow, and Wilf Carter. Ted and Don spent lots of time playing together with friends and in the community at amateur hours. The guitar was a passion throughout his life and was something he continued to share with those around him.
Don and Pat, his wife of 58 years, met by happenstance in Paradise Hill in 1959. It was a case of love at first sight and distracted driving as he spotted Pat walking along mainstreet. They were engaged in September of 1961. Don had obviously been making plans long before the engagement because he had already cut the hay and started prep on the house site earlier that summer. Don built the house and had the essentials roughed in just in time for the wedding on December 4th 1961. The term to describe Don and Pat's relationship would be lovebirds; defined as a couple that never left the honeymoon phase. They did everything together throughout their marriage from the two of them camping around western Canada on holidays to Friday night grocery shopping. Over the past few years while Don was in the Jubilee I can recall only two instances when Pat did not make the daily trip to be by his side, and you can be sure it was a great miss for both of them.
As the kids started to grow up Don got to embrace his inner child once again. He seized the recreation opportunities that the prairies offered by getting the whole family involved with camping at the lake, snowmobiles, dirt bikes and the family ski boat. I n1973 Don bought a yellow Yamaha motorcycle that he rode to work and was the start of the family bike fleet. Not only were motorcycles fun to get back and forth from work on, but they opened up all kinds of country not accessible by car. Janet, Sue and Dwayne recall the family motorcycles being used to deploy them into the best blueberry patches at the lake. Don always enjoyed his "toys" and his enthusiasm for these adventures is what I credit for my love of motorcycles today.
Family was always at the center of Don's attention. He took the time to travel and see extended family. Some of the highlights included the family camping their way to Victoria with Grandma and Grandpa Jenkins, visiting Yellowstone National Park in Wyoming on a summer vacation, or travelling to Nova Scotia for a family trip when Janet graduated high school. On their 25th anniversary Don and Pat took a bus tour to Alaska. When asked about that trip he once said "Well it's not like they sing about" presumably referring to a Johnny Horton song.
In his retirement he spent countless hours on wood craft and construction projects, frequenting Nelson's for materials. He had an impressive talent for taking an idea, working out the details and making beautiful creations. Many of you would remember the elaborate birdhouses that he would build. This craft was a particular way he connected with his granddaughter Shyla who enjoys wood work and recalls grandpa teaching her how to use the mitre saw.
In Grade four Dwayne cut his own hair. His mother warned him that he would be in for it when his dad got home. When Don got home from work, Dwayne wisely avoided him, eventually he was spotted, Don smiled and remarked that "it was the nicest haircut Dwayne ever had".
As newlyweds Don and Pat lived on the farm near Paradise Hill. On their farm they milked cows and grew crops. Don had a love for farming and equipment as evident by his model antique tractor collection he curated over the years. At its peak his exhibit had over 150 models, almost exclusively in the color green. Don's grandson Dawson also has a collection which Don helped him start.
One memorable event that tested the marriage early on was when Don built a new chicken coop. At the end of the long day Pat went to check on the chicks in the new coop and Don, presumably exhausted from working, slipped into the house. Don had installed a handy feature in the chicken coop where the door latched and locked itself when you closed the door. Before she knew it Pat found herself locked inside with the chicks. She waited patiently, but her handsome and handy new husband never came to her rescue. Eventually her patience ran out and Pat busted down the door, she went inside the house only to find Don peacefully asleep in bed.
When they were first married Pat didn't have a driver's license so Don would drive her to work at the Paradise Hill hospital for 6 am. Eventually, they decided that Pat should get her license. One evening, shortly after Pat obtained her driver's license, Don was separating cream on the porch and noticed grass hanging from the bottom of the car. He casually inquired and Pat confessed she had hit loose gravel and ended up in a field. The cream didn't go flying so like many things I guess he took that in stride.
The family began to grow in the summer of 1963 with the arrival of Janet. Always willing to lend a hand, Don and the family spent the winter of 64/65 in Winnipeg helping out on his brother-in-law, Orville Jones', dairy farm. This was not the only instance that he went out of his way to fill a need and see something through. When the girls were in high school he was the President of the Highschool Band Club. He was also a long time Elk's member and served as the treasurer and over the years he served in various roles in this church. They all have a common theme; he cared about the people around him.
After the winter in Manitoba they returned home to Paradise Hill in time for Sue to be born. In the spring of 1966 on his 30th birthday Don informed Pat they were going to Lloyd minster for him to look for a job. The job he found was the job he would make his career at with Nelson Lumber. Pat waved him off to work in the morning and saw him home for lunch nearly every day for over 33 years. He worked in a number of roles with Nelsons' from positions on the factory floor to customer service.
Don and Pat and the two girls moved into their house on 45th street in the summer of 1966. Over time Don did a lot of work on the house building a large addition, digging the basement by hand, building a garage and once over the weekend replacing the kitchen roof. Help must have been found for that project tho because it was well known Don was scared of heights. Don was what you would call a "busy guy" and "handy"; for him his craft was his leisure.
Dwayne was born a few years later and the family of five was complete. Around this time the family was busy setting down roots in Lloydminster. They were busy and they were connected to the community. Don knew a lot about what was going on in town and the stories behind the places. His Granddaughter Terra especially remembers the drive's around town with grandpa. The drives were therapeutic a way to remember what was, stay connected and see what was happening. That was their time. Even if it was always the same route it was always special.
Don spent the last four years in the Jubilee home here in Lloyd minster and his smile continued to show his spirit and brighten people's days. The last few years in the Jubilee was another place and time for family and friends to gather and visit.
Whether you knew him as Donald, Donnie, Dad, Uncle Don or Grandpa you probably have a funny memory of something he said or a time he helped you out. Cherish those memories and the time he was here.
5101 - 50 Street
Lloydminster, Alberta T9V 0M2