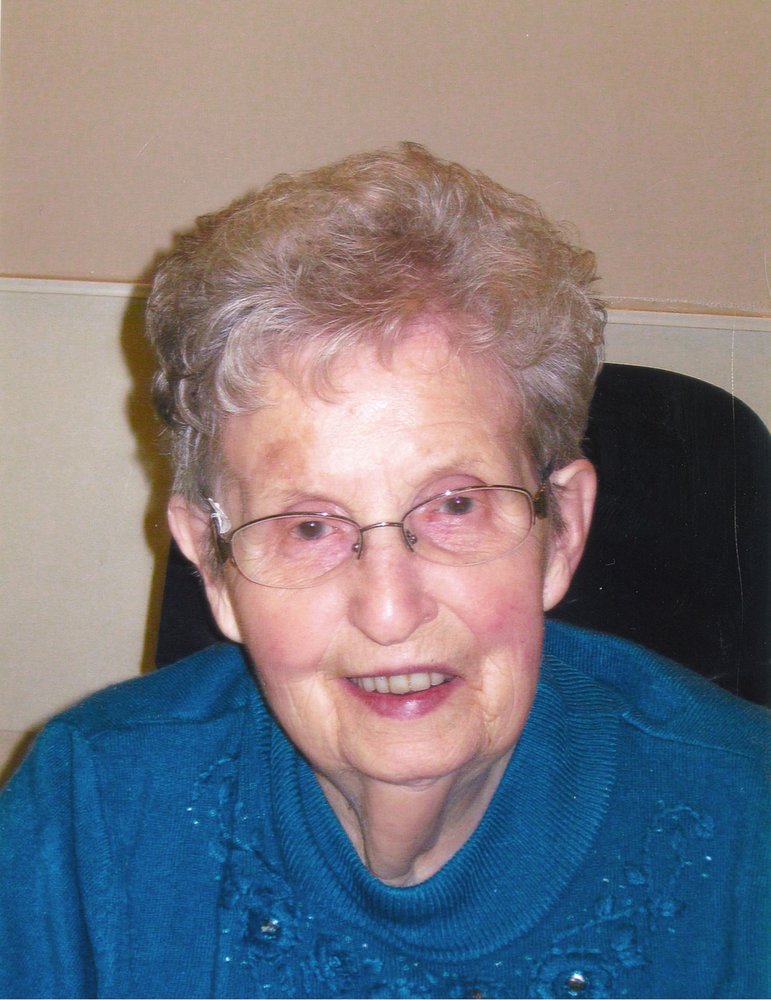 Obituary of Agnes Amundrud
Agnes Amundrud went to be with the Lord on May 14th, 2020 at the Jubilee Nursing Home, Lloydminster, Sk. at the age of 91 years. She passed away in her sleep of natural causes, seemingly peacefully. Just a few days ago, family members talked by telephone to her for Mothers Day. She was quite coherent and jovial as usual.
Because of the Covid-19 we were not allowed to fiscally visit her for the last few months. She remained upbeat and seemed to enjoy her days.
Agnes Amundrud was born in Lloydminster, Sk. on Sep. 16th, 1928. She was the second oldest sibling of seven born to William and Annie Anderson. She was predeceased by her husband Tommy, brother Billy, and sisters Mary, Reta & Barbara and infant great grandson Johnny. She is survived by her children Irvin (Joanna) of Victoria, B.C., Glen (Linda) of Lloydminster, Marilyn of Chilliwack, B.C. and Don (Linda) of Lloydminster, fifteen grandchildren, thirty-eight great grandchildren and two great great grandchildren, also sisters Dorothy and Edith and numerous friends and relatives.
Mom was raised on a farm in the Furness district south of Lloydminster, where her son Glen & Linda are presently farming. She was taught how to work like a man. She did her share of stooking and forking bundles into the threshing machine. She milked cows by hand and other chores. She loved to break the horses to ride until one too many close encounters. Mom rode horseback, walked or skied to attend Rugby school. She got the prize for not missing a day of school for seven consecutive years. She went to high school in Lloydminster and took normal school in Saskatoon. She began teaching in a one room school, grades one to ten at the young age of 17. She taught in Lucky Lake, Borden and Greenwood SK.
Mom met Tommy Amundrud when he was on a leave from the army and after the war things got more serious after meeting again at a local dance. They married on July 7th, 1949. Went to check into a room in North Battleford that Dad had reserved, but all the rooms were taken so they spent their first night in the hotel lobby. They honeymooned in Waskesiu, Sk.
They were blessed with a son, Irvin in 1950, then another son, Glen in 1952, and a daughter Marilyn in 1954 and finally another son Don in 1956. They farmed in the Tangleflags district until 1978. Mom taught school in Hillmond from 1965 to 1974, then in Frenchman Butte. They retired and moved to Chilliwack, B.C. in 1979.
Mom knew how to look at you in a way that made you feel like you could have done better without having to say anything. She set a good example to follow. I don't recall her ever getting angry enough to raise her voice. Between raising four kids, helping with the milking and farming and teaching school, it didn't leave much spare time to relax.
She enjoyed her early retirement. Dad was 11 years older and they retired when Dad was 62. Mom was coming 51 at the time. She said early retirement was the best thing they ever did. She did not like shovelling snow so the weather in Chilliwack was great.
Mom said she became a Christian and accepted Jesus in the early 1970s. She loved the hymns. She talked me into driving her and Irvin to a camp meeting where I, Glen also was introduced to the good news of Jesus and also became a Christian. Mom was a big supporter of all her family and extended family. Ready and willing to go the extra mile.
We couldn't have had a better mother. She will always be loved and missed but is now enjoying living in the presence of God in that glorious paradise called Heaven.
A private graveside family service will be held.
Donations in memory of Agnes may be made to LRHF-Jubilee Home Patient Comfort Fund or the donor's charity of choice.
Card of Thanks
Thank you to the staff at Jubilee Nursing Home in Lloydminster. We so appreciate everything you have done for Mom over these past years.
Thank you to McCaw Funeral Services for their professional help and caring service.
Agnes's memorial card can be viewed or downloaded from the link below.
https://indd.adobe.com/view/30d96ab5-015e-48dc-961d-173f1b42c2f5
Celebration of Life Video
https://www.youtube.com/watch?v=TJgMH-0nl3Y&feature=youtu.be
Share Your Memory of
Agnes
5101 - 50 Street
Lloydminster, Alberta T9V 0M2