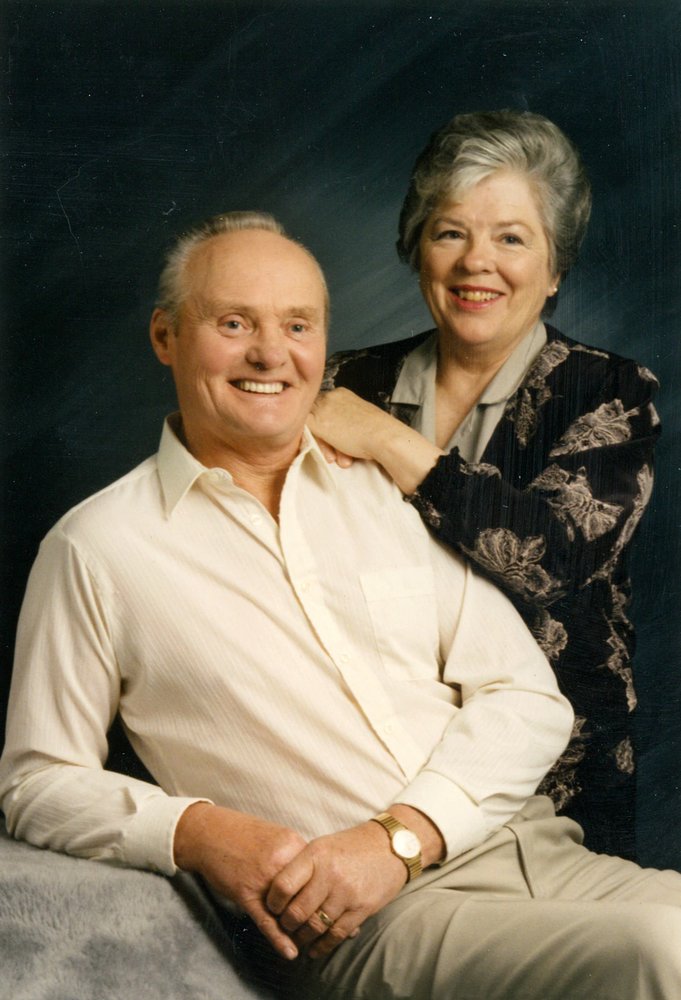 Obituary of Neil and Irene McCuaig
Neil Duncan McCuaig and Irene Delores McCuaig passed away June 9, 2020 at home in Lloydminster. Neil was born in 1932 in the original Consort Hospital in Consort, Alberta to John and Evelyn McCuaig of Monitor, Alberta.
Irene was born in Conquest, SK to Henrietta and William Emlyn Lewis and was one of 5 children.
Neil and Irene are survived by daughters Patricia (Rick Fantham) and Peggy; grandchildren Barbara, Cheryl (Chad Horseman), Wayne; great grandchildren : Shyann (Jordy), Tristen (Olivia), Tamara, Tylee, Gabriel, Kayson, Damion (Keara), Tharren, Kyra, Brayden, Taylor, Jaden, Kree, And Desiree (Kane).and great- great grandchildren : Hudson, Raven, Vayda, Ryatt, Zayne, Xander, Cassius, Raidon And Pat's Step Children (Rick Fantham): Rance (Sarah), Trevor (Shawna), Nicole (Marty), JR, Chad, Hailey (Quinton), Lynne (Anthony), Kristy; Pat's Step Grandchildren (Rick Fantham): Cole, Kruise, Harlee, Hazel, Axton And Calix
Neil and Irene are also survived by their sisters Marty, Kathleen (Alan Gordon), Marjorie, and Norah, brothers Allan (Muriel), Bill (Fran) and Rod (Carol), sisters-in-law Teresa and Ruby. Irene is also survived by sisters Rita (Lyle Schroeder) and Ann (Blaine Marshal) and numerous nieces and nephews.
Neil and Irene were predeceased by parents John and Evelyn McCuaig, Henrietta and William E. Lewis; son Thomas, grandson Shayne Carruthers, great grandson Kaine Carruthers, great granddaughter Morgan; brothers Tom Lewis, Jack (Bud) (Dorothy)McCuaig, Don (Ruby) McCuaig and Gordon (Teresa) McCuaig; sisters Janet (Greg McKinnon) Iris Lewis, Dorothy Elton; brothers-in-law Heath Gordon, Jack Brosinsky, Greg McKinnon, George Greenfield, Doug Van Den Bushe, Harry Elton; sisters-in-law Dorothy McCuaig and Joan Lewis.
A public graveside service will be held at the Lloydminster City Cemetery on Tuesday, June 16, 2020 at 12:00 PM. If you wish to attend the service, we ask you to be mindful of social distancing practices.
In lieu of flowers, donations may be made the Lloydminster Regional Health Foundation emergency room department for equipment or Saint Saviours' Anglican Church.
The memorial card from Neil and Irene can be viewed or downloaded from the link below.
https://indd.adobe.com/view/530c7dc5-b613-478e-920f-3e0fd05d6065
Memorial Service and Eulogy for the late Neil Duncan McCuaig and Irene Delores McCuaig (nee Lewis).
CLH Good morning everyone and welcome! Thank you so much for being here with us today to remember and to celebrate the lives of this wonderful couple who meant so much to all of us!
My name is Carol and I have had the privilege of knowing Neil & Irene since 2006 when I came back to Lloydminster and joined the team here at St. John's. I started writing Neil's EULOGY several months ago, honored to have been asked by him to share his last thoughts. At the time I thought, "How does one begin to cover such an amazing life in such a short time". Little did I know at that time that we would be preparing and including a EULOGY for Irene as well. The majority of this eulogy has Neil's fingerprints all over it as he prepared, edited and approved it with me. Not an easy task for either of us! Pat and Peggy and others have helped to weave Irene's life history into it.
Michael and I are going to talk briefly about the major themes in their lives starting with their early history, their career, their family, their community service, and lastly their enduring FAITH in GOD which has permeated all areas of their lives.
EARLY HISTORY/CAREER
Neil was born on September 13, 1932 in the original Consort Hospital in Consort, Alberta to John and Evelyn McCuaig of Monitor, Alberta. Neil was one of twelve children raised at the Monitor farm and all went to a one room school from grade one through to grade ten. Neil's father, a WW1 veteran was the Postmaster and started the ROYAL CANADIAN LEGION #32. His mother, Evelyn, was a school teacher. His parents met at Muirland where his mother taught school and his father homesteaded at Zealandia, Saskatchewan.
Neil left home in 1949 to work and spent two years with the C.P.R. Telegraph and Seismic Line Crew stringing wire from Lloydminster to Edmonton to Calgary to Lethbridge to Medicine Hat and back to Calgary. Neil added that he walked every step of the way. Neil then went to work in the oilfield in seismographing. Following this he moved on to the big drilling rigs where he spent most of his career analyzing, evaluating and drilling oil and gas wells and potash wells in five provinces (British Columbia, Alberta, Saskatchewan, Manitoba, and Quebec), two territories, Sable Island and the High Arctic (King Christian Island, and Ellsmere Island). Neil also spent five years in South East Asia, the North Sea and Europe, managing sales and serving as the director of operations for Lynes Petrotech in a down hole evaluation of production formations.
MPS Irene was born in Conquest, SK to Henrietta and William Emlyn Lewis and was one of 5 children. Their father worked as an elevator agent and the family moved around quite a lot, but Irene always had fond memories of those communities and had lots of stories to tell about her life there. Summers were spent with Irene's aunt and uncle on a farm at Glenside with cousins and with lots of time in the garden with Bubba. Irene said that Bubba never spoke English and her neighbor only spoke Mandarin, but that never stopped the steady conversation over the fence. In later years when Neil became a Shriner, Irene met up with the son of this neighbor and caught up on forty years of family news.
Irene became a very organized cook and baker at a young age because she loved all that fresh cream, making butter and egg noodles. Of course when you love to eat all that fattening food you need to wear it off- Irene said she was "pudgy" as a kid- and she was very competitive in sports days and baseball games. She loved it! Irene started working at a young age as a live- in housekeeper, a soda jerk, a dance teacher, a telephone operator, bookkeeper/office manager to Endiem Oilfield (Neil's company). Irene's mother had a boarding house for working men in Saskatoon and Neil's crew stayed there. Word got around about the beautiful women around the house, one was pretty, and one was older and bossy, and the others were married. Must have been an introduction or double date – anyway, Neil chose the bossy older girl. The rest is history.
CLH Neil said he met the love of his life, Irene, in Saskatoon while he was drilling for Potash in Saskatchewan. They were married on November 9th, 1957. In the 60's Neil and Irene homesteaded at Groundbirch, B.C. Neil owned and operated McCuaig Construction, a land clearing business, and helped build the school and grounds. He also built his own home which remains standing today. Neil changed jobs in the late 1960's going to work for Lynes United Services.
MPS Irene was the navigator, the map reader, the seamstress, a very active sports woman in curling and golf (which she kept up until the old hip gave out). Irene was always active in the ACW, church functions, librarian at the school library (she loved books so made any excuse to read). She was involved in the WOMENS INSTITUTE, OIL WIVES, and avid gardener, and all the while dressing fashionably with hair done and make-up on before going out the door.
Irene was the strong one in the family, the backbone that her siblings turned to in their hour of need.
CLH In the 70's the McCuaig's lived in High Level, Alberta, where Neil and Irene embraced the community involving themselves in the OILMEN's and OILWIVES', and the school library. While there Neil used his talents to help build a golf course. Sports were important with Neil and Irene travelling to many golf courses, curling was included, and Neil even played on a hockey team where he was nicknamed "POPEYE" for reasons unknown. Irene sewed the costumes needed for the many events they attended and took part in.
From High Level they moved to Calgary and then off to Bakersfield, California including a holiday in Hawaii and landing in Singapore. Quite a culture shock not to mention the climate! Then the McCuaig's moved to Singapore and later to live in Jakarta, Indonesia. Neil worked in Thailand, Burma, Jakarta, and other islands in Indonesia, Bangkok, India and several other Far East Countries. He worked in sales briefly, then as a manager of operations in the Far East and Scotland. They moved then to London, England where Neil managed operations to test and evaluate oil and gas wells in 13 European Economic Community countries (plus Israel, Libya, and Brazil). Neil and Irene moved to Aberdeen Scotland for one year.
Being overseas was not always work for Neil. They had many visitors: his parents, Bud and Dot, Uncle Ted and Aunt Rosemary, nephew David and niece Donna came to stay and take many day trips with Neil and Irene. Uncle Ted and Aunt Rosemary were frequent visitors from home during Neil's time off.
They returned to Canada in late 1978 to live in Calgary and moved on to Lloydminster where he was the founding partner of Endiem Oil Tools and built one of the first shops in Glen E. Neilson Industrial Park. They sold out to SITE and Neil went consulting for Canadian Reserve Oil and Gas and Canadian Hunter, supervising Canadian Hunter's US operation in five states. Neil finished his working career as a supervisor/consultant drilling oil wells from Edson to Estevan.
Neil tried to retire and found he wasn't busy enough, so he went back to work using his expertise working with Frog Lake, Onion Lake, and Little Fishing Lake on the start-up of their operations.
FAMILY
Neil and Irene were blessed with three children: Patricia (Rick Fantham), Peggy and son Thomas, who died in infancy. Pat and her first husband Wayne Carruthers provided Neil and Irene with four grandchildren: Barbara, Wayne, Shayne and Cheryl (Chad). Their great-grandchildren include: Shyanne (Jordy), Tristan (Olivia), Tamara, Tylee, Gabriel, Kayson, Damien (Keara), Tharren, Kyra, Brayden, Taylor Jaden, Kree and Desireez (Kane). Their great-great grandchildren include: Hudson, Raven, Vayda, Ryatt, Zayne, Xander, Cassius and Raidon. Their family also includes Pat's eight step-children: Rance (Sara), Trevor (Shauna) Nicole (Marty), JR, Chad, Hailey (Quinton), Lynne (Anthony), and Kristy and five step-great grandchildren: Cole, Kruise, Harlee, Hazel ,Axton and Calix.
Neil and Irene had an acreage by Rivercourse where they spent 11 years building and growing everything themselves and enjoying huge gardens and small livestock. They moved into Lloydminster to retire in 1998. The Rivercourse farm was a beautiful location for the Lewis family reunion using the big shop as a hall and kitchen and dance hall. It was also a place where Pat's four children enjoyed the gardens and its fruit, and learning to drive the lawnmower and the quad. Neil built a greenhouse for Irene and Peggy made of recycled glass. The big dome lights were made of glass from the Lloydminster Hospital.
Family reunions at the Gooseberry Lake campground were a major highlight for Neil—he waited with great anticipation to meet his brothers, sisters and their families. He remembers his family taking swimming lessons there.
Neil and Irene enjoyed "seeing the world: and included many of their past friends and family on these trips. Retirement included travelling to Australia with Ann and Blaine, with cousin Shawn as their tour guide, host and driver. They joined Irene's brother Tom and Joan to holiday in Hawaii. They attended the wedding of Karen Leith in Scotland, her parents Wattie & Elenor were friends they met in Indonesia.
They are survived by Neil's sisters Marty, Kathleen (husband Alan), Marjorie and Norah. His brothers; Allan (wife Muriel), Bill (his wife Fran), Rod (his wife Carol), and sisters in law; Teresa, Ruby, Rita (her husband Lyle Schroeder), Ann (her husband Blaine Marshall) and numerous nieces and nephews.
Neil and Irene were predeceased by Neil's parents; John and Evelyn McCuaig and Irene's parents, Henrietta and William E. Lewis, also their infant son Thomas, their grandson, Shayne Carruthers, and great grandson Kaine Carruthers and great granddaughter Morgan Carruthers.
They were also predeceased by Neil's brothers: Jack (his wife Dorothy), Don, and Gordon; and Neil's sister, Janet McKinnon (husband Greg); also Neil's brothers-in-law: Heath Gordon, Jack Brosinsky, Greg McKinnion, and George Greenfield, Also included are Irene's brother Tom Lewis; Irene's sisters Iris, and Dorothy (her husband Harry); Irene's brothers-in-law Doug van Den Bushe and Harry Elton; her sister-in-law Joan Lewis.
COMMUNITY SERVICE
MPS In the 20 plus years of retirement Neil enjoyed volunteer work, seniors curling, golfing, and travelling. He was an active Mason and Shriner, also a member of the Richard Larson Foundation.
Neil built a bake oven which is on display at the Museum. Later he and Joe Belashay rebuilt it making it stronger. They also built a wooden train for a fundraiser which is still in Joe' Marcinew's back yard.
Neil was also a collector: antiques, coins, tools, musical instruments, books, etc. He would say that one day they would be worth a few dollars.
Carpentry has always been Neil's hobby, He built a barn, two houses and a shop at the Rivercourse farm, also as mentioned earlier a train, and a bake oven. A greenhouse and a kitchen table were also on the list. And on and on it goes including bookcases for his grandchildren, doghouses, dog feeders. As a Shriner, Neil enjoyed working on the little cars and then driving them over to Sandy Hill's to start the parade. Apparently, traffic stopped for him as he travelled across town!
As most of you will know, he built hundreds of birdhouses, birdfeeders which helped out a lot of homeless birds. He built children's toys, and a rocking cradle for Ray and Helen Roger's grandchild. Irene, Pat and Peggy received many gifts which Neil had made…what wonderful keepsakes!
CLH The two Anglican churches here in Lloydminster have been so blessed having Neil and Irene in their midst. I remember meeting Neil at St. John's in 2006 and was totally amazed by his commitment of all the time and energy he volunteered. Who does that? WOW!!! It seemed he had things built or repaired before we even knew they needed doing and he asked nothing in return. Our empty building at Saint Saviour's became a church overnight- thanks to Neil—he built lecterns, a missel stand, crosses and a beautiful baptismal font which fortunately, Neil was present to witness our first baptism which happened to be Reverend Gary's first great grandson, Milo.
He was also our "voice of reason!" Neil was always a gentleman, he was, polite, respectful, loyal, kind and compassionate. He had a sharp mind which allowed him to solve problems easily and quickly. Neil was personable and always went the extra mile to make any situation better. He was constantly "paying it forward"! He had an incredible sense of humor always with a twinkle in his eye.
MPS As you know, behind every good man is a good woman. Irene was that good and gracious lady. Not only did Irene provide faithful and steady support of Neil's endeavours, she also provided leadership and a kind of gentle strength. Others have described her as the "bosyy one", But I never saw that side of her. She took over the running of St. John's Church kitchen from a formitable and never to be trifled with lady in charge and managed to run and supervise that kitchen with grace and firmness, yet calm, unobtrusive, gentle, unassertive leadership. The same was true with her leadership of the ACW, The Anglican Church Women. I can still see her seated in the middle of the executive while in the library. In neither situation do I even remember her being sharp or raising her voice, yet one always knew who was in control. Truly, she was the power behind the throne.
CLH Neil was not afraid to take on acting roles at the LEGACY CENTRE and he made his own costumes, built stage props, and donned a Santa Claus costume and hand out gifts to children. Once he was seen driving to the curling rink in full Santa Claus gear and proceeded to play the full game. His family says that "Neil was such a kid in his excitement about the Christmas season!" He had lots of stories to tell about Christmas pageants in Monitor.
Neil was an active golfer, curler, played ice hockey, a member of the Richard Larson Foundation, the Britannina Lodge#23 and the AlWa Shrine Club. He was involved in every function at the church and I think he attended every Garage Sale in the city sometimes more than once in the same day! Jeannine and I can attest to this—I think he stopped in at our Garage Sale 5 times during the day-once to bring each of us a bottle of his home-made wine! He even held his own Garage Sales. Neil never missed the church garage sales, helping to set up, visit all day and then help clean up.
CLH As I said in the beginning one of the overarching themes of their lives was their enduring Faith in God. The church was always a big part of their lives. They greatly enjoyed everything
about church - worshipping, helping out, fellowshipping or just being there. Faithfulness and dedication, whether towards God or towards their fellow human beings, was totally Neil and Irene. I personally think that actions speak louder than words and they certainly with every fibre of their beings lived and breathed the word of God. Peggy shared that in their last days on this earth, their focus was on scriptures, prayers and Christian music, readings, etc., which helped to take them home.
MPS A couple of Irene's favorite hymns included: JESUS IS WALKING WITH ME and I KNOW WHO HOLDS TOMORROW- the choruses read:
Jesus is with me, my shepherd and guide,
All that I need, He is there to provide;
That makes the difference this friend by my side,
Jesus is walking with me.
And
Many things about tomorrow I don't seem to understand,
But I know who holds tomorrow and I know who holds my hand.
These two hymns belie her active faith and trust in God. She knew that God was with her every step of the way. That, indeed, is how she lived, yes, right to the very end!
CLH In closing I quote what Pat Skinner so eloquently shared of her memory of Neil,
"On our journey of life we get to work and play with many people, and it was my privilege to stand beside side Neil while he worked in and around this Church he loved. Before asking Neil to do a job, you had to make sure you knew exactly what you wanted as there was no time for indecision or reflection. Neil couldn't wait to get started and the job request was usually done with a twenty-four hour period (or less)! I also think we had the privilege to play, for everything was touched with humor. My small voice of deep appreciation, thanksgiving and gratitude is nothing compared to the voice of the Master when he says "Well done thou good and faithful servant."
So now----It is with extremely heavy hearts we join with the family in an attempt to say good bye to the wonderful couple who meant so much to all of us.
"May God Bless and Keep you both - till we meet again."
Share Your Memory of
Neil and Irene
5101 - 50 Street
Lloydminster, Alberta T9V 0M2