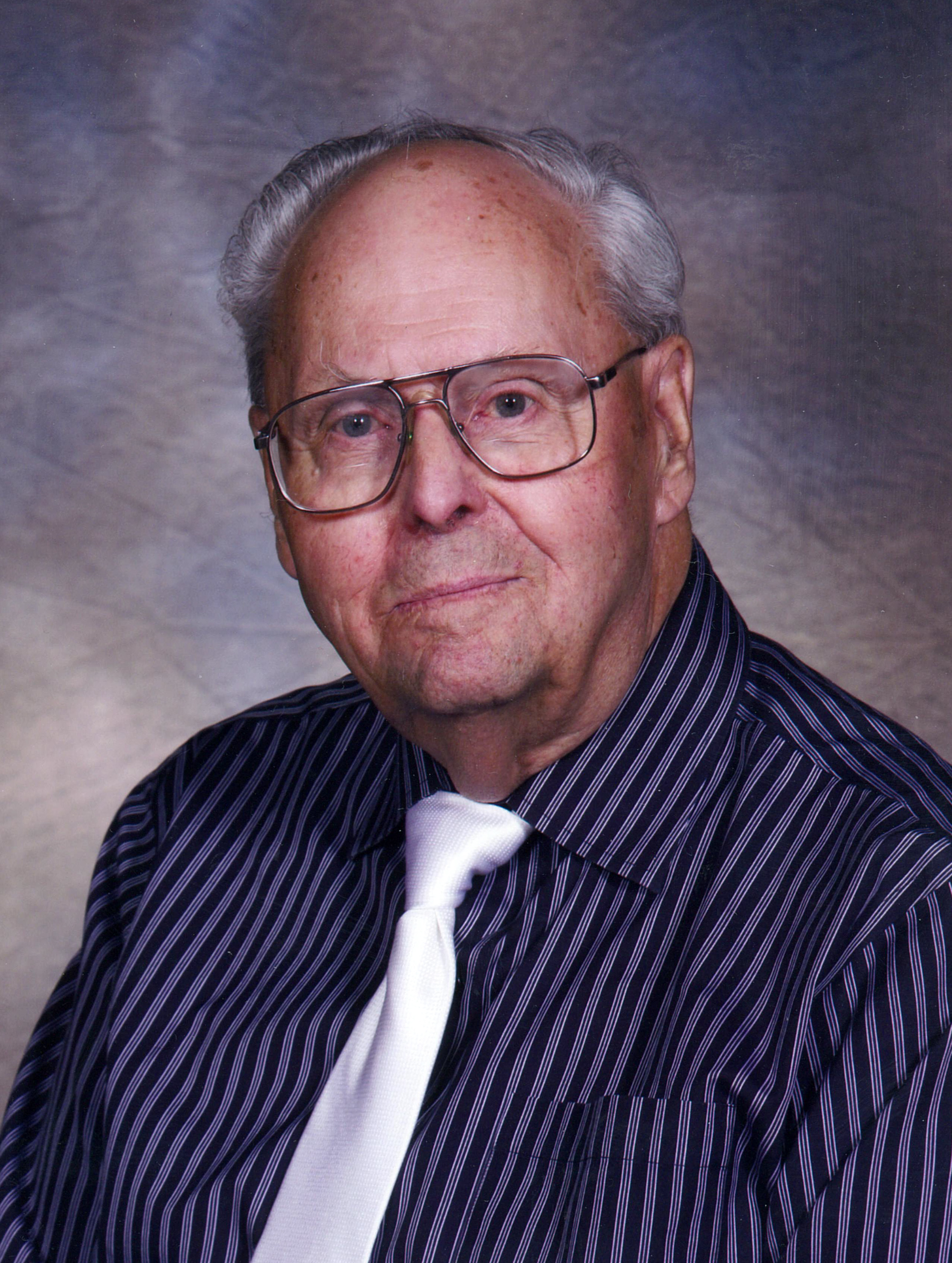 Obituary of Morgan Day
Morgan Day passed away at Lloydminster Continuing Care Centre, Lloydminster, Alberta on Monday, June 15, 2020 at the age of 91 years.
Morgan is survived by: his loving wife, Ellie Day; son, Archie (Ronda) Day; daughter, Karen (Murray) Schmidt; grandson, Tynan Day (Ashley Ostrom); two granddaughters, Marina Day and Hannah Schmidt; brothers-in-law, Ewald (Nieves) Hein and Ervin (Dianne) Hein; sisters-in-law, Olga Chuey and Tillie Hein; and numerous nieces, nephews and other relatives.
Morgan was predeceased by: his parents, Archie and Elsie Day; brother, Owen Day; grandson, Andrew Schmidt; brothers-in-law and sisters-in-law, Alfred (Elizabeth) Hein, Martha (Paul) Regitnig and Orest Chuey; and his nieces, Cathy Chuey and Holly Day.
A private family service will be held on Monday, June 22, 2020 at 1:00 PM.
If you wish to watch the live stream please follow the below instructions.
- Login to Facebook.
- Go to McCaw Funeral Service page at 1:00 PM.
Donations in memory of Morgan may be made to First Lutheran Church or the donor's charity of choice.
Morgan's memorial card can be viewed or downloaded from the link below.
https://indd.adobe.com/view/b8df8ee8-e80f-4b91-8fae-763445257e6a
Eulogy for Morgan Christian Day
Read by Archie Day
Good afternoon, thank you for coming to the funeral for Morgan Christian Day. Christian is a common Danish name, given to him by his mother who was born and raised in Denmark, and he was very proud of that heritage.
For those who don't know me, I am Morgan's son Archie; his favorite son, and also his only son. Karen over there is his favorite and only daughter.
I am sure many of you have special memories of my dad, or can think of some advice or opinions he shared, likely about the Social Credit Party, WCC (Western Canada Concept), reform party, or his preferred auto maker. Dad loved people and wanted the best for everyone.
My Dad Morgan passed away at the Lloydminster Continuing Care Facility June 15, 2020 at the age of 91. Before he passed, he wrote his own obituary to share with all of us and to say goodbye to the family and friends he loved so much:
A few years ago, I asked Dad to write his own obituary.
Obituary in words of Morgan Day
I was born September 30, 1928 at 4:30 PM in Saskatoon, Saskatchewan. Since my Grandmother on my father's side was a mid wife, she had the honor of delivering me. I resided in Darcy, Saskatchewan, about 40 miles, give or take, east of Kindersley for 4 years, before migrating to Bridge Creek School District (Meadow Lake area) in 1932. My family ended up leaving Darcy for the usual reasons; WEATHER, NO RAIN, LOTS OF DUST, NO WATER, and more. We went to Meadow Lake and started a homestead where we had lots of water and 160 acres of solid Bush. In Meadow Lake I took my grade 10. After this, Dad took a job buying grain for Searle Grain in Brada, Saskatchewan, east of North Battleford, where he worked for 15 years. I got my Grade 11 and 12 there and that was the beginning of my life's career.
I started with OK Economy (grocery) and then transferred to Saskatoon. From there, I worked for CPR in the yard as a switchman where trains were made up. After that, I worked at the International Harvester branch Parts Department in North Battleford for over 2 years. I then went to Vancouver with nothing but a small suitcase and a very small amount of money. I stayed at a friend's place and got a job that same week in an automotive parts department. In 1951, I found out about a project in B.C. called Kemano (for an Aluminum Smelter). I got a job there. As this project is a story in itself, I will not go into detail; instead I'll tell you that I worked for two 9-month terms and made a lot of money, most of which was used to pay off debt for an attempted gas station venture that a friend and I had tried to start in Vancouver.
I went to work for Atlas Van Lines as a pickup driver, delivering and picking up. This was a small company at the time and was very enjoyable to work for. The owners were a couple from Unity, or some where around there, and they paid me well. After this I went to the DEW line (Distant Early Warning) in the Arctic. I made very good money for two 9-month terms, but it's cold there.
In the meantime, Mother and Dad moved to Meadow Lake and had some land, so I came home and rented a half section. I farmed until my rental contract expired and decided that was enough of that. I loved the farm, and still do, but the price of grain at the time was too low – some (and by that, I mean all) of the money I had made I invested in machinery and I now had to find other employment. A good friend and I bought a general store. All went well at the start but, to make a long 5-year story short, I was the final owner and had to shut down the business; there was too much overhead.
During this episode with the store I met Ellie. I was involved in the Lutheran Church – I mean involved – and greatly enjoyed it. One of the things we did was organizing the young people into a ball team and we had one event where we loaded up the school bus and a few cars and went off to challenge Our Savior Lutheran Church at Loon Lake.
During the game, in which I played for Meadow Lake, I saw the score keeper. She caught my eye. We met May 24th and were married November 25th of the same year, for better or for worse – and it sure got worse the five years that we had the store. When I finally shut it down, I found myself with 2 children, a wife and broke with a bunch of debt – Oh by the way, I bought a new car that had payments also. (Any suggestions to the make ?)
Here's what happened. We moved into a house with a leaky roof; it was shelter and that's all. I had two credit cards (Royalite and BA-for those who remember those companies), a new car, and a couple of dollars. I got in the car and I started looking for work in Saskatchewan. One of the places I found a job was the potash mines in Langenburg where a friend of ours worked. The job made good money, the town was nice, and there were even a couple of Lutheran churches. It all looked good to me. The fellow in charge that was going to hire me said to phone in a week and guess what? The market fell out and there went potash and, with it, my job. So, I climbed back in the car and took my two credit cards and headed to Kitimat to the Aluminum smelter. I didn't like the idea but it paid good.
On the way to Kitimat, I got to Grande Prairie about four thirty and made a phone call to our pastor who was from Meadow Lake. He heard my voice and said "Morgan you're not going anywhere – I'll meet you and take you to our place."
Well to make a long story short, Pastor Luther Lerseth and I searched for a job and nothing happened until we met the Nelson Lumber salesman (Nelson had an office in Grande Prairie) and he said he would phone his office and see if anything was happening. I wanted to go into sales and, sure enough, there was an opening and I had an appointment for an interview. After the interview, I went to Meadow Lake and waited. It took about a month, but I started at Nelson Lumber in retail on May 1st, 1967 and moved to Lloydminster. Although I had assumed I'd go on the road, I instead stayed in retail for 14 years 3 months and 2 weeks. I paid off my back debt after 4 years and bought a Nelson Home. After this time with Nelson, I went to work for Husky Oil for 10 years until I retired in February of 1991 and lived in the same house, 5503 50A Ave, in "the circle" until 2014.
Over many years we have enjoyed seeing the town grow, but, most of all, we've enjoyed the time with our friends at First Lutheran. When I got involved with the church in Meadow Lake at age 25, I felt complete; since moving to Lloydminster, the congregation of First Lutheran have become our family. Many things have happened in our lives, such as children growing up and moving away, but no matter where I was or where I went, my prayers have always been a part of my life.
Over the years, God has watched over me; He was there wherever I went. He listened and helped, even when I did things my own way. As I look back now, I thank God for His love and patience; everything has worked out just fine. I am still married to that score keeper and we've been together for over 50 years now. Many times, it was Ellie who kept things running in our family. Our love has grown stronger by huge amounts every day since we got married. My wife Ellie was the best thing that ever happened. I guess God figured there was still hope for me and placed Ellie in my life. He sure got the right helper (and she's not afraid of disciplinary action).
If I measure the wealth of my life in terms of money… not so good. But to look at the blessings God has bestowed on me of my family, Archie and Ronda, Karen and Murray, and my four grandchildren, Tynan, Marina, Andrew, and Hannah, I know I am the richest man in the whole world. And the greatest is my wife Ellie. Like I said, God knew what He was doing, as He always does. Our love was strong through good and bad times, and I thank Jesus for her.
Ellie and I have Jesus in our home and He has been with us all the way. It is with the help of Jesus that I say farewell to my family:
To Archie, Ronda, Tynan, Marina, Karen, Murray, Andrew, Hannah, Ted, & Vera Mae I say all my love – I truly love you all.
And to the congregation of First Lutheran – also to Harvey Davies, my special friend who lived in our Crescent and whom I've know for over 40 years.
Ellie – I love you
Ted and Vera May – I'll see you
Pastor John and family – Keep on with Jesus' Help
I left out a lot but I felt this was good enough. Nobody will be listening after this amount anyway.
I'll see you all at the Resurrection,
Farewell and God Bless.
Yours in Christ,
Morgan
Share Your Memory of
Morgan
5101 - 50 Street
Lloydminster, Alberta T9V 0M2