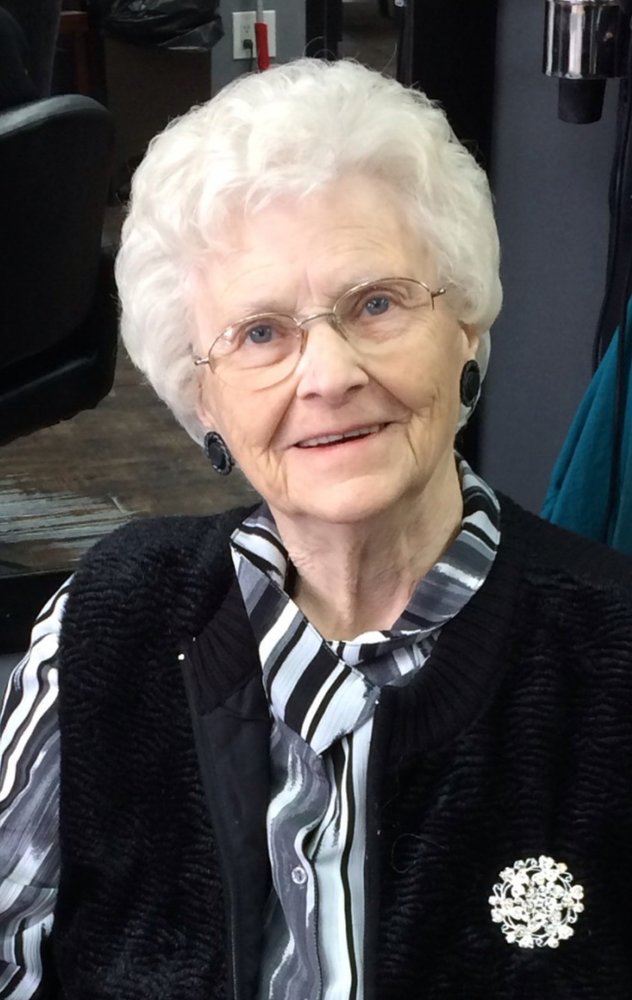 Obituary of Luella Johnson
Luella Johnson was born on December 16, 1931 at Ridgedale, SK to William and Alta Strickert. She was born at home, on the farm, on a cold winter night. The doctor came with a snowmobile across snowy country roads to reach the farm home to find the baby was already born, and in good care.
At the age of six, her parents moved to Lac Vert where Luella started grade one. In 1944, her parents moved to Lloydminster where Luella attended school to grade eight. In the fall of 1946, she went to Prairie Bible Institute at Three Hills, Alberta to take her high school.
The young people from Marsden Gospel Mission came to Lloydminster on Saturday nights to hold street meetings at the corner where the Saskatchewan Credit Union now stands. On the bus was a handsome young fellow whose name was John Johnson. He caught her eye and soon they were dating; they were married in 1952, a union which lasted for 56 happy years.
Their first years were spent in Lethbridge, Alberta, where John worked in a garage. It was in Lethbridge that Darlene was born, starting their family. They then moved to the farm near Marsden, Saskatchewan where they worked together, learning all aspects of farming from caring family, neighbors and friends. During this time God blessed them with another daughter named Sharon. It was there that Luella learned about living without power or running water.
They worked together planting gardens, picking and shelling peas, canning, raising chickens, milking and separating milk, driving a truck at harvest time, trips to town every Saturday night for groceries and meeting friends.
In the fall of 1956, the family to Lloydminster, Saskatchewan. Roy, Elaine, Marvin and Robert were born in Lloydminster Municipal Hospital.
In the fall of 1965, the family moved to a brand-new Nelson Home on 45th Street, across from the Barr Colony School.
The family attended First Baptist Church and both John and Luella taught Sunday School. Luella was a camp cook at Pleasant View Camp one year and at Marsden Camp for one year. Luella was also a cabin counsellor. Darlene and Sharon were both involved in Pioneer Girls. Later on Luella helped with the program and taught girls about Jesus.
At the age of 8, Luella committed her life to Christ. Her faith in God and His word was an inspiration to many strangers, families and friends. She lived courageously, trusting God when sickness came, that He was in control of all things and His will was perfect.
Boys Hockey – Early morning practices, night games and weekend travels to other towns were so exciting. Luella was the first to bring a card table and a coffee pot to the Russ Robertson rink. Free money was given, and at the end of the season, enough money was raised for a special supper at Moose Lodge. Sweaters were given for each boy. Luella was chosen that year as "Mother of the Year". The next year a concession was built.
Her later years, after the kids left home, were spent caring for family, friends, and neighbors. Her motherly instincts and loving attitude are remembered by many.
Luella and John enjoyed their cabin very much at Perch Lake. There they found peace, solace, and enjoyed many visits from strangers, family and friends. Many hours were spent gathering around the fire pit, along with fishing early mornings when only the loons were awake.
Luella leaves to mourn her passing: her children, Roy (Joyce) Johnson, Darlene Friedel and Robert (Connie) Johnson; seven grandchildren; and numerous great grandchildren.
Luella was predeceased by: her children, Elaine, Marvin and Sharon; her husband, John; sisters, Gertrude Graham and Colleen Cardiff; and her brother, Lester.
A graveside service will be held at 10:00 AM on Tuesday, October 20, 2020 at Wycollar Cemetery, near Marsden, Saskatchewan. At the graveside service, social distancing will apply.
A Memorial Service in memory of Luella will be held at First Baptist Church, Lloydminster, Saskatchewan on Tuesday, October 20, 2020 at 2:00 PM. The Memorial Service is by invitation only; however, for those not in attendance a live streaming of the service which will be posted on the McCaw Funeral Service website under Luella's obituary at the time of the service.
Donations in memory of Luella may be made to donor's charity of choice.
You may view the live streaming of the service by clicking on the following link. https://www.youtube.com/watch?v=Y3o473hE8SU
Luella's memorial card can be viewed or downloaded from the link below.
https://indd.adobe.com/view/96d672d9-329a-420a-970e-9bd8b61b3058
Share Your Memory of
Luella
5101 - 50 Street
Lloydminster, Alberta T9V 0M2