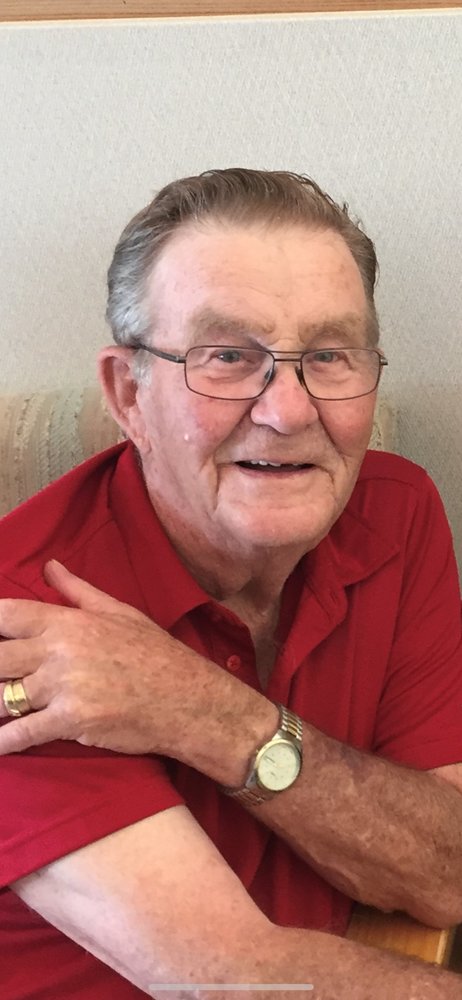 Obituary of Robert Arnett
Robert Edward Arnett was born in Melfort on November 9th, 1934 to Ted and Thelma Arnett. He grew up on the family homestead east of Pleasantdale. Dad started his schooling at Lucan Elementary and continued his high school in Pleasantdale where he graduated in 1952. Dad went to Edmonton after graduation where he took a small engine course.
Dad met the love of his life, Bobbie, when attending Pleasantdale school and they were married July 8, 1955. To this union 3 children were born: Rae, Tracy and Doug.
Dad farmed on the family farm until 1994. He was always working on his John Deere equipment, and loved those special suppers in the field with his family. Dad also worked for Sask Wheat Pool for 10 years.
Music was a big part of Dad's life. He started playing guitar at an early age. Whether it was playing guitar with his aunts, uncles and cousins or playing guitar for his daughters while they would sing, this was his passion for many years.
Dad was avid about his sports. He played baseball for many years with the Pleasantdale Red Sox. He coached Doug when he was small, and continued coaching with the Pleasantdale Jets. He also coached the Pleasantdale Blues hockey team. Dad curled for many years and enjoyed the comradery with his fellow curlers. Dad loved the Saskatchewan Roughriders and never missed a game.
In 2000, Mom and Dad moved to Melfort to enjoy their retirement. This is where Dad took up golfing as his new passion. On any warm day, you could always find Dad at the golf course with friends, family or even by himself as this is how much he enjoyed the game.
For many years, one of the highlights of Dad's summers was going on a fishing trip to Besnard Lake, whether it was with family or friends, these were memories he cherished as we all do.
In 2018, after Mom's passing, Dad moved to Lloydminster Continuing Care Home.
Being an only child, family was the most important thing in Dad's life. He was so proud of his entire family and loved each one of us unconditionally.
It was very fitting that Dad chose February 14th to leave us. It was time for him to go be with mom, the love of his life.
Dad leaves to mourn his daughter Tracy (Neil), son Doug (Melody), son-in-law Robert (Bonnie) Cross, sister-in-law Patty (Gary) MacLaren, sister-in-law Shirley Montgomery, 7 grandchildren and 11 great-grandchildren.
Dad was predeceased by his wife Bobbie, daughter Rae and grandson Robert Shane Cross, parents Ted and Thelma Arnett, in-laws Raymond and Velma Montgomery, brother-in-law Guy Montgomery, sister and brother-in-law, Joan and Mervin Lowe.
The following words were shared with us after Dad's passing: "All of us loved Grandpa Bob, and I can tell you that I looked up to him as a mentor. He has taught me a lot about life, not just about fishing. Watching how he and Grandma Bob interacted, I was able to see first hand the best example of a perfect couple. Another characteristic I admired about Grandpa Bob was the unique ability to control a room with his quiet demeanor. He would say what he was feeling, and even though he spoke quietly, everyone around him got silent and listened to his message. That is respect. Grandpa could always turn an unfortunate event into memorable joke. That is the way I am going to remember Grandpa Bob". These words are proof of the legacy dad left behind to his family.
A private family service will be held at a later date.
Donations in memory of Robert may be made to Lloydminster Loving Care Auxiliary (Lloydminster Continuing Care).

Share Your Memory of
Robert
5101 - 50 Street
Lloydminster, Alberta T9V 0M2