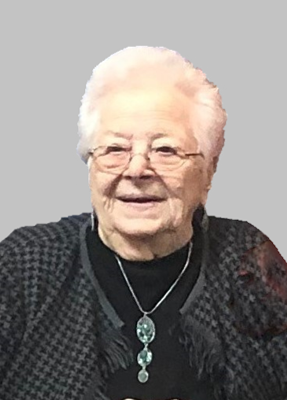 Obituary of Eleanor Kryzanowski
Eleanor Faye (Badduke) Kryzanowski, formerly of Wadena, Saskatchewan, passed away on Sunday, April 26, 2021 at the Lloydminster Hospital shortly after reaching the age of 89 years old.
Born April 4, 1932 to John and Vera (Anderson) Badduke, Eleanor grew up on the family homestead on the outskirts of Watson, Saskatchewan. Life on the farm was full of hard work, but there was also fun and adventure.
In 1945, Eleanor's father John passed away, leaving Vera with 9 children, a thriving farm, and a busy household. Eleanor was among the eldest in the family and soon fell into a leadership role helping to care for younger siblings and taking on many household chores. During these difficult times she developed her special attributes of hard work and discipline, combined with a fine sense of humor.
Although the work was hard and constant, there were fun times as well with picnics, school concerts and sports days. During these years, Eleanor formed a close bond with her siblings. They shared friendship, sadness, joy, and love that was revealed often through stories and their signature infectious laughter at reunions and other family gatherings throughout their lives.
In 1951 she caught the eye of Bill Kryzanowski, the new grain buyer (elevator agent) for the Wheat Pool in nearby Daphne, which led her to cut short her aspirations of becoming a nurse. Bill and Eleanor were married in 1952 and for 68 years they enjoyed a happy marriage based on shared values, support, and a deep love for one another and their family.
The couple were blessed with six children, Garry (Wanda Fischer) of Medicine Hat; Dale (Cathie) of Regina; Kevin (Shelley) of Red Deer; Eldon (Bonnie) of St. Paul, Alta; Launa (Hal) Weber of Lloydminster; and Donna (Peter) Martin of Edmonton.
Bill and Eleanor moved their growing family to Wadena in 1966, where she divided her time between raising 6 children, preparing food grown from her large garden, and helping in many other ways. She was known and respected by many of the Wheat Pool clients, as at harvest time they could always count on her to get their grain moisture-tested for combining when Bill was away during evenings and weekends with his own harvest responsibilities. She raised her children with love, but expected good manners, respect, and sound values. She encouraged and supported their participation in sport and other community activities.
Eleanor was happiest in her kitchen and her gardens (she almost always had 2 of them). Here she grew, prepared, and served meals that nourished her family and fueled many celebrations. No birthday, Christmas, or special event was complete without a generous helping of perogies, cabbage rolls and her famous pie. Her relishes, canned goods, and jams were "blue ribbon" quality, and her homemade chicken soup and noodles were legendary with the grandkids. Visitors were always welcome, and she was an excellent and generous hostess whereby hot coffee and a wide assortment of baking would magically appear at any time. When she did have time for herself, she enjoyed quilting, old time dancing, and of course games of cards, especially cribbage. She was well-known in her community for contributing to bake sales to support local efforts. She served on the Board of Directors of the local Co-op, and volunteered in her church and other community clubs.
Above all, Eleanor enjoyed her family. She was always excited to see her children, and grandchildren Kameron, Kandis, Kurtis, Kole, Connor, Drew, Quinn, Darian, Austin, Kailee, Dawson, Dylan, Megan, Paige, and great grandchildren Kennedi, Rylin, and Merrick. She would have loved to meet her newest great grandson, Casey, born a few hours after her passing. Her laughter and love of family will live on through them.
For health reasons, Bill and Eleanor moved to Lloydminster in 2019. She was happy and proud of her residence at the Hemstock Assisted Living Facility, and this move was significant as it brought them more centrally located for family visitations.
Eleanor was predeceased by: her husband, William (Bill) in November 2020: beloved daughter, Donna in 2002; parents, John and Vera; brothers, John (Buddy) and Ronald; and sisters, Hazel (Manchur), Jeanette (Sabulsky), Alice (Holliday) and Lillian (Ryhorski).
Eleanor is survived by: her 5 children; 14 grandchildren; 4 great grandchildren; sisters, Myrna (Weatherby) and Doreen (Cannon); and a host of in-laws, nieces, nephews and other relatives.

Those wishing to make a donation in memory of Eleanor are encouraged to do so to a charity of their own choice.
A private family service will be held on Saturday, May 8, 2021 at 11:00 AM in Lloydminster. The service will be live streamed and posted on Eleanor's obituary at the time of the service.
Interment will follow at a later date in Wadena, Saskatchewan.
Share Your Memory of
Eleanor
5101 - 50 Street
Lloydminster, Alberta T9V 0M2