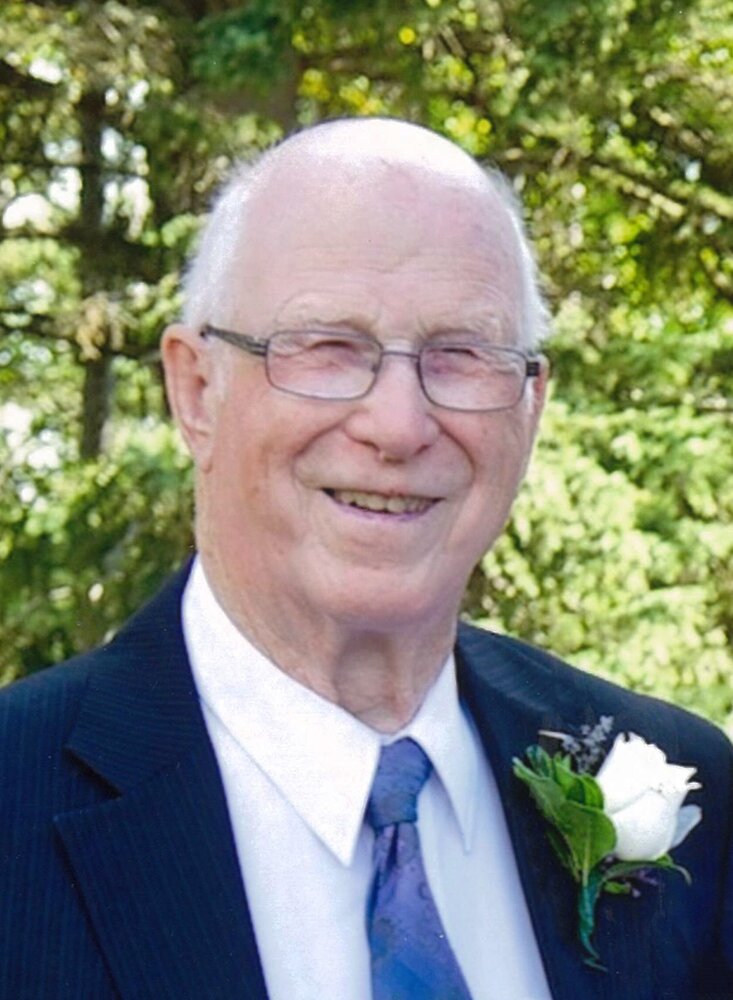 Obituary of Albin Swanson
Albin Harry Swanson went home to glory on Monday, Oct. 4th, 2021, at the age of 94 years.
Albin is survived by; his daughter, Connie (Norm) of Wainwright and her family, Margaret (Marty) and their children Isabelle and Coleman; one son, Grant (Karen) of Bucerias, Mexico and their children, Meigan (Bryce) and Brett (Luis); daughter Sylvia (Ron) of Cold Lake and their family, Amber (Andrew) and her children Seth and Leila, Jason (Bailey) and their son Maverick, Roslyn (Jason) and their children Alyvia, Kiptyn, Burton, and Jones, Sara (Orry) and their children Dacia, Kinsley, Skyler, and Reggie. He is also survived by one sister, Martha May of Calgary, brother in-law Les Maerz (Elaine) of Dartmouth, Nova Scotia, brother Paul (Rita) of Three Hills, sister in-law Edna Younghans of Lloydminster, brother in-law, Roland Ford (Mary) of Edmonton, sister in-law Virginia Krueger (Oscar) of Kelowna, as well as numerous nieces and nephews. Albin is predeceased by his loving wife, Leila, parents, Dick and Evelyn, mother and father in­law Asberry and Zorel Ford, brother Russel Swanson and his wife, Helen, brother in law Cliff May, sister Janet Maerz, brother in-law, Frank Younghans, and grandson in-law, Bruce Dewar.
Albin was born Dec. 20th, 1926, in Marwayne, Alberta to Richard (Dick) and Evelyn Swanson. He spent his early years on the farm north of Marwayne and attended school at Bellcamp. In 1939, his dad bought the meat market in Marwayne and moved the family into town. Albin worked for his dad after school and on Saturdays. Instead of going on to high school in Marwayne, Albin went to Bible School in Regina at Canadian Bible College. He spent the next four years there and for him, it strengthened his faith in God and solidified a belief of the truth of God's word, the Bible. In 1947, Albin returned to Marwayne to work for his father at the meat market. He became active in the Alliance church working with the Sunday school and
"Young Peoples" group. This led to being on the church board. During this time, he joined the work of the Gideon's and remained a member until his death.
Albin and Leila met when Leila boarded with the Swanson's to write her grade 12 exams. She had taken her high school by correspondence. A romance was struck and they married in June of 1954, a marriage which lasted 66 years. They were blessed with three children. In 1962, Albin bought the Meat Market from his dad and ran it until 1993. In 1967, he purchased Berg's general store, selling it to Dennis and Donna Ross in the early 1970's. Then he purchased Bill Curtis' grocery store in 1976, running it until Jan. of 2001. As a business man, Albin served the Marwayne and area for over 50 years. He was active in the community in many other ways, coaching hockey (a sport he loved), was fire chief for a few years, was a school board trustee for many years, and served in many capacities at the Alliance Church.
Albin and Leila remained in Marwayne after their retirement but in more recent years had moved to Cold Lake to live with their daughter, Sylvia and husband, Ron.
Albin had a zest for life. Seldom did he say "No" to an adventure. Albin and Leila travelled extensively enjoying trips to the States, eastern Canada, Jamaica, Hawaii, Mexico, Mediterranean, and parts of Europe. He played golf and downhill skied well into his 80's. He would travel miles to go watch Grant and his grandchildren and great grandchildren play hockey. No special occasions were missed if at all possible. He spent hours on the phone connecting with friends. He held a drivers license to the end and was not shy about going for coffee with someone. This summer he bought his own holiday trailer and took a few camping trips with friends and family. He had a heart for people and was quick to make friends. We've heard from many how he stepped in to help with his time and resources or wise counsel. Music was a large part of his life and although he never considered himself a good musician or singer, he still immensely enjoyed it. In younger years he played a trombone. He loved it when his daughters would sit at the piano and play. Music was always on in the home.
"Papa Al" will be remembered for his involvement with friends and family, his tight hugs and words of love, his famous pancakes and many years of barbecued beef and teriyaki steaks, his wood working treasures, his love to play, his candy dish, his unwavering faith and love of God.
A Graveside Service for Albin will be conducted at the Marwayne Cemetery on October 8, 2021 at 2:00 PM. Friends and family are welcome. If you plan to attend, please bring your own lawn chair.
A future celebration of both Albin and Leila's lives will be held in June of 2022.
Donations in memory of Albin may be made to Gideon's International of Canada, The Refuge of Hope Bucerias Mexico (https://refugeofhopebucerias.com/?page_id=310).
Albin's memorial card can be viewed or downloaded from the link below.
https://indd.adobe.com/view/35fdb24b-0a61-40e8-a3e5-349f260c6f5c
Graveside Service
2:00 pm
Friday, October 8, 2021
Marwayne Community Hall
Marwayne
Marwayne, Alberta, Canada
Share Your Memory of
Albin
5101 - 50 Street
Lloydminster, Alberta T9V 0M2