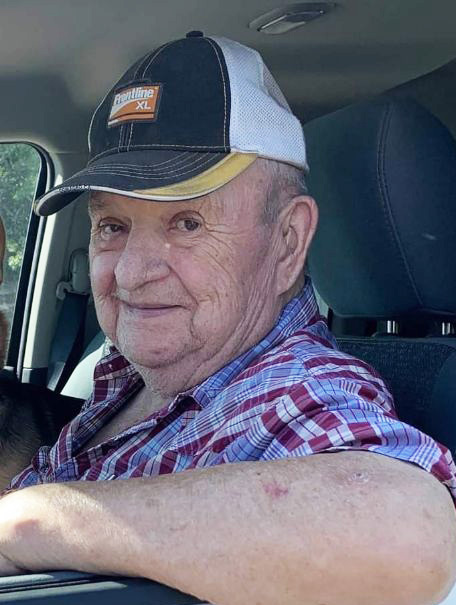 Obituary of Bernie Payne
Bernard "Bernie" William Payne passed away at Lloydminster Hospital, Lloydminster, Saskatchewan, October 20, 2021 at the age of 85 years.
Bernie is survived by: his loving wife, Mona Payne; children, Brad (Janice) Payne, Harvey (Susan) Payne, Rocky (Debbie) Payne, Mark (Doris) Payne and Scott (Jackie) Payne; grandchildren, Kevin (Carmen) Payne, Chad (Cassie) Payne, Shawn Payne, Jana (Pat) Rutherford, Tara (Dan) Koppel, Cole (Angie) Payne, Kyle Payne (Sydney), Neal Payne, Brendan (Bryn) Payne, Dalton Payne (Colby), Jayden Payne (Leah) and Jaxon Payne (Halley); great grandchildren, Haley, Brody, Codie, Caidyn, Serena, Natalie, Emily, David, Carter, Chloe, Claire, Cobi, Kylor, Kinley and Rowan; sister, Evelyn (Gordon) McKay; sisters-in-law, Fay Payne and Donna Manley; and numerous nieces and nephews.
Bernie was predeceased by: his son, Greg Payne; parents, Grace and George Payne; sister Maureen Harvey; brothers-in-law, Kenneth Payne and George Manley; mother-in-law and father-in-law, Beatrice and Horace Manley.
A Private Graveside Service in memory of Bernie will be held on Monday, October 25, 2021. This service is by invitation only.
In lieu of flowers, donations in memory of Bernie may be made to Greenwood Community Centre.
Bernie's memorial card can be viewed or downloaded from the link below.
https://indd.adobe.com/view/09ad8470-f2c6-422d-abf3-2fdd0e749583

Eulogy:
Eulogy given by Jana Rutherford & Tara Koppel
" We all die. The goal isn't to live forever, the goal is to create something that will."
Grandpa has certainly done that. Look at where we are today. In 1904, this land became a part of our history. It has been worked and lived on for 5 generations and counting. We were honoured when Grandma asked us to speak on Grandpa's behalf. So, how do we describe a man's life in such a short time?
Bernard William Payne was born on January 22, 1936 in Lloydminster to George and Grace. He was the oldest of their 3 children, a proud big brother to Evelyn and Maureen. Growing up Grandpa was a mischievous boy. We heard stories that he would throw the odd chicken egg at his mom and hide in the straw piles to skip school. He attended Greenwood school for as long as he had to. His early years were spent helping his father on the farm and showing cattle in 4H. He enjoyed helping his uncle deliver milk and supplies around Lloyd, hauling all kinds of livestock and even selling cars. Just 6 miles down the road lived a young girl whom he had known while growing up. He took a shine to her in their early teenage years. Grandma recalls their moms driving them to the movie theatre for their dates. She would often bug Grandpa that they first met as toddlers "pissing on the pot". Grandma will have to elaborate on that story for you. Grandpa was Grandma's only boyfriend and she was devoted deeply to him. She shared that she waited many nights outside the pool hall when he went in for "just a quick game". Although Grandpa made her wait around and he had many shenanigans over the years he was always so happy to go home to his "Mona". On July 4, 1956 Grandpa married his sweetheart Mona Elizabeth Manley.
Grandma was so excited to start their perfect family with 1 boy and 1 girl. Over the next 10 years, they welcomed 6 boys. Raising all those boys would not have been an easy feat. They were raised farming their land and showing cattle. As you can imagine the troubles and adventures they got into on and off the farm were endless. Over the last few days many stories have been relived and Grandma didn't realize half of these stories even existed. Grandpa and Grandma taught the boys hard work; discipline, having fun and being involved in your community were essential life skills. Grandpa was a true role model in all of those aspects. Many people have said that he was genuine, caring, committed and a pillar of the community. He was dedicated to making everything he touched better and every person he spoke to felt heard. Many people knew him as "Grandpa Bern". Grandpa always had wise words, a smile and time for a visit for everyone he crossed paths with.
The Greenwood Community Center has held a special place in Grandpa's heart and is a large part of our history. His Grandmother Jessie named the area of the family homestead "Greenwood" and was largely involved with the school and activities in it. Furthermore, his parents met at a dance at the Greenwood School in 1930. Over the years Grandpa and his family have attended numerous 4H meetings, family reunions, anniversaries, birthdays and many ball games. His involvement with the community board has cemented its existence for future generations to enjoy.
Grandpa's second home was the Lloydminster Exhibition. He had been involved with the Exhibition for over 50 years. In 1974 he became a director on the board. From 1981 to 83 he was the board President. He worked on many committees, volunteering his time. Grandpa's organization of the many Bingos was an important part of the fundraising for upgrades to the Exhibition. The money they raised helped in the development of the grandstands, the Wildrose, the Dick Jones Pavilion, the Alberta and Saskatchewan buildings and the remodeling of the Stockade Convention Center. Grandpa played a major role for years organizing the Colonial Days Fair, The Bull Sale and Stockade Roundup. He loved every minute because he got to visit with everyone that came in. We received many condolences from people who were young cattlemen and felt comforted by Grandpa's mentorship over the years. In 2010, Grandpa received recognition for being on the Exhibition board of directors for 35 years. Grandpa's smile and advice will be missed but his presence will always be felt on the Exhibition Grounds because of his dedication there and the memories and stories people will relive for years to come.
Grandpa was a true cattleman at heart. Many people respected him as an outstanding and no-nonsense leader and advocate of the cattle and Ag industry. At 12 years old Grandpa's passion began with 4H. Through his dad's leadership and guidance he started to build his own herd and had approx. 128 cattle by 1972. Two years later, Grandpa and his boys established Greenwood Limousin. They named it after the district in which they lived and the Limousin breed that they loved. Some of the first Greenwood Limousin cattle were purchased during a fishing trip in which Grandpa found Limousin crossbreds being sold in a local newspaper. We aren't sure if he caught any fish that trip but he did purchase several head of cattle. He purchased two females at the World Limousin Conference in Salt Lake City not long after and continued to add the odd animal here and there to build his herd. In 1978, Grandpa purchased Helix, their first and most powerful herdsire. Now they were off to the "races", or better yet…the years of showing Limousin cattle had just begun. That same year was their first showing at the Canadian Western Agribition in which they won Champion Percentage Female. Cattle shows and sales soon filled the family calendar. They held their first production sale in 1982 and had held a sale consecutively up until BSE hit Canada. As people in the industry came to learn, the Greenwood prefix always meant "a cut above". Greenwood Limousin has shown and sold cattle throughout Canada and the US and extended their sales to countries such as Australia, Brazil, China, England, Ireland, Scotland and Mexico. One time while in the US, Grandpa was rushed to make it from one plane to the next. He decided to hop the fence at the airport, ended up ripping the ass out of his jeans and had to fly home with a drafty behind. Grandpas' dedication and passion was passed on to the boys and it earned them many Leader, Breeder, Exhibitor and Championship awards. The numerous banners and awards displayed throughout Grandma and Grandpa's home is another credit to their years of hard work. Grandpa was always so appreciative of all the breeders in the cattle industry and enjoyed meeting and working with so many wonderful people that he considered friends.
It can be said, once a 4Her, always a 4Her and this rang true for Grandpa. Since joining 4H as a member himself he had always been involved in some way with the 4H program. As a member, leader, dad, grandpa, volunteer, board member, buyer and spectator he could always be found at a 4H event. Grandpa went above and beyond for 4H and especially the Northminster 4H Beef Club, which always had a special place in his heart. Grandpa loved a good business deal or something that gave him a new adventure. There was one time he drove to Bergman's expecting to buy two or three head of cattle and ended up purchasing thirty-four because a snowstorm stopped people from coming. Another time he was in Stettler and bought a donkey. He loaded him in the trimming chute, there were many raised eyebrows, but Grandpa swears he was one of the best purchases because he was great at halter breaking the cattle. In 1985, he even found time to buy and raise Red Waddle pigs for a short time before selling out and making a good profit off them. Speaking of a good deal, Grandpa was known to hit up all the local auction and exotic sales and you never knew what he was going to come home with. He would also head to town for groceries and see a sale on butterscotch pudding and forget about the rest of grandma's grocery list.
Grandpa was a great friend and neighbor. He loved a good game of crib and taking 5 bucks off anyone who would play. He was a simple man but loved a crowd. No matter how Grandpa felt all week, come Thursday morning he was a new man ready to go for coffee at the Stockyards. Grandpa always had a story to tell and was eager to catch up on the latest news around town. These last couple of years Grandpa also enjoyed getting out of the house for "fresh air". He enjoyed going for drives through the pastures to check on the cows, or throughout the community. As more grandkids moved into the area, you could expect to hear a honk outside and Grandpa waiting for a visit. Although he wasn't always feeling well, the first day the casino opened in Lloyd he felt great and nearly sprinted through the front doors.
If there was something that made Grandpa more proud than his cattle, it was his family. He would brag about us all to anyone who would listen. Sixty-five years with the love of his life is a love story that many people don't get to experience. Grandma, Grandpa loved you dearly. Grandpa loved all of his boys. Grandma and him would agree they are stubborn in their own ways, yet organized in everything they do. She sees the lighter side of Grandpa when they are having fun and joking around with each other. They both believed that the boys have hard exteriors yet even bigger hearts. Greg, Brad, Harvey, Rocky, Mark and Scott, your dad was so proud of you.
We see some of his best qualities in yourselves. Grandpa knew that one day he wouldn't be with us and there was no doubt in his mind that you all would take great care of his "Mona". Every daughter-in-law that joined the family made him beam as he finally had his girls. The girls thought it was hilarious that Grandpa would have to go through all of their names before he got to the right one. Grandpa always made time for the grandkids. Whether it was to go hunting, catch one of our sports games, support us at 4H, hear about our academic accomplishments or ask about what was going on in our lives, we were important to him. Every new family member and great grandchild made Grandpa beam brighter. Grandpa loved to get in trouble with the grandsons and before they got to the house they were told to "act normal" or "don't tell Grandma anything". When Jana and I were told "no" by our parents or Grandma we would look at Grandpa and he would give us girls a wink and say, "go ahead". He often would cover for us, but I think we equally repaid the favour. I remember riding in the grain truck with him and was told that I needed to keep a watch on the combine. He liked to catch a few zzzz's while waiting and it was going to be my job to wake him so the combine didn't have to wait.
Grandpa lived a good, long life. We are all so blessed we got so many years with him. Not only do his genes run strong, Grandpa left a legacy that can be seen in all his boys and their families. We all know he was tired. Tired of the aches and pains, tired from the hard years of living and tired of growing old. He needed rest and he is at rest now. Grandpa, we are sure you've gotten in a few crib games with Aunty Maureen and a ball game or two with Uncle Greg since you've joined them. Aunty Maureen is going to have her hands full with you two.
"How lucky are we to have known someone who is making it so hard to say goodbye."
We will miss your smile, your hugs, your jokes, your advice and especially that wink. We love you. Goodbye for now Grandpa.
A Memorial Tree was planted for Bernie
We are deeply sorry for your loss ~ the staff at McCaw Funeral Service
Share Your Memory of
Bernie
5101 - 50 Street
Lloydminster, Alberta T9V 0M2