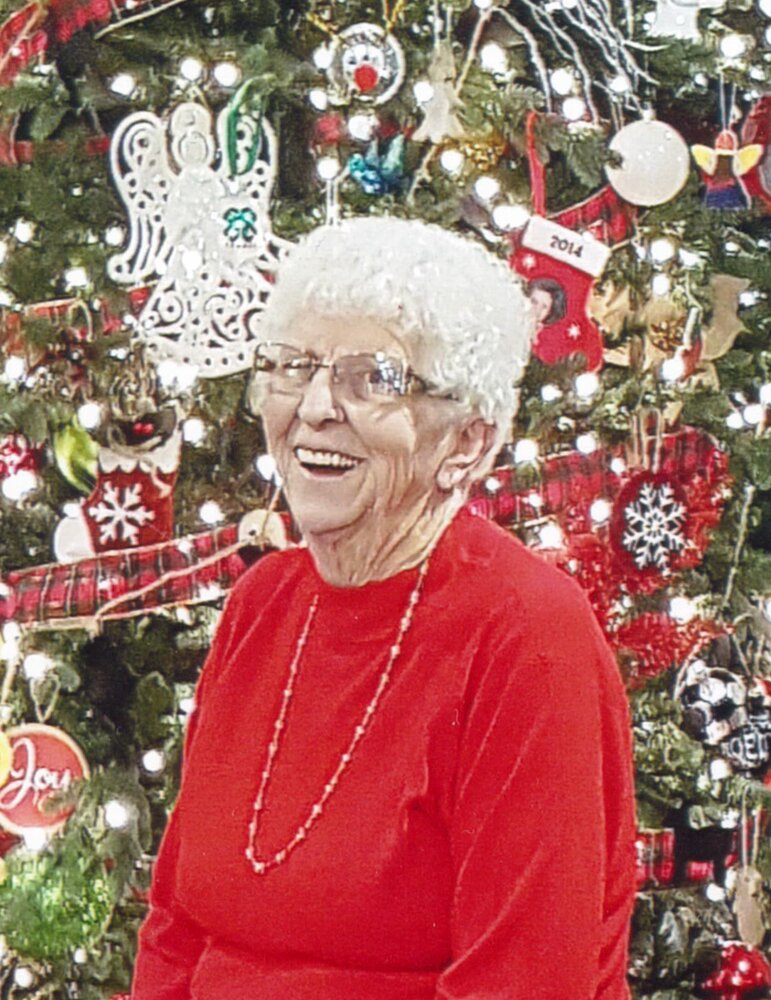 Obituary of Mae Hinde
Please share a memory of Mae to include in a keepsake book for family and friends.
Elizabeth "Mae" Hinde passed away at Pine Island Lodge, Maidstone, Saskatchewan, February 25, 2022 at the age of 86 years.
Mae is survived by: her daughter, Trina Tuplin; three grandsons, Francis (Amanda) Tuplin, Darren (Jackie) Tuplin and Jason (Rachael) Tuplin; nine great grandchildren, Kayden, Parker, Jean, Nevaeh, Hanna, Grayson, Ryan, Remi and Talieh; brothers, Bert Carpentier and Dan (Marlene) Carpentier; sister, Jean (Mike) Osborne; and numerous nieces and nephews.
Mae is predeceased by: her husband, Norman Hinde in 2003; mother, Florence Carpentier (nee Walterhouse) in 2007; father, Albert Carpentier in 1971; sister-in-law, Mary Carpentier in 2021; and son-in-law, Ken Tuplin in 2018.
The Celebration of Life for Mae will be conducted from Maidstone Legion Hall, Maidstone, Saskatchewan on Friday, April 22, 2022 at 2:00 PM.
A Time of Visitation for Mae was held from McCaw Funeral Chapel, Lloydminster, Alberta on Friday, March 4, 2022 at 4:00 PM.
The Celebration of Life for Mae will be conducted from Maidstone Legion Hall, Maidstone, Saskatchewan on Friday, April 22, 2022 at 2:00 PM.
Donations in memory of Mae may be made to Kinsmen TeleMiracle Foundation or Maidstone Museum.
Mae's memorial card can be viewed or downloaded from the link below.
https://indd.adobe.com/view/d85b33b5-1b31-4d84-8023-08900112487c
Eulogy ~
THANKS TO EVERYONE FOR COMING TO CELEBRATE THE LIFE OF MAE HINDI.
MAE WAS BORN 30 SEPT 1935 TO ALBERT AND FLORENCE CARPENTER. HER FATHER HAD A WATER WELL DRILLING OUTFIT THAT USED A HORSE. HE WAS VERY GOOD AT WITCHING WATER.
MOST OF MAE'S SCHOOLING WAS IN PAYNTON. SHE TOOK HER GRADE 10 IN BATTLEFORD AT THE CONVENT OF CHILD JESUS. WHILE LIVING IN PAYNTON SHE WORKED PART TIME AT THE TELEPHONE OFFICE.
AFTER GRADUATION SHE WENT TO WORK AT THE TELEPHONE OFFICE IN NORTH BATTLEFORD FOR SOME TIME THEN TOOK THE TRAIN TO WASECA TO WORK AT THE TELEPHONE OFFICE THERE.
ONE NIGHT WHILE LIVING IN WASECA SHE HEARD NOISES IN THE CELLAR AND HER DOG WAS BARKING. FEARING AN INTRUDER, SHE STACKED FURNITURE ON THE CELLAR DOOR. SHE THEN RAN OVER TO HER COUSIN GLADYS SNELL'S HOUSE. GLADYS, ERNIE AND MAE RETURNED TO THE HOUSE TO FIND A MUSKRAT SITTING ON THE TOP STEP OF THE CELLAR STAIRS.
WHILE LIVING IN WASECA, SHE MET AND LATER MARRIED HER HUSBAND, NORMAN HINDE, ON 22 APRIL 1957. TODAY WOULD HAVE BEEN THEIR 65TH WEDDING ANNIVERSARY.
THEY MOVED TO RIVERVIEW FARMS SOUTH OF WASECA WHERE NORMAN FARMED WITH HIS PARENTS, HORACE AND RHODA HINDE. FRANCIS AND AMANDA ARE LIVING ON THE HOMESTEAD FARM NOW.
MAE QUICKLY LEARNED TO BE A FARMER'S WIFE AS SHE MILKED COWS, CLEANED THE CREAM SEPERATOR AND COOKED AND CLEANED THE HOUSE.
SHE SOON LEARNED TO DRIVE THE TRACTOR WHICH LED TO SEEDING, BALING AND ALL THE JOBS ON THE FARM. MAE TRULY LOVED THE FARM, HER GARDEN, AND ALL THE BEAUTY OF THE COUNTRY.
MAE AND NORMAN HAD ONE DAUGHTER, TRINA, BORN 27 SEPT 1958.
MAE AND NORM BUILT A NEW HOUSE ON THE FARM IN 1961 AND THEY CONTINUED TO THRIVE THERE.
MAE MADE NUMEROUS TEDDY BEARS FOR CHILDREN IN THE DISTRICT AND COLLECTED HUNDREDS OF DOLLS WHICH ARE STILL IN HER COLLECTION. MAE DID A LOT OF UPHOLSTERY FOR PEOPLE AROUND AND TRINA STILL HAS THE SMALL KIDS CHAIR HER MOTHER MADE FOR HER. NORMAN & MAE ALSO COLLECTED BRASS ITEMS INCLUDING COWBELLS.
THEY WERE BIG, BIG SUPPORTERS OF KINSMEN TELEMIRACLE WITH THE FIRST ONE BEING HELD AT THE MAIDSTONE HOTEL FEB 5 & 6, 1977.
IN 1982, TRINA MARRIED KEN TUPLIN.
EACH YEAR EVERYONE WOULD GATHER AT THE FARM FOR A TELEMIRACLE MARATHON. IT WAS A PLEASURE TO BE PART OF THE SHENANIGANS THAT WENT ON EACH YEAR.
UNFORTUNATELY, NORMAN PASSED AWAY IN 2003 SO MAE MOVED TO MAIDSTONE IN 2004.
MAE WORKED HARD HER WHOLE LIFE, EITHER ON THE FARM, AT THE MAIDSTONE HOTEL OR AT THE MAIDTONE MUSEUM OF WHICH SHE WAS A FOUNDING MEMBER. SHE WAS ESPECIALLY PROUD OF THE MUSEUM BEING PRESIDENT FOR SOME TIME AND SHE WAS ALSO SECRETARY OF THE LEGION LADIES.
MAE LIKED TO TRAVEL GOING TO BRITISH COLUMBIA WITH HER FAMILY ON SEVERAL OCCASIONS AND TOOK A TRIP WITH HER BROTHER, DAN, TO TEXAS VIA NASHVILLE AND THE GRAND OLE OPREY IN 2004.
SHE ALSO TOOK A CRUISE IN 2015.
THE PRIDE OF HER LIFE WAS HER FAMILY.
GRANDSON, FRANCIS, WAS BORN IN 1981 AND IS MARRIED TO AMANDA AND HAVE CHILDREN, KAYDEN AND PARKER.
GRANDSON, DARREN, WAS BORN IN 1985 ON MAE'S 50TH BIRTHDAY. WHAT A GIFT. DARREN IS MARRIED TO JACKIE. DARREN SAID GRANDMA GAVE HER BIRTHDAY TO HIM SO SHE REMAINED 50 FOR YEARS AFTER THAT.
GRANDSON, JASON, WAS BORN IN 1987 AND HIS PARTNER IS RACHAEL. THEIR CHILDREN ARE RYAN, REMI, TALIEH AND STEP-CHILDREN JEAN, NEVAEH, GRAYSON, AND HANNA.
THE GRANDCHILDREN FONDLY REMEMBER GRANDMA'S MACARONI SALAD, STRAWBERRY TRUFFLES AND THE DELICIOUS LARGE MEALS THAT MAE WOULD COOK. SHE WOULD MAKE A STRAWBERRY TRUFFLE AND GIVE EACH OF THE BOYS A SPOON AND NOTHING WOULD BE LEFT.
THEY REMEMBER BAKING TARTS AND COOKIES WITH GRANDMA, FEEDING COWs WITH GRANDMA, TELEMIRACLE PARTIES AND SKIDOO PARTIES.
LIFE WAS NEVER DULL AT MAE AND NORMANS.
MAE WILL BE SADLY MISSED BY TRINA AND HER FAMILY. MAE'S BROTHERS BERT, DAN AND WIFE MARLENE, SISTER JEAN AND HER HUSBAND MIKE.
SHE WAS PREDECEASED BY HER PARENTS ALBERT AND FLORENCE, HUSBAND NORMAN, SISTER IN LAW MARY AND SON IN LAW KEN TUPLIN IN 2018.
SHE WILL ALSO BE GREATLY MISSED BY ALL HER NEIGHBOURS AND FOLKS THAT WORKED WITH MAE IN MANY DIFFERENT CAPACITIES.
BLESS YOU MAE, SAY HI TO NORMAN FROM ALL YOUR FRIENDS GATHERED HERE TODAY.
GOD BLESS.
Celebration of Life
2:00 pm
Friday, April 22, 2022
Maidstone Legion Hall
111 Main Street
Maidstone, Saskatchewan, Canada
5101 - 50 Street
Lloydminster, Alberta T9V 0M2