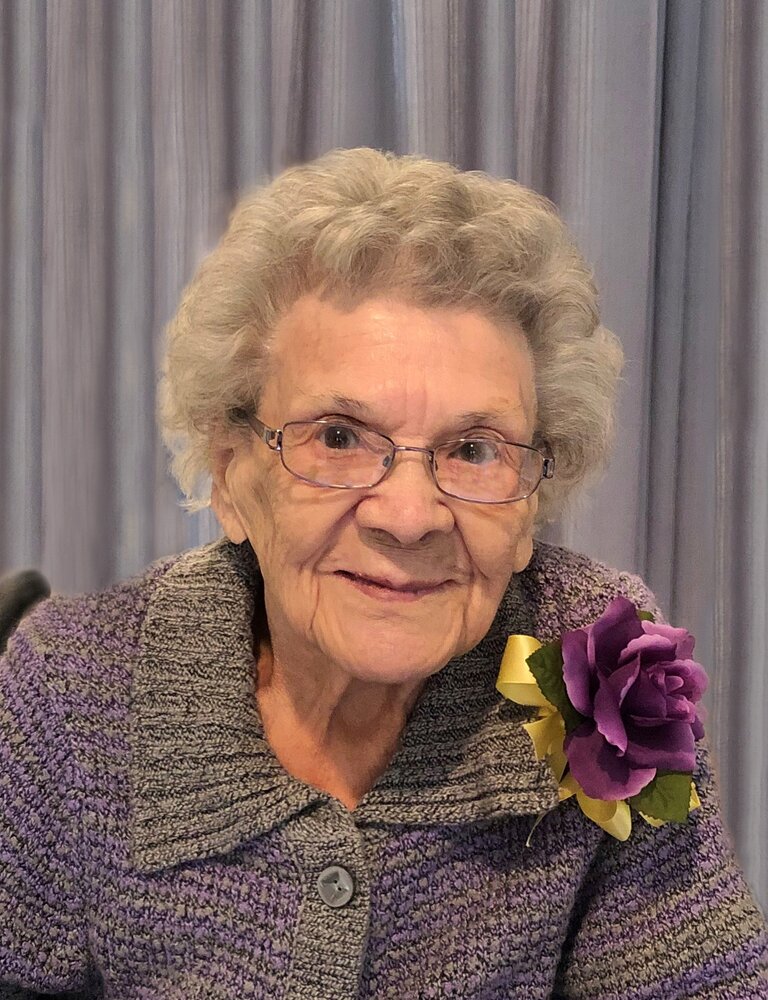 Obituary of Violet Webb
Please share a memory of Violet to include in a keepsake book for family and friends.
Violet Ellen Webb passed away peacefully, with family by her side, in Lloydminster, Alberta, May 2, 2022 at the age of 102 years.
Violet is survived by: her youngest daughter, Lorraine (Reg) Handford and her family; son-in-law, Donald Maxwell and his family; daughter-in-law, Lynn McMahon and her family; as well as numerous grandchildren, great grandchildren, great-great grandchildren, nieces and nephews.
Violet is predeceased by: her husband, Tom Webb; daughters, Louise Elmore and Avis Beatrice Maxwell; son, David Dumont; two grandsons, Kevin Dumont and Kelly Dumont; her parents, John and Elizabeth Denis; two sisters; and five brothers.
As per Violet's wishes, a Celebration of Life will be held, with her family, at a later date.
If desired, donations in memory of Violet may be made to Canadian Diabetes Association.
The family would like to thank the staff of Dr. Cooke Extended Care Facility, who cared and looked after Violet, especially those who read her letters and cards to her and helped with face time and putting many puzzles together. Thanks so much for those that made those special snacks just for her and took time to visit. She always thought it was nice when they called her Gramma.
Thank you Dr. duPlooy for caring about her and visiting her regularly. She really liked you. Thank you to all family and friends for many visits with Violet, she always cared so much about each and every person and how they were doing.
Thanks, from the family of Violet Ellen Webb.
Violet's memorial card can be viewed or downloaded from the link below.
https://indd.adobe.com/view/4e534bed-5c23-4217-8305-98d8675d409b
~ Eulogy by daughter, Lorraine ~

Welcome

Today we are here to honour and celebrate the life of my mom, Violet Webb.

Words I would use to describe mom are very determined, remarkably strong, courageous, quick witted, giving, forgiving most of all loveable.

Mom was a beautiful young lady she loved pretty clothing, she always had a fashionable hair do, she always looked amazing.

Just a small note ...

Mom had some pretty amusing hair days, when we mentioned "who did your hair today?", mom would laugh as hard as we did. When mom's life became busy, she didn't let a hair do become a priority.

As her senior years rolled around her hair became a beautiful silver, I loved seeing her with soft silver curls.

Mom was a fun-loving person, she loved music, singing and dancing. This was something she grew up with. Her dad and some of her brothers played instruments. I can remember when at Grandma Dennis's place, they would push the table back and everyone would be up dancing.

She taught each of us kids how to dance. There was always a guitar close at hand. Mom taught Avis and David how to strum on the guitar, Louise and I were the vocals. We were a very musical family.

Most weekends on the farm, were filled with a group of friends with their guitars, everyone singing well into the night.

The year I was born mom officially became a single mother.

Mom was no stranger to hard work or hardship. Keeping her family together and loving them was her first priority. We were the centre of her universe, and she was the centre of ours.

I have heard stories of how hard it was for mom at this time in her life, but she never complained or shared any of this with us.

I do know, finances that should have been sent to mom to help provide for us, were redirected to other people, but once again she overcame that obstacle and carried on.

Mom worked at whatever small jobs she could get, mostly housekeeping and cleaning. A problem came with this, finding a place for us. I remember living with different relatives, we were separated many times during our childhood. It was a sad and lonely time. It seemed one of us would do the wrong thing and mom was told she would have to find a different place for us to live. Sooner or later mom would quit her job, gather us up and we were on the move again.

In 1952 we got news that mom was getting married .... We moved to Tom Webb's farm .... another shuffle .... Excitement was in the air, things in mom's life were about to have big changes. A new husband, a new home and four children. With mom's determination and courage, she packed us up and made the move.

One of the benefits of living on the farm meant we could be with mom every day and every night. It also allowed time for mom to settle into a routine, something she had not experienced before.

One day coming home from found mom crying, it scared us.

Something called TB was going to be taking mom away from us. There were many whispered conversations concerning mom's care. Two of her older sisters had passed away from TB. Mom spent two years in the sanitarium, toward the end of the two years, mom came home for a visit. It wasn't long until we learned that mom was only home for a short visit, then she was scheduled to return to the sanitarium for surgery. When mom returned to have surgery, doctors informed her the lung had collapsed on its own, she could come home to stay.

Those times with mom were amazing, she couldn't do much, but she didn't have to. Us kids were falling all over ourselves to help do anything she needed.

As time went by and mom regained her strength things returned to a routine, happy life.

Mom loved and planted a large garden ... so many potatoes, carrots, corn, beets, and beans ... which we all helped plant and weed.

In the fall when it was time to do the canning, because it was too hot in the house to have the cook stove on, mom would fire up had an old cook stove outside, she stocked it with wood to keep it hot and she went to work. Jars and jars of colourful canned food sat on the shelves, ready for winter use. I loved those times.

Mom took us picking wild strawberries and raspberries in the area, most didn't get canned, we ate as much as we picked.

When Tom decided to leave the farm, moms life changed again. Many new towns, new rented homes, and more hard work. I was the youngest and had to move when they did. My sisters and brother had jobs, so they stayed behind. Tom worked for municipalities for a few years. Then Tom decided he wanted to try running a cafe. The first adventure started in Rocanville Saskatchewan.

It was a busy cafe; mom was an amazing cook. She made the best hamburger's this side of heaven. However, running a cafe and doing all the work mom had to do, became too strenuous for her. So, they left that lifestyle and Tom went back to work for municipalities.

While living in Moosomin, Saskatchewan, mom felt like she had to put down some roots. She wanted to go to work, she wanted to make some money, so they could stop moving so often.

Mom purchased an ELNA sewing machine and she began sewing dresses for ladies that worked in the local store. The ladies weren't models and there was always a nip and a tuck needed here and there. Many times, I remember the lady's bringing material to the house and wanting the dresses ready for the next day. Mom would always make sure the dresses were finished on time. It was when the ladies started to bring old fur coats over to be made, mom stopped sewing for them.

The extra money mom made afforded her to buy some material for herself to make some pretty dresses.

Mom loved coloured flower materials. One day Tom said she should buy some plain materials, she looked like a flower garden. And mom was like a flower garden; pretty and bright, you wanted to be around her.

Tom passed away while they were living in a small Saskatchewan town. The shock of Tom's death and the fear of living in a large city on her own was overwhelming.
Mom went through some tough times, but this time us kids were old enough to help her through. With her determination, courage, and strength she started over, a new life. She worked many different jobs. If one job didn't work out or suit her she was onto the next. Mom never looked back.
Then health issues showed up, she had breast cancer, bypass heart surgery, her aorta had to be repaired. These were tough surgeries and stressful times for her and us.
Again, with strong conviction and will power she recovered.
Through all of this we were with her, by her side. If we heard she needed us we were there.

When mom quit working, I asked her why? She told me "One cold windy day as she was waiting for the bus to pick her up, she decided she didn't need this in her life anymore." she turned around went home called her job, and said she was finished working.

But mom never stopped doing things, she became president at the retirement home she lived in on Rose Street. She was also free to travel to. She made one big trip to England, Scotland and Ireland.

Other trips were shorter! She travelled to my home in Calgary, and Avis's place in Lloyd, where she was able to visit with our families. She would also get involved with any new crafts Avis or I were doing.

While back in Regina she would visit and help Louise and David as health problems came into their lives. After Louise passed and David's health began to deteriorate, mom moved to Lloyd.

Mom needed more help herself and being near Avis gave her the help and care she needed. She had an attractive apartment in the same complex as Avis and mom enjoyed being able walk to Avis's place. They ate dinners together, played cards and dice and did crafts. She also had the pleasure of visiting with more family members.

As mom's health deteriorated further, it was decided it was time to find an age care home for her. When mom moved into Pioneer Lodge, adjusting to this new type of life was hard on her. All of a sudden no more housework, of any kind, no wash to attend to and no groceries to shop for. Again, mom took it in stride and adjusted the best she could.

It is a blessing how much love and time Avis and her family spent with mom.

I would also visit as often as possible. Mom was a card shark, and we would play cribbage, three games was the norm and mom would beat me two out of three no problem. We would also do crossword puzzles together and when it was my turn to fill in a word, I'd look at mom and say, "should we look at the answer"? I wish you could have seen the look on her face. But she always laughed and said sure.
Mom was always up for a car ride and a bit of ice cream.
Avis and I attended as many functions at the home with mom as possible. It was a time of fun and laughter.

When the new extension was finished at Pioneer Lodge, they moved mom. It was in the new location that mom fell, and we thought we were going to lose her.

I remember the night Dwayne called with the decision on how the doctors would treat mom. God was with her again and slowly, without medication, mom turned that next corner in life. Thanks to all the family members that came to her side.
She was moved to Dr. Cooke long term care home; and she was confined to her bed. Mom's room was filled with family pictures, flowers, stuffed animals, balloons, anything we could think of, to show how much she was loved.

Mom resided there for 4.5 years, and she never complained. Every time you walked through her door her face would light up. One day she told me she wanted to walk again. When her desire was made known, the therapist at the home helped that become a reality.

Dwayne shared with me that each time she asked to walk the staff at the home helped her achieve a few steps. To mom it wasn't the distance she could walk, it was the ability to take those few steps.

Through the days Mom worked on puzzles, she read books, sometimes she had two or three on the go, again just to keep her mind busy. She loved to read her bible; she had a strong belief in God, it gave her the strength mom needed to carry on.

Although she was able to busy herself with activities and family, it must have been a hard journey, there must have been loneliness, and frustration.

However, through it all, I never heard her lash out in anger any time I spoke to her by phone, watched her be amazed on FaceTime or was able to visit in person. When she couldn't hear our conversation on the phone, I started writing letters to mom. When she didn't relate to current affairs, I began sending her pictures, and relating pass memories we enjoyed.

The last time I was able to visit, as I sat holding moms' hands and looking at her wonderful face, I couldn't believe I was losing her. There were so many more things I had to talk to her about, so much more love to share with her. As I walked out the door, I couldn't believe it would be the last time I would see her.

But mom was tired and worn out, and in Gods time he took her home.

Mom is with me every single day; her sense of love and family never leaves me.

I have lost all my immediate family .... but not really, I have so many memories of what it was like to experience a family full of love.

I know in your hearts; you all have favourite times and memories you spent with mom. We lost an amazing woman when she passed but she left us with so much, like her strength, her courage, her determination and her forgiving and loving ways.

We love you mom.
Rest In Peace mom.
A Memorial Tree was planted for Violet
We are deeply sorry for your loss ~ the staff at McCaw Funeral Service
Online Memory & Photo Sharing Event
Ongoing
Online Event
About this Event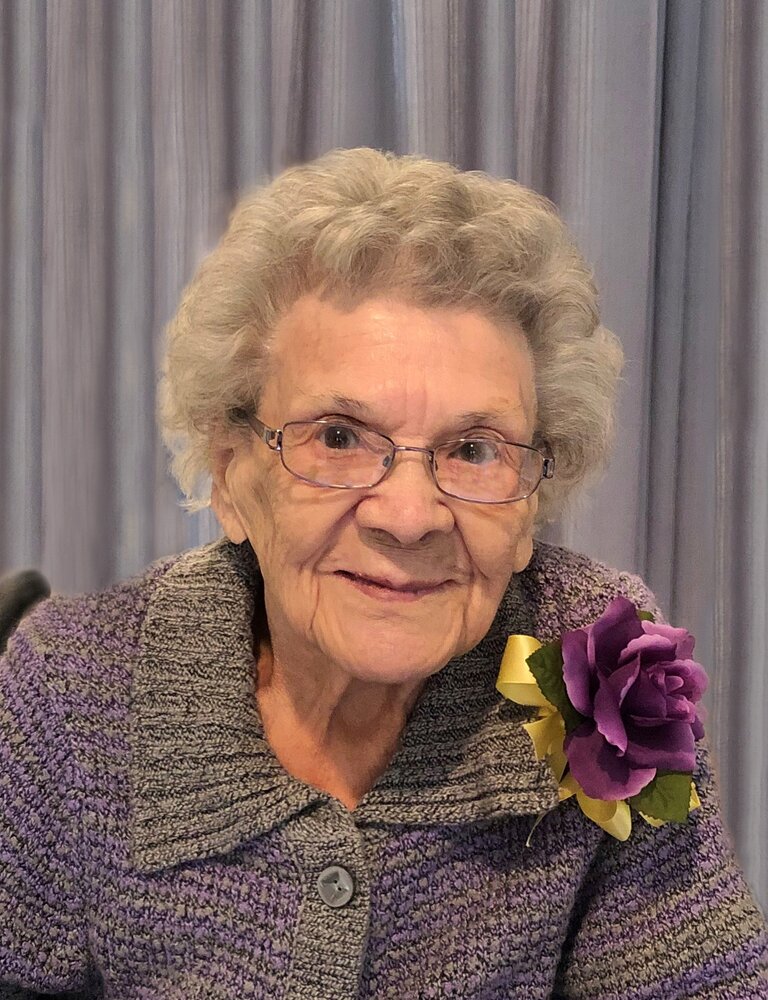 In Loving Memory
Violet Webb
1920 - 2022
Look inside to read what others have shared
Family and friends are coming together online to create a special keepsake. Every memory left on the online obituary will be automatically included in this book.
Share Your Memory of
Violet
5101 - 50 Street
Lloydminster, Alberta T9V 0M2