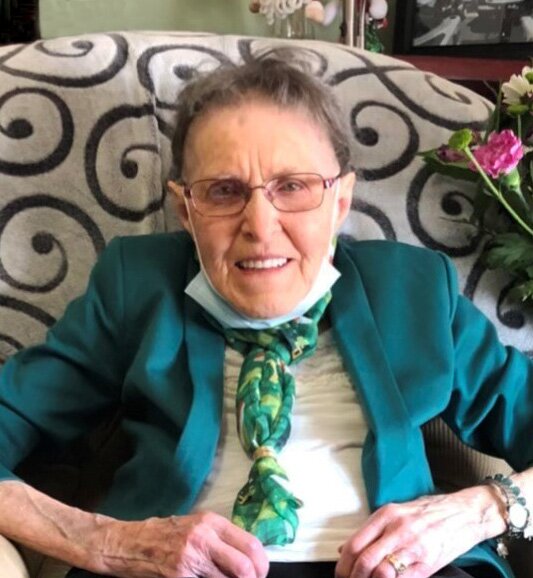 Obituary of Margaret Wolfe
Please share a memory of Margaret to include in a keepsake book for family and friends.
Margaret Jennie Wolfe passed away at Points West Living, Lloydminster, Alberta, May 20, 2022 at the age of 91 years.
Margaret is survived by: four sons, Gabe (Val) Wolfe, Henry (Cheryl) Wolfe, Gerry (Beth) Wolfe, Gord (Marian) Wolfe; son-in-law, Barry (Judy) Reiber; three siblings, George (Rose) Heck, Marie Chopek and Gena (Earle) Amendt; 10 grandchildren; 12 great grandchildren; and numerous nieces and nephews.
Margaret is predeceased by: her husband, Ben Wolfe; daughter, Sandra Reiber; parents, Adam and Katherine Heck; siblings, Jacob (Mary) Heck, Joe (Josephine) Heck and Gabe (Jeanette) Heck; and numerous brothers-in-law and sisters-in-law.
A Prayer Vigil for Margaret will be conducted from St. Anthony's Roman Catholic Church, Lloydminster, Alberta on Tuesday, May 24, 2022 at 5:00 PM.
The Mass of Christian Burial for Margaret will be conducted from St. Anthony's Roman Catholic Church, Lloydminster, Alberta on Wednesday, May 25, 2022 at 10:00 AM. The service will be livestreamed and posted on the McCaw website under Margaret's obituary at the time of service.
Donations in memory of Margaret may be made to Bike for Breakfast (cheque's payable to Bike For Breakfast) or you can donate on their GoFundMe page
https://www.gofundme.com/f/pdj8b-marketing?qid=0dbb83f20bedd5f0cfab869023b1f45b
Margaret's funeral card can be viewed or downloaded from the link below.
https://indd.adobe.com/view/a76c57f1-cea3-481f-a18a-3c1b5c78bd2e
~ EULOGY ~
MARGARET WAS BORN AT HOME ON THE FARM NEAR ROSENHEIM, ALBERTA ON MARCH 17, 1931 TO ADAM AND KATHERINE HECK. THEIR HOUSE WAS A TARPAPER SHACK WITH A SOD ROOF AND STRAW FOR INSULATION AND AFTER THAT, LIFE FOR HER AND HER SIBLINGS WAS HARD. WORK AND MORE WORK TO SURVIVE.
WHEN MARGARET WAS OLD ENOUGH, SHE TOOK A JOB AT THE DAYSLAND HOSPITAL FOR A SHORT WHILE BUT WE ARE NOT SURE FOR HOW LONG. WE KNOW SHE MET DAD SOMEHOW THROUGH UNCLE JAKE, MOM'S BROTHER, AND AUNT MARY. YOU MIGHT GET MORE INFORMATION ON THAT FROM AUNT MARIE OR MAYBE AUNT GENA.
SHE MARRIED BEN WOLFE ON APRIL 28, 1953 AND 10 MONTHS LATER THEY HAD A BEAUTIFUL BABY BOY, AND AFTER THAT THEY HAD 4 MORE CHILDREN; 4 BOYS AND 1 GIRL, 5 CHILDREN IN ALL. THEY STARTED OUT ON THE WOLFE FARM THEN DAD TOOK A JOB AS AN ELEVATOR AGENT WHICH MEANT MOVING FROM ONE TOWN TO ANOTHER. DAD WAS INJURED AND AFTER THAT THEY MADE A LIFE CHANGING MOVE TO LLOYDMINSTER. IT WASN'T LONG WHEN MOM BEGAN HER CAREER AS A DIETARY AIDE IN THE LLOYDMINSTER HOSPITAL AND HELD THAT POSITION FOR 31 YEARS, RETIRING AT THE AGE OF 62.
MOM LIVED FOR GOD AND HER FAMILY. SHE WAS A DEDICATED MOTHER SACRIFICING HER TIME AND HEALTH FOR HER CHILDREN AND LATER HER GRANDCHILDREN AND GREAT GRANDCHILDREN. SHE COOKED, CLEANED, PLAYED AND PRAYED FOR THEM, AND ON A FEW OCCASSIONS SHE ADMINISTERED FIRST AID TO US AS ONLY A MOTHER CAN.
SHE NOT ONLY LOOKED AFTER US, BUT OTHERS AS WELL. IT SEEMED WE NEVER EVER LIVED WITH JUST OUR FAMILY. WE ALWAYS HAD SOMEONE LIVING WITH US OR VISITING. SOME OF YOU KNOW YOU COULD NOT LEAVE HER HOUSE WITHOUT EATING. SHE WAS A GREAT COOK AND LOVED BAKING. IT WAS HER WAY OF SHOWING SOMEONE SHE LOVED THEM AND CARED FOR THEM. TO MAKE HER HAPPY ALL YOU HAD TO DO WAS EAT.
SOME OF THE KIDS FROM SCHOOL WE BROUGHT HOME WE THOUGHT WERE OUR FRIENDS ONLY TO FIND OUT IT WAS MOM'S FOOD THEY WERE THERE FOR. SHE ALSO MADE MEALS FOR NEIGHBORS WHO WERE HAVING HEALTH PROBLEMS OR JUST NOT ABLE TO COOK FOR THEMSELVES.
HER WORK ETHIC WAS SECOND TO NONE. SHE WAS ALWAYS GOING FROM EARLY MORNING UNTIL LATE NIGHT AND AT THE END OF THE DAY SHE PRAYED FOR US AND MANY OTHERS.
WE CALLED HER A 2 PUFF SMOKER, WHEN SHE SMOKED, BECAUSE SHE WOULD LIGHT A CIGARETTE, TAKE 2 PUFFS THEN PUT IT DOWN. SHE WOULD GET BUSY DOING SOMETHING THEN MAKE IT BACK JUST IN TIME TO BUTT IT OUT.
DAD USED TO CALL HER A RACEHORSE AND REFUSED TO GO SHOPPING WITH HER BECAUSE SHE WALKED TO FAST FOR HIM.
MOM WAS TOO KINDHEARTED TO TRULY DISCIPLINE HER CHILDREN. SHE WOULD SHAKE HER FINGER AT US AND THREATEN US, TELLING US SHE WOULD TELL DAD, AND HE HAD A STRONG BELIEF WE HAD A THIRD EAR IN OUR REAR ENDS.
ABOVE ALL, MOM WAS NOT AN EXTRAVAGANT PERSON, SHE WAS HAPPY WITH WHAT SHE HAD AND NEVER WANTING ANYTHING FANCY, JUST WHAT SHE REALLY NEEDED. SHE RAISED HER FAMILY TO RESPECT ALL PEOPLE, TREAT THEM KINDLY AND THANK GOD FOR WHAT WE HAVE.
IF ANY OF YOU HAVE A MOTHER, ALIVE OR DECEASED, THANK HER FOR ALL THE SACRIFICES SHE HAS MADE FOR YOU.
THANK YOU.
Prayer Vigil
5:00 pm
Tuesday, May 24, 2022
St. Anthony's Roman Catholic Church
2704 - 56 Avenue
Lloydminster, Alberta, Canada
Mass of Christian Burial
10:00 am
Wednesday, May 25, 2022
St. Anthony's Roman Catholic Church
2704 - 56 Avenue
Lloydminster, Alberta, Canada
Share Your Memory of
Margaret
5101 - 50 Street
Lloydminster, Alberta T9V 0M2