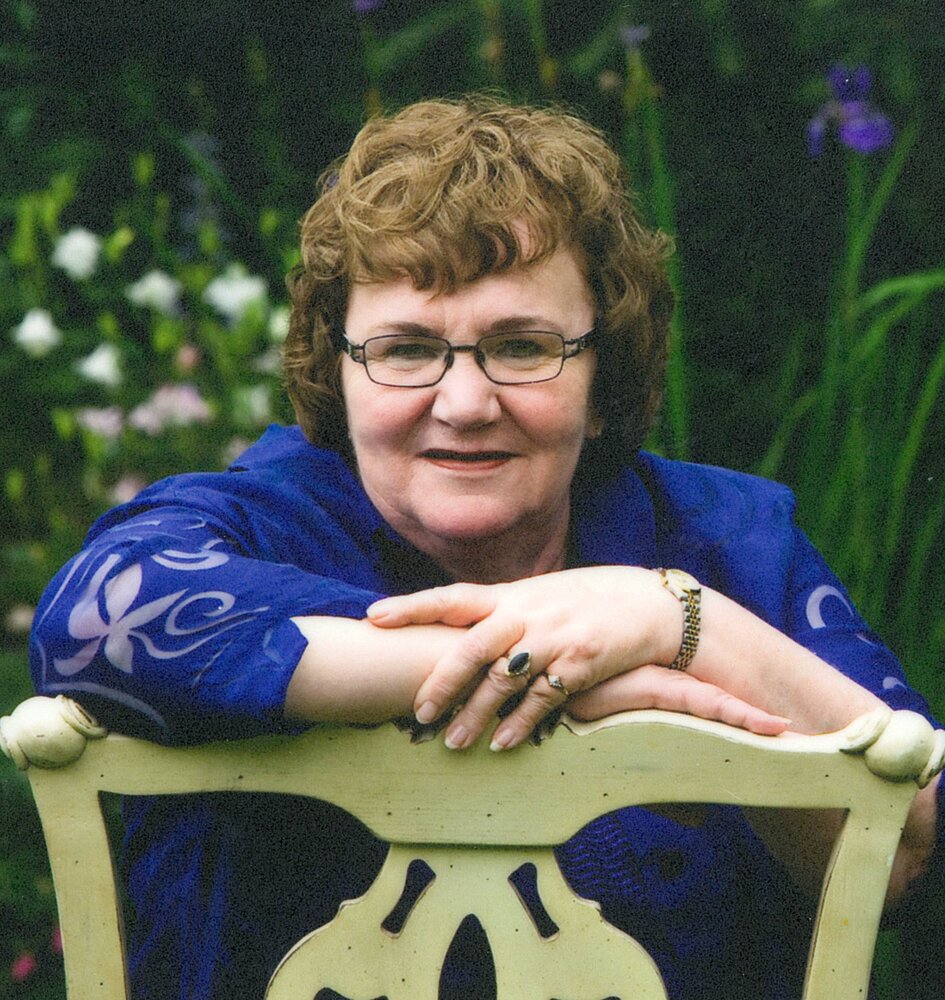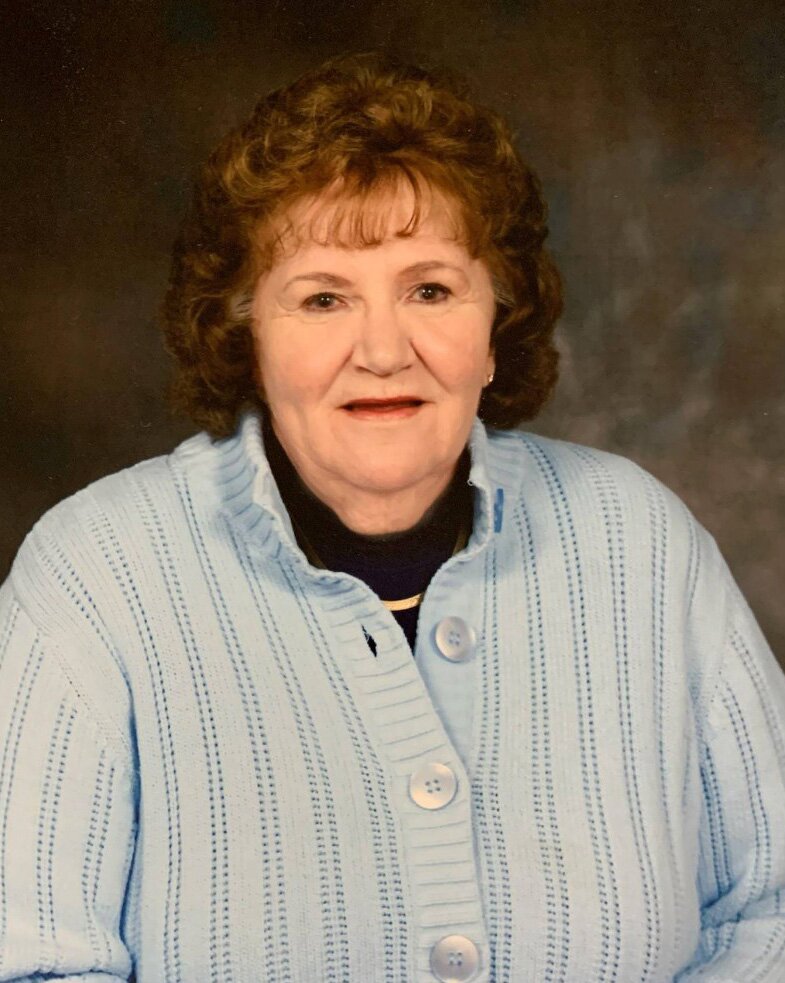 Obituary of Nora Barnett
Please share a memory of Nora to include in a keepsake book for family and friends.
Nora Martha Bridia Barnett passed away at Lloydminster Hospital, Lloydminster, Saskatchewan, June 8, 2022 at the age of 79 years.
Nora is survived by: daughter, Kathy Kennedy (Murray Peterson) and her children, Kody (Hailey) and Cassidy; son, Terry Barnett (Donna); daughter, Gina Almond (Jason) and their children, Zachery (Hannah) and Nicholas.
Nora was predeceased by: her parents, George and Kathleen Cundliffe; brothers, Cal, Wilf and Robbie Cundliffe.
The Mass of Christian Burial for Nora will be conducted from St. Anthony's Roman Catholic Church, Lloydminster, Alberta on Tuesday, June 14, 2022 at 2:00 PM.
Donations in memory of Nora may be made to STARS or Stollery Children's Hospital.
Nora's funeral card can be viewed or downloaded from the link below.
https://indd.adobe.com/view/ccd8f75b-822f-478e-98fa-67b80974dcd7
~ Eulogy ~ Given by: Jason Almond
Nora Martha Bridia Barnett was born in Lloydminster, Saskatchewan on March 8, 1943, to George and Kathleen Cundliffe. Nora grew up in the Durness region on the family homestead north of Lloydminster with her three brothers, Cal, Wilf, and Robbie. She was the youngest of the 4 children and being she was the only girl in the family on the farm, and with her mom's health declining, Nora took on the role of cook, homemaker, and anything else she had to do to make things work. But from time to time, she had a mischievous side. On one occasion that was told to us, Nora and Robbie ganged up on Wilf, and pushed over the outhouse with Wilf inside it. The plan kind of backfired however, as Nora ended up having to clean the mess and put the outhouse back up in its place.

In school, Nora was active enjoying sports such as volleyball, basketball and track, and had a little time on the side to babysit the neighbors' kids. Later, she started working, with her primary role over the years at various places as bookkeeper and office manager. Back in an era where it wasn't common for women to be in that position, she had to be detailed, driven and on some occasions, strong willed, opinionated, and downright feisty when needed. Through the years, her skills in running an efficient office led her to work in different businesses in three different provinces. From car dealerships to real-estate, to the oil patch, including the Bi-Provincial Upgrader. Nora moved on from there and took a position in Calgary, then transferred to Edmonton and eventually back to Lloydminster where she finished out her career with Flint. She was featured in "Powerin' the Patch" newspaper in 2008 in the article "Lady of The Patch" and went on to win other awards and accolades over the years for her service and commitment.

Nora had many pets over the years, cats and dogs being the main staple. However, she just didn't have good luck with pets. Kathy recalls that Mom particularly loved this St. Bernard dog that we had gotten when he was about a year old. It was winter when we got him and one day, she was at home with Gunthur (loved this name) and she decided to take him out for a potty break herself in her housecoat and slippers. Well, as luck would have it, a rabbit came hopping by and Gunthur started chasing it. We only had the dog for a few days, so it did not know the area and she did not want him running off and getting lost. She held on to the leash and Gunther dragged her through ditches and a little swamp in her housecoat and slippers and even the neighbors managed to see them while on this little excursion. She was bruised and sore for a few weeks but still wanted to keep the dog. Us kids tried really hard not to laugh but after seeing the housecoat and slippers and bruises, we pretty much ended up on the floor laughing. The visual was too much. After Gunther, Nora moved on to cats, however she and cats did not mesh well together, so eventually she moved on to pets requiring less maintenance, like goldfish. There was Bob, Bob 2, 3, and 4, and finally Leon.

She was a big Music fan. Starting with Elvis when she was young. Later attending concerts featuring Kenny Rogers, Charlie Pride, and George Straight and playing their music to clean house on the weekends.

Nora was a fan over the years of watching sports on TV. Oilers in the 80's and more recently, the Blue Jays (Gladdy was her fav.), Raptors and Curling. Missing a game was not an option. She also loved watching the chuckwagon races from the Calgary Stampede. Her nightly ritual for years was watching Johnny Carson and David Letterman. If she was out for supper or for coffee, we had to be home in time for Johnny … thank goodness we had the Detroit channels so she could watch at 9:30pm instead of 12:30am.

From a young age, it was instilled in her that family came first. Nora had three children: Kathy, Terry, and Gina. As a single mother for most of her life, Nora raised three hard working, strong willed and successful children.

Kathy was the oldest of the children. Mom loved the social aspect of watching Kathy compete in her sporting activities. Growing up, Kathy played hockey for many years and made the all-star teams when they lived in Kamloops, so Nora was there watching and cheering her on. Kathy even got picked up by the Vancouver Ladies Team for several games but the drive from Kamloops to Vancouver was just too much of a hurdle. Kathy and Nora were a bit opposite of each other, in a number of ways, as Kathy was a bit more of a risk taker. However, they both loved a good laugh and had many fun times together, always trying to find humor in this crazy world.

Kody was Kathy's first of two children, and the first grandchild for Nora. Kody loved to go to Grandma's and of course there were always treats in the candy dish which he spun around for hours and hours. He insisted that he and Grandma go shopping, hoping for new toy to be purchased, which Grandma happily obliged. He and Grandma would stay up Christmas Eve, not sleeping a wink and checking every hour to see if Santa had come. She was more excited than the kids at Christmas, enjoying the experience through their eyes. As Kody got older and involved in activities, she was always there, making sure to watch Kody at hockey, track, basketball and volleyball.

Cassidy was the only Granddaughter and youngest of the grandchildren. Grandma tried to bake cookies and do girlie things with her, but she had no interest and only wanted to play with the animals, have adventures outdoors and play sports. Grandma would dutifully listen to Cassidy tell all her stories about her many pets and set up agility courses and watch and cheer. Grandma came to all her school events and activities when they were still in Lloydminster. After Kathy, Murray and Cassidy moved to Canmore, and through the magic of the Internet, Nora kept up watching Cassidy, cheering her on at Provincial and National speed skating meets that were broadcasted on YouTube.

Terry was Nora's second child. She always attended his sports as he was a star in basketball and football. Terry always brought his friends over and she was mom to them all. One story Terry recalls during football… Mom was always at my school sporting events, specifically was at one of my football playoff games. I was the quarterback and took a hard hit and was down for a little bit, mother came running out of the stands to see if I was okay. When she got there, I told her that I was fine and that she had embarrassed me! She said "I don't care" but laughed all the way back to the stands! And she told the other parents, "He always embarrasses me, so I got him back" …they all laughed!

Terry was always making sure that things at mom's place were running properly and that she had everything she needed. Nora always looked forward to the trip to Terry's and Donna's acreage in the summer to look at the beautiful flowers Donna had planted! And in the winter, Terry took pride in setting up the outside decorations in the yard. As we drove up to the house, Nora would always comment about the pond, the landscaping and the Christmas lights…Their acreage was always an amazing place for her to see.

Gina was Nora's third child, "the baby" and being a few years younger than Kathy and Terry, allowed more one on one time as she grew up with her mom. Nora started to travel as Gina hit her teenage years, of course Disneyland was the first trip, followed by a trip to Hawaii and then Mexico, different parts of Alberta, and Expo 86 in BC. In the kitchen, Nora taught her craft to Gina….baking buns, donuts with glaze, raisin cookies and sugar cookies at Christmas, but not just a regular round sugar cookie, they had to be iced and shaped like Santa's, reindeers, and Christmas trees… sprinkles were a must. And who can forget the cinnamon buns, with cream cheese icing and her world-famous dinner buns. I can't believe she didn't get arthritis in her fingers from all the bun forming and kneading. In the last few years, Gina got the gold star from Mom for her bun making, so we are good hands going forward (sorry Kathy and Donna… Gina's my wife, I have to side with her). We often joked about her starting "Busy B Bakery," she was the Cobs Bread store of our family.

Zachery and Nicholas were the middle grandchildren. Growing up they loved their books, movies, and Lego. Especially the characters from the Disney movies and Star Wars, in which the toy characters always seemed to "jump into Grandmas cart" when shopping at the store before we would come to visit.

Nora attended all their many activities, always bringing a special snack or drink for after the game. On special weekends, she took the boys out for breakfast at Smitty's, no parents allowed. Our boys initially started calling the Grammas, Grandma A and Grandma B, and eventually just "B" and it stuck. Even though she was called B, she an A+ in our books.

Not only things for the grandkids, but for us big kids as well from time to time… Looking after Zach while getting tickets for Gina, Terry, Donna and I to a Grey Cup, a Home opener for the Oilers one season, with tickets not jumping into the cart, but under the napkin of our plates at supper… we couldn't miss the Mark Messier retirement, as he was the favourite of the 80's Oilers (well, Gina's favourite at least…). She even stood in line for hours and hours at Ticketmaster for Bon Jovi concert tickets. That's dedication as there was nothing she wouldn't do for her kids.

Family Sunday big breakfasts were a must when it was either one family or the entire brood. Eggs, usually scrambled, bacon and Canadian back bacon, sausage, baked beans, hash browns, toast, pancakes on occasion, and of course multiple blocks of cheese. On special occasions, Velveeta was served. Meals were never a disappointment as Nora always made sure there was more than enough food each meal and that your tummies were full.

Nora had a strong Catholic Faith. She became much more involved with St Anthony's once she had retired and was a regular at Mass for many years. She would bring baking and donations to the church sales and was a member of the CWL. Unfortunately, the Pandemic brought an end to attending Mass in person, but she continued to watch the Sunday Mass online. She enjoyed seeing all the familiar faces and very much enjoyed the peace these services brought to her.

Nora was a giving individual who always tried to give back to the community. She started the first Free Christmas Dinner for the less fortunate about 40 years ago. She made sure all needs were met and made many calls and requests to organizations that she was connected with, to get them to donate money or supplies for the meals. It was a resounding success. She also volunteered at the soup kitchen helping prepare meals. She enjoyed the organization and systems that were in place.

Nora was very proud of her children and grandchildren, no matter what they were into, she was always there to encourage and support them! She was the glue that held the family together and was the reason we all came together and laughed and just enjoyed the family as a unit! As time went on and her health failing, she missed the family get togethers as Covid hit and robbed her of the things she loved the most, being with her family! They where the light of her life and she always kept in touch with them and loved them dearly!

Over the past few days in going through Nora's things, we came upon a prayer that was book marked in one of her devotionals. It read:
Dear God,
Allow me to be the kind of mother that my child can be proud of.
Allow me to be the kind of friend that my child will turn to.
Allow me to be the kind of mentor that my child will seek advice from.
But also, God, allow me to be the kind of person who knows that my child, like me, has been given the gift of freedom, the freedom to risk, to make mistakes, and even to fail. Amen
Mom, Nora, Grandma B, we love you and thank you for being the parent we one day strive to be.
And may God raise you up on eagles wings.
Mass of Christian Burial
2:00 pm
Tuesday, June 14, 2022
St. Anthony's Roman Catholic Church
2704 - 56 Avenue
Lloydminster, Alberta, Canada
Online Memory & Photo Sharing Event
Ongoing
Online Event
About this Event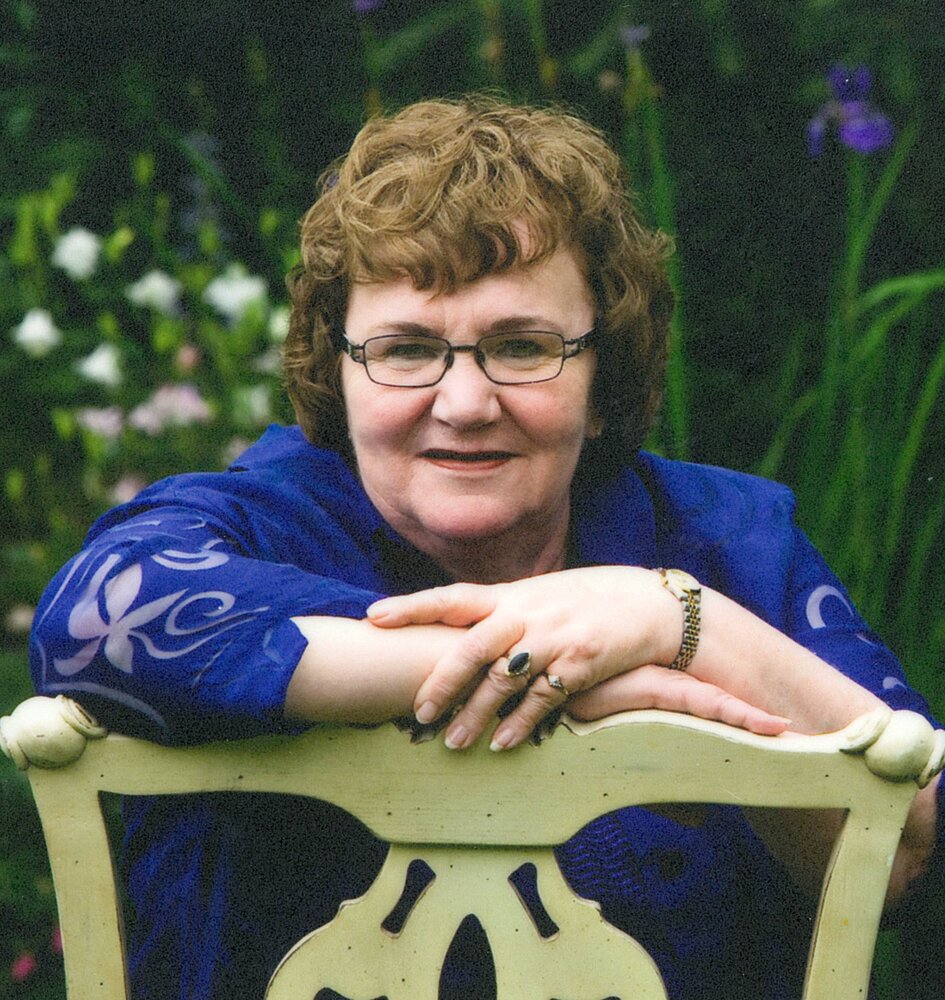 In Loving Memory
Nora Barnett
1943 - 2022
Look inside to read what others have shared
Family and friends are coming together online to create a special keepsake. Every memory left on the online obituary will be automatically included in this book.
Share Your Memory of
Nora
5101 - 50 Street
Lloydminster, Alberta T9V 0M2