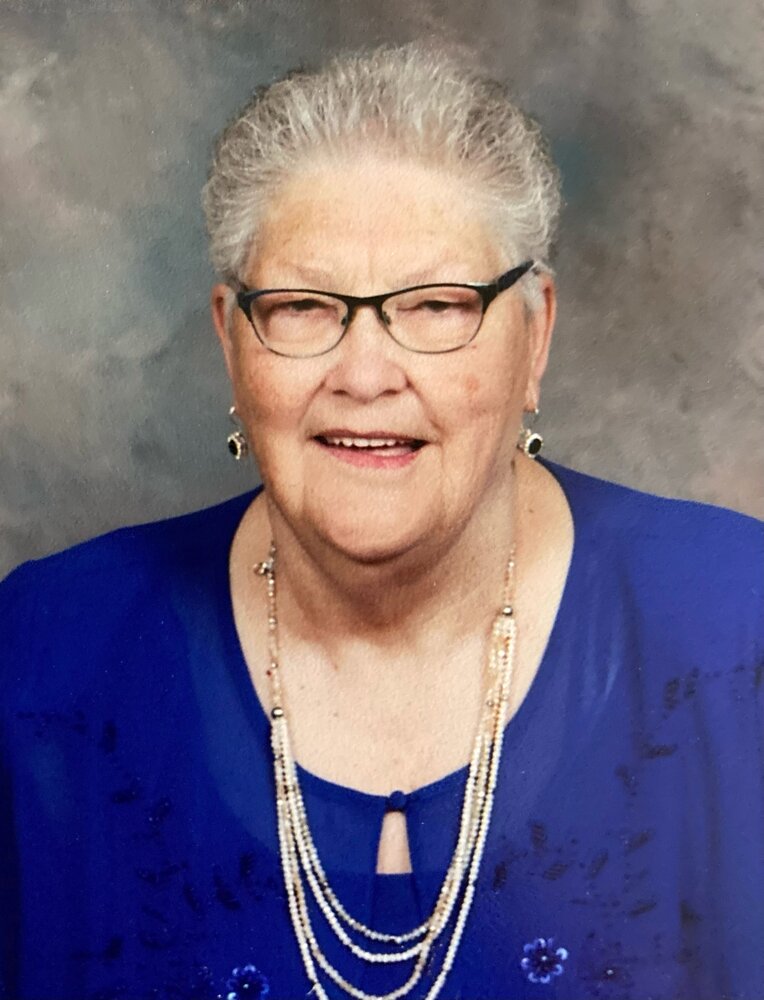 Obituary of Rita Greening
Please share a memory of Rita to include in a keepsake book for family and friends.
Rita Louise Greening
November 15, 1938 – August 4, 2022
Rita passed away in the Lloydminster Hospital surrounded by her family on August 4th, 2022 at the age of 83 years.
Rita leaves to mourn her passing: her nine children, Dennis George (Annette) Greening, Darryl (Shirley) Greening, David (Denise) Greening, Nadine (Craig) Torresan, Walter (Linda) Greening, Neil (Tracy) Greening, Doug (Lisa) Greening, Kris (Dean) Wenzel and Carolyn (Darren) Rudolph; 32 grandchildren; 34 great grandchildren; eight siblings, Cecilia Ferron, Carol Croteau, Gerald (Julie) Russett, Clifford (Marian) Russett, Pat (Judy) Russett, Andy (Marilyn) Russett, Matthew (Linda) Russett and Barb (Elias) Bulhoes; sister-in-law, Dora Greening; as well as numerous nieces, nephews and extended family.
Rita was predeceased by: her husband, Dennis Greening; and one grandson, James Greening.
A Prayer Vigil was conducted from St. Anthony's Roman Catholic Church, Lloydminster, Alberta on Wednesday, August 10, 2022 at 7:00 PM. Mass of Christian Burial was held at St. Anthony's on Thursday, August 11, 2022 at 11:00 AM.
Donations in memory of Rita may be made to St. Anthony's Roman Catholic Church.
Rita grew up in a time, and in a home, that most would consider to be pioneer living. Her parents Wellington and Florence Russett's home had no power, no indoor plumbing, no telephone, and was heated by burning wood and coal. She was the 2nd child of 9 in a 2-room log house, that featured a clay and willow exterior. It was a tight fit in the house, but the family made it work. Despite being of humble means, her home was rich in love. When you have to share your bed with three to four siblings, you simply had to figure it out.
She attended the single room "Horse Hill School" that was a 3 mile walk from the house. Besides her and her siblings making the daily trip to the school, her cousins who were also her neighbours, the Armstrong's and Bonson's would also join in the walk. The short cut through the woods to school was always more fun with the bigger group, especially when the slough had frozen over, and they could walk across the ice. On the really cold days, Rita and all of her school aged siblings would be given a ride to the school in a horse drawn sleigh. If they wanted to stay warm, they would wrap themselves in cow hide blankets and lean in a little closer.
Although Rita's eldest sister Cecilia was usually left in charge when Grandma and Grandpa were tied up with chores, it did fall upon Rita to occasionally look after her younger brothers. This inevitably led to her brothers trying to test Rita's newfound leadership role as they would relentlessly try to antagonize her. On one particularly trying day, her brother Gerald tested Rita's patience, causing Rita to proclaim "When I get married, there will never be a chance that I'm ever having any boys". God obviously has a good sense of humour, and saw this proclamation as a future growth opportunity for Rita.
Her experiences growing up in rural Edam in the 40's shaped who she was. Rural life required you to speak directly, just like how her father talked. And if her brothers didn't have the common sense to know how to act properly then it was her job to let them know, whether the brothers liked it or not. Despite Rita's misgivings of her younger brother's shortcomings, she loved her family, and she was fiercely protective of them.
In her late teens Rita worked as a caregiver and housekeeper in Edam. During this time Rita began dating Dennis Greening and Cecilia dating Roger Ferron. Dennis and Roger grew up 1 mile apart, were great friends and obviously ended up on the same courting schedule as they had a double wedding together.
Rita Russett and Dennis Greening were married Oct. 18, 1958. Dennis was the love of her life, and their relationship was a model for many. Their love was evident to anyone who spent time with them. They knew the dance floor was meant for dancing, just like they knew their hands were meant for holding. Any occasion that allowed for it, this is what you would find them doing. Obviously, their focus on marriage must have been healthy as it produced 9 children.
Mom loved to dress up, and if you look back at how she dressed, especially in her early years, she was simply stunning. In an exquisitely made dress, along with one of her bowl hats, she could have walked any runway in Milan. She loved sewing, and her passion for fashion was something she wanted to pass on to anyone that wanted to learn. She actively did this when she was the 4H sewing leader in Edam for over a decade. When celebrations came along like Christmas, Mom did what she could, so as to provide us kids with fashion forward outfits. Dad made sure to photograph every new group themed ensemble, so that we could enjoy the looks on our faces for decades to come. Many of us have vivid memories from the 70's when mom made a group of us green velvet shirts and matching pants for church one year. Those blouses and matching slacks were clearly the shiniest outfits in all of the church. In our teens, our small-town sensibilities weren't ready for that level of European style. 40 plus years on now, as an adult, what we maybe gave up in our teenage cool and swagger, was made up for in self sufficiency as we all know how to at least sew a little bit, with Carolyn, Kris, and Nadine being very proficient in the art of making garments out of almost anything.
Mom was the president for the local CWL group for a time and an active member for 65 years. A regular reader at mass, a participant in different prayer groups and an active part of the prayer chain. Without exception Church was attended every Sunday. The Greening family showing up at church, and 11 people piling out of a Volkswagen, is how local folklore was made. In addition to attending Church every Sunday she would lead the Rosary every morning throughout Lent before we got on the bus to go to school.
A number of us would inevitably take our position by kneeling and looking out the picture window where you could see the bus coming. Some siblings recently confessed that they were actually praying for the bus to show up early, but that aside, Mom made it a priority.
Mom must have loved birthday parties because there were 9 per year, plus we were participants in all of the Ferron clan's parties as well. If you include Thanksgiving, Christmas, New Years and Easter, 24 weekends had a celebration. On reflection, Mom may have been the reason for some of her children having a penchant for partying despite her rarely having a drink.
She loved being around her immediate and extended family and by extension it played a big part in all of our lives. Weekends at Grandma and Grandpa's farm were numerous and then later at their home in Edam.
Just like her mother, Mom lived in a modest rural home. 9 kids, with the children normally having to share a bed. Their closest neighbours were Dad's brother Bert and Dora Greening and Roger and Cecilia Ferron. The rural life included church, and town celebrations, along with multiple Minnehaha gatherings.
In the early 80's the eldest children were now moving out, having started their own families. But by 1985, times were really tough, and although they tried desperately to make it work, they were forced to leave the farm in Edam. This was a major change in Mom's life, but her resilience, hard work, adaptability and unwavering faith in God, allowed her a quick transition into her new community in Lloydminster. It wasn't easy. Mom and dad both had a day job and a night job, but this is what they needed to do to make sure food was on the table. But as a bit of time passed, they learned to love Lloydminster as much as they loved living in Edam. It was hard leaving everything behind, but they never really lost their old friends, they just had more friends now.
When Dad took ill, Mom stayed by his side for endless hours at the hospital and we often wondered how she could keep going. But her love for Dad and faith in God allowed her to persevere. We all worried how Dad's passing in 2000 would impact her as they had been so deeply tied to one another for over 41 years. It turned out that Mom was more resilient than we thought. Dad had tried to teach Mom to drive on different occasions. When we heard Mom was attempting to get her driver's license at the age of 63 there was some scepticism by those that had bore witness to it in the past. Her last attempt occurred in her 40's, and it was scary as a child, riding the bus to school one day to see the family car in the ditch with Mom at the wheel. Although hopeful, most of us firmly believed that her owning a driver's licence would never happen. Her desire for independence was rewarded after lots of practice with Nadine, and a helping hand from her niece Angela, as Mom passed her road test and earned her license at age 63.
We never thought of Mom as a world traveler, however her friend Margaret Behnke loved to travel and asked her to be her travel partner. Between David, Denise and Margaret, Mom seemed to always be traveling and she deeply appreciated the opportunity to do so. She explored Mexico, Hawaii, Spain, the Vatican, Poland, and bus tours from Lloydminster to the Maritimes and another to Alaska, not to mention her numerous trips around the province to visit family.
After Dad's passing and on her own, she needed a smaller home, which she found in the Fellowship Village. Here her network of friends expanded, and as a bonus this meant she could spend more time with her sister Carol, who also lived in the complex. She would meet with her fellow residents daily to reminisce, converse, play games and celebrate life. Fellowship Village has a very large common room and like her mother, Mom loved family gatherings, the bigger they could be, the better. She put on an annual family Christmas meal for 75, or so, every year up until 2019. With 9 children and their spouses, 32 grandchildren, 34 great grandchildren and her youngest sister Barb's family, the common room could hold everyone, provided everyone was willing to squeeze in a little. The celebration always included a guest appearance from Santa, and presents from Grandma for all the grandkids.
She loved every aspect of being a grandmother. She loved it when they would hold her hand, sticky fingers and all. She loved their hugs, she loved their smell, she loved dressing up for them, especially if it could include a silly wig or outfit. There was nothing purer in this world for her than to be with her grandchildren. It was the compilation of a life well lived. In those moments surrounded by her family, her friends, she had everything she had ever needed.
Rita's transition from pioneer woman, to wife, to mom, to grandmother, to great grandmother, was not a straight line. She observed, she learned, she changed, she became more patient. Her blunt conversations were meant to keep us humble, but she couldn't help but brag us up all the time. Life taught her that things weren't always easy, but it also taught her that with a little bit of hard work, life was still good. She understood what we could handle, taught us what we needed, and knew when we might need a little help. And if she couldn't help us out directly, she knew exactly how to ask God for that help, in the form of a prayer.
Love you Mom, you will be missed.
Card of Thanks
The Greening Family would like to thank everyone who supported us by way of prayers, cards, flowers, food, phone calls, hospital visits and donations in Rita's memory. Thanks to everybody that attended her Prayer service and Mass celebrating Mom's life. Thank you to Lucille, Stephanie, Linda, Jonathan, Deacon Michael Hall, St. Anthony's Parish staff and the CWL Honour Guard for making the mass extra special. Thank you to the ambulance attendants and hospital staff for their excellent care. Also, thank you to Daria Hoegl and the staff at McCaw Funeral Service for all of your help.
The funeral card for Rita can be viewed or downloaded from the link below.
https://indd.adobe.com/view/cbd2a99c-c6ab-4071-a8d7-70aee263c8f9
Prayer Vigil
7:00 pm
Wednesday, August 10, 2022
St. Anthony's Roman Catholic Church
2704 - 56 Avenue
Lloydminster, Alberta, Canada
Mass of Christian Burial
11:00 am
Thursday, August 11, 2022
St. Anthony's Roman Catholic Church
2704 - 56 Avenue
Lloydminster, Alberta, Canada
Online Memory & Photo Sharing Event
Ongoing
Online Event
About this Event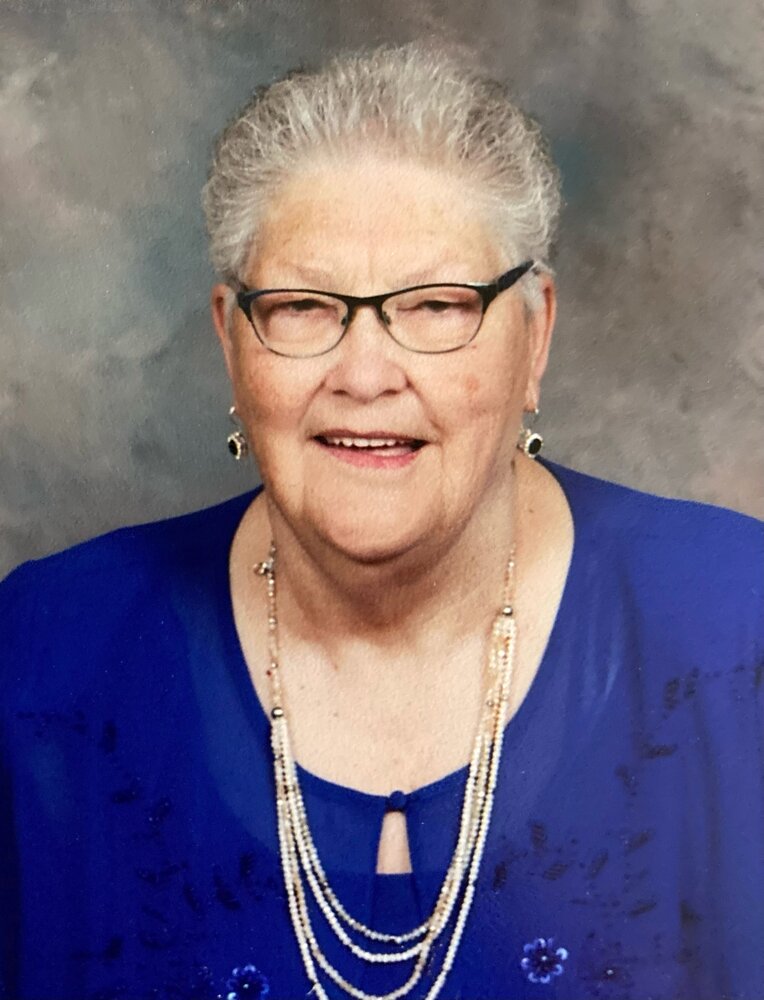 In Loving Memory
Rita Greening
1938 - 2022
Look inside to read what others have shared
Family and friends are coming together online to create a special keepsake. Every memory left on the online obituary will be automatically included in this book.
Share Your Memory of
Rita
5101 - 50 Street
Lloydminster, Alberta T9V 0M2