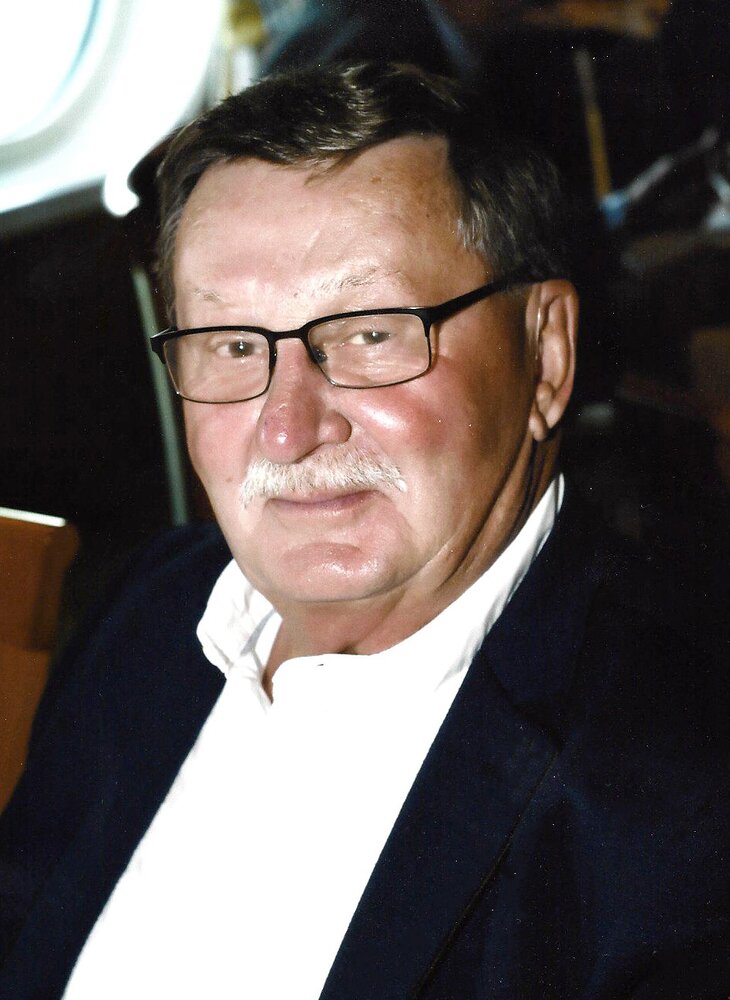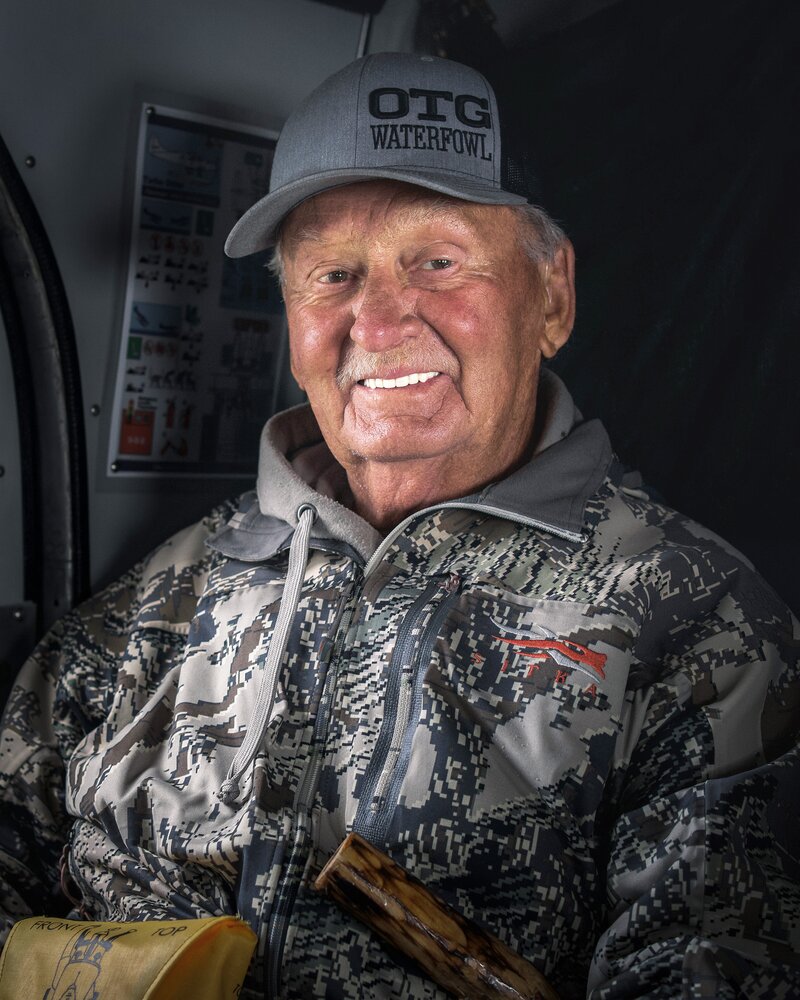 Obituary of Tom Fisher
Please share a memory of Tom to include in a keepsake book for family and friends.
Thomas 'Tom' Edgar Fisher passed away at Lloydminster Hospital, Lloydminster, Saskatchewan, August 19, 2022 at the age of 79 years.
Tom was born on January 27, 1943 at the Dulwich homestead to Charles and Alice Fisher. He worked in the oil & gas industry his entire life and completed his career with Hurricane Industries as owner and general manager. In 2008, Tom was honoured as Lloydminster Oilman of the year. Tom enjoyed all sports, especially hunting and fishing with family and friends.
Tom is survived by: his loving wife, Myrna Fisher; and his five children: daughter, Anne Fisher (Wendy); daughter, Jaclyn (Marcel) Roberge and their four children: Taygen (Lori) Roberge and their children, Cooper and Chloe Roberge: Rikkea (Kelly) Rogers and their daughter, Riviera Rogers: Kleysen Roberge (Kassidy) : and Jax Roberge (Amy) ; son, Blake (Jill) Fisher and their four children: Keagan Fisher and his daughter, Harlow Fisher: Katelyn (Kevin) Peregrym and their children, Perle and Price Peregrym: Kale Fisher (Shanika): and Jayden Fisher (Emma); son, Barcley Fisher (Angela) and his two children: Logan Fisher: and Madison Fisher (Austin) and their children, Brinley and Briar Handel; and daughter, Marlo (Pat) Oliver and her two children, Brooke (Morgan) Weninger and Chase Weninger; brother, David (Linda) Fisher; sister, Winifred (Don) Rutherford; and numerous nieces and nephews.
Tom is predeceased by: his parents, Charles and Alice Fisher; Sister, Donna Sheppard; Brother, John Fisher.
The Memorial Service for Tom will be conducted from Grace United Church, Lloydminster, Alberta on Thursday, August 25, 2022 at 2:00 PM. A Celebration of Life will follow at the Lloydminster Exhibition Grounds, Lloydminster, Saskatchewan at 3:30 PM.
In lieu of flowers, donations in memory of Tom may be made to Project Sunrise (Lloydminster Regional Health Foundation), Grace United Church or STARS.
Tom's memorial card can be viewed or downloaded from the link below.
https://indd.adobe.com/view/7d1afd37-93fe-4724-b078-d0ea9d117678
Card of Thanks ~ The Fisher family would like to thank all the Lloydminster Hospital staff.

~ Eulogy ~
I am so humbled and honoured to pay tribute to Tom Fisher today, through the history and stories provided by so many hearts and minds of the Fisher family.
Thomas Edgar Fisher was born January 27, 1943 and passed away August 19, 2022 at the age of 79. Tom was born to Charles and Alice Fisher at home in the Dulwich area on a frosty minus 40 day, where he was soon wrapped in a blanket and placed on the open wood stove door to help warm him up. This might explain why even as an adult, Tom still loved to get a little too close to the campfire. Tom had four siblings: John, Donna, Winnifred and David.
Tom went to a single room school at Dulwich until grade 5, and then was bussed into Lloydminster for his remaining school years. Tom loved playing football and played on two Provincial Championship Teams for the Lloyd Comp Barons. His early love of football lead him to be a huge Roughrider fan and through thick and thin, his faith in the green and white never wavered. He loved the bus trips to the new Mosiac stadium in Regina. The Fishers often celebrated the Grey Cup together, and played numerous games of mumbly peg, which was a kid favorite.
After four years of courting, Tom and Myrna Holtby were married in the this very church on February 9, 1963. Soon to follow were five children: Anne, Jaclyn, Blake, Barcley and Marlo. Tom was immensely proud of all his children and his 12 grandchildren and 8 greatgrandchildren. He and Myrna loved to attend as many of their activities as humanly possible. The Fisher family is so gifted and talented in so many areas that this was not an easy task. All kids, grandkids and great grandkids everywhere should be so lucky to have such loving, supportive people in their lives like Tom and Myrna Fisher. Having seen Tom around his kids and grandkids on some fishing trips, I know he would do anything and everything for them. Once when Blake and Barcley were small, Tom shot a Prairie chicken when he was out hunting with the boys, but the boys were a little disappointed that they didn't each have a bird, so Tom drove for around for hours until two more chickens were in hand. The boys came home, ran into the house proudly carrying their birds to show Mom. That was Tom Fisher.
Tom and Myrna loved to travel. Highlights were cruises to the Mediterranean, the Caribbean, Alaska and the Panama Canal. Another favorite for Tom and Myrna were the chuckwagon races. Tom even had a tarp at the Calgary Stampede which brought him a great deal of pride.
Tom's favorite get-together may have been when Tom and Myrna celebrated their 50th anniversary in Palm Springs with all of their kids staying in one house just like the Waltons! Every night the kids would yell, "Good night Johnboy…good night Mary Ellen," then everyone would laugh their heads off. Tom got a real chuckle over that one.
Tom's career in the oilfield started early, at the age of 20, with P.A.T. Operators. Tom then went on to work for Husky, T & J Well Servicing, Butte Resources, Bow Canada, Mike's Oilfield, and his own company Hurricane Industries from which he retired in 2018. Through Tom's many ventures in the oil business many close lifetime friends were made but none more special than his friendship with Ronnie Christie and "Hooey" Howie Cayford. With each new adventure in the oil business, Tom would gain valuable experience and would soon become one of the most respected oilmen in the Lloydminster area. As one of his colleagues commented, "If that Tom Fisher don't know it, it ain't worth knowing." Or as another said. "If I knew ½ of what Tom Fisher knew, I'd know twice as much as everyone else." Tom was named Lloydminster Oilmen of the Year in 2008 and was recognized recently for curling in every Oilmen's bonspiel for over 50 consecutive years. Tom even got a hole in one during the Lloydminster Oilmen's Golf Tournament. Every year for the "North of the River" curling bonspiel Howie Cayford and Tom always booked the top floor of the Rendezvous Hotel in Edam. Sounds exotic doesn't it. They joked they got the room overlooking the pool – THE SK WHEAT POOL ELEVATOR that is!!
Tom was a big believer in the importance of community and left many lasting legacies in the community of Marshall. Tom served 11 years on the Marshall Town Council, working with mayor Jim Broiley for whom he had great respect. Tom and brother-in-law Harold Holtby were key players that got ice into the rink each year at Marshall. Tom was also very proud of building the Marshall Sports Grounds which is still being enjoyed by many to this day.
Tom's hobbies were fishing, hunting, and organizing very large family gatherings. Tom also learned how to downhill ski at the age of 50. Oh boy, I'll bet that was worth the price of admission. Tom loved to putter. Sitting still was definitely not his strong suit. He and Myrna spent many rewarding hours refurbishing old furniture and gardening. He has still a large garden at Barcley's lodge. Tom tried for years to grow corn with little success which drove Myrna crazy because it never, ever grew…until this year that is. I'm told, it's quite delicious thank-you. Tom was never one to give up on something once started.
Other passions of Tom were his Goose hunting at his Alsask hunting cabin, his Squinty's boyz weekly golf nights and his West Coast ocean fishing adventures.
Roe Lake. Roe Lake was Tom Fisher's Mecca. A place of pilgrimage. A place where Tom was at peace with the world, where the most important decision to make was what hook was going to be the winner that day. I had the privilege of joining Tom and members of his family on 4 flyins to Roe Lake, including his last one this past June. Tom was very nostalgic on that trip recounting all the people that enjoyed that wonderful place over the years. He paged through the log book reading all of the comments people made about their experiences at Roe and Tom became quite emotional as he reminisced about all the good times spent there. On those trips I watched as Logan, Jayden, Blake, Barcley and Tom demonstrated a love for each other which came in the form of both words and actions.
One year ago in June, I was fortunate in being able to bring my 17 year old foster son, Dakota, along for the trip to Roe Lake. This trip for Dakota occurred at a time where he was struggling with life and the pandemic wasn't helping. After a week at Roe Lake, Dakota was a changed young man and this trip marked a turning point in his outlook on life. Was it the wilderness, the pristine outdoors, the solitude, being one with nature? It was all of those things but most importantly it was Tom Fisher. Tom took Dakota under his wing and made Dakota feel important, worthy and valued. You see, that's what Tom Fisher is all about. When you spend time with Tom Fisher, you end up feeling better about yourself. At the beginning of the trip, for Dakota it was "Mr. Fisher" but by the end of the trip it was "Hey Tommy." You see, Tom had a way of welcoming you into his circle with his sincerity and caring. I'm not sure Dakota would be attending college today, if not for Tom Fisher. And I know that there are many in this room today who would say the same thing….Where would I be if not for Tom Fisher?
On those Roe Lake trips, Tom always asked me to bring my guitar for campfire songs, and you know we sounded pretty good and then I thought to myself that three of us there were wearing hearing aids, so maybe were weren't as good as we thought.
One last Roe Lake story. A couple of years ago, we had a huge bear problem. Every time we would come back from fishing, our camp would be turned upside down. Then one evening, while we were all having supper, the bear walked right into camp. No fear. Tom yelled, "Get the gun." So Barcley ran and got the gun and who do you think he gave it to? The guy who was scheduled for cataract surgery the following week. Tom missed.
Tom was the ultimate "people person." He loved fellowship and enjoyed music, especially listening to Myrna and the choir sing at Grace United Church. Tom enjoyed his church life here at Grace United and was a valued member.
Tom Fisher. Loving Husband, Special Dad, Wonderful Grandpa, Oilman, Sportsman, Outdoorsman, Master Putterer, Mr. Fix-it, Gardener, Community Builder and Special Friend. Tom, you will be missed by so many in so many ways. Shalom, my friend, Shalom.
Memorial Service
2:00 pm
Thursday, August 25, 2022
Grace United Church
4708 - 50 Avenue
Lloydminster, Alberta, Canada
Celebration of Life
3:30 pm
Thursday, August 25, 2022
Lloydminster Exhibition - Stockade Convention Centre
5521 - 49 Ave. Lloydminster, SK Canada
Lloydminster, Saskatchewan, Canada
Online Memory & Photo Sharing Event
Ongoing
Online Event
About this Event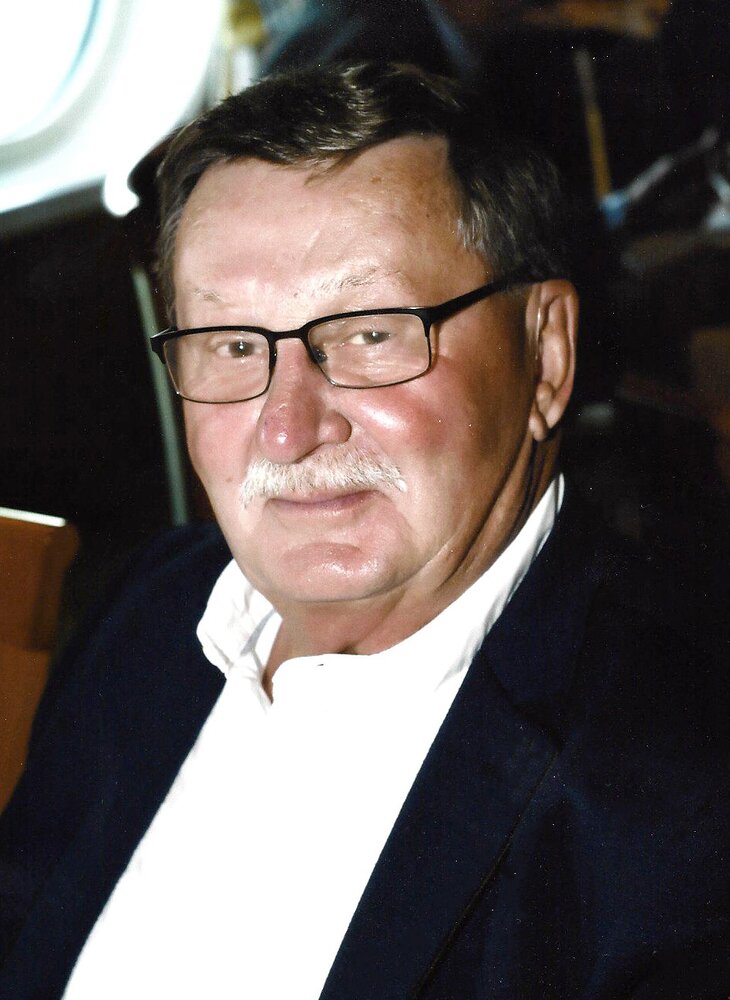 In Loving Memory
Tom Fisher
1943 - 2022
Look inside to read what others have shared
Family and friends are coming together online to create a special keepsake. Every memory left on the online obituary will be automatically included in this book.
5101 - 50 Street
Lloydminster, Alberta T9V 0M2