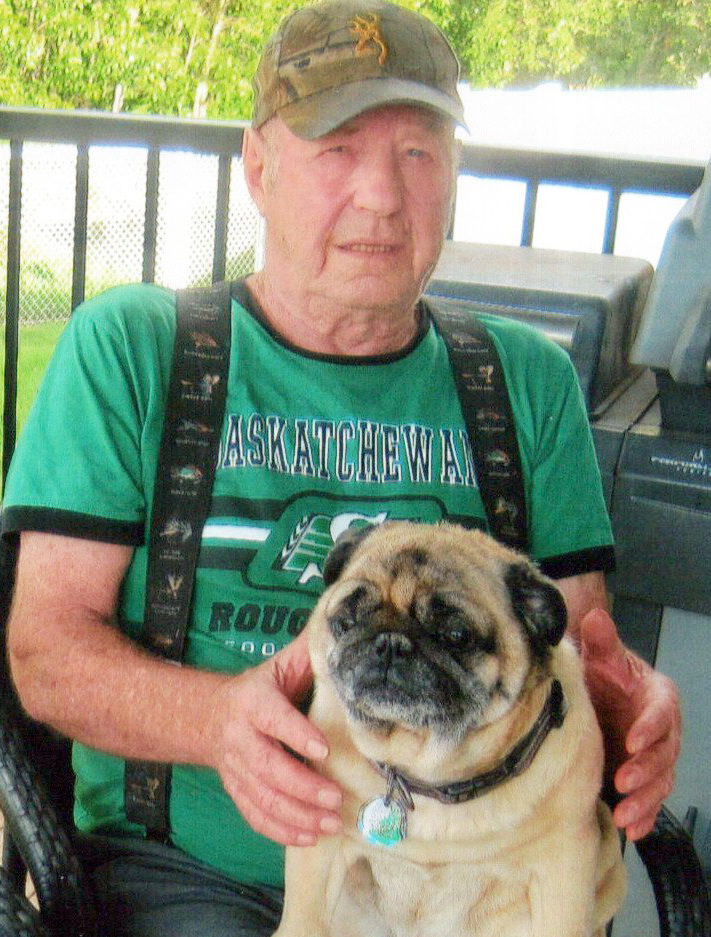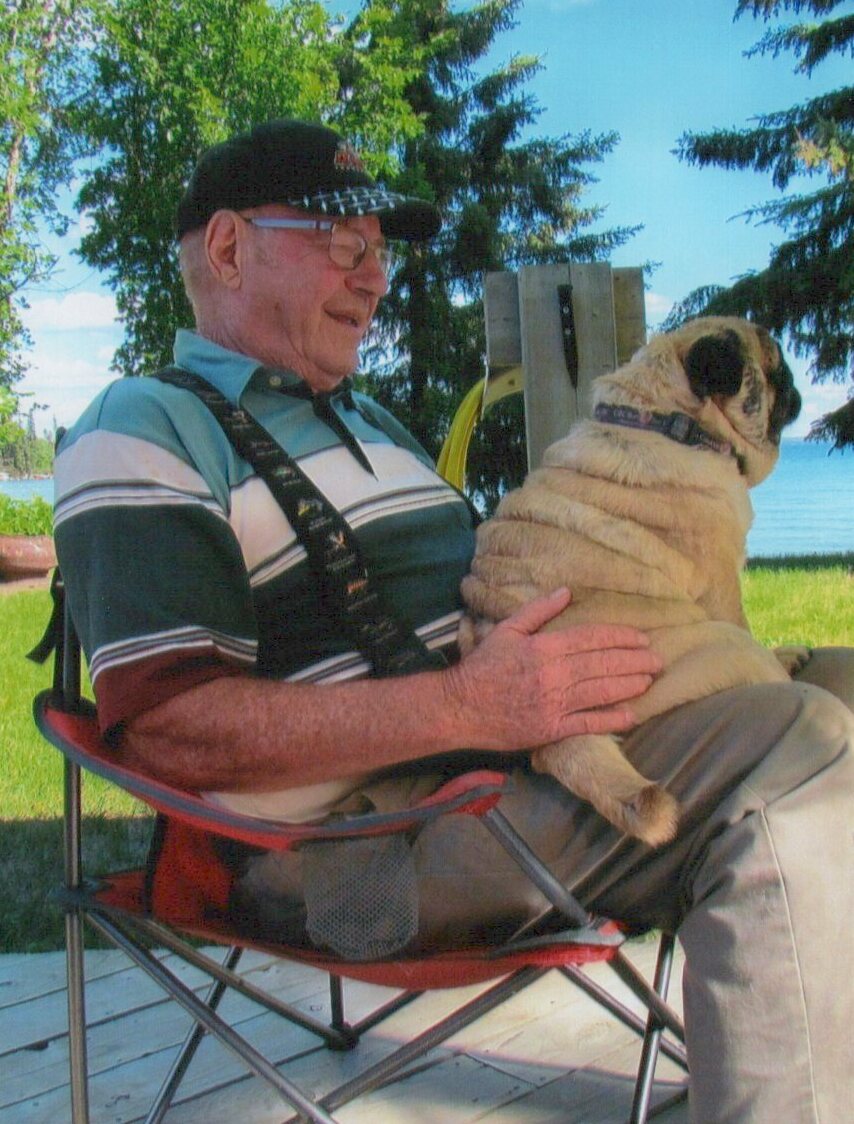 Obituary of John Phillips
John Herbert Phillips passed away at Lloydminster Hospital, Lloydminster, Saskatchewan, October 8, 2022 at the age of 87 years.
John is survived by: his loving wife, Bridgid Phillips; two children, Trevor Phillips and Maura Phillips; two grandchildren, Kieran Phillips, Stephanie (Jesse) Loewen; two sisters, Joan Van Zandt and Barbara (Hector) MacDonald; and numerous other relatives.
John is predeceased by: his daughter, Eileen Phillips; parents, Herbert and Alice Phillips; sister, Cynthia Huber; and brothers-in-law, Alan Van Zandt and Alvin Huber.
The Funeral Service for John will be conducted from Lashburn Community Hall, Lashburn, Saskatchewan on Monday, October 17, 2022 at 11:00 AM.
Donations in memory of John may be made to Lloydminster Regional Health Foundation - Pioneer Lodge or donor's charity of choice.
John's funeral card can be viewed or downloaded from the link below.
https://indd.adobe.com/view/5bf26ba2-5915-4102-9ead-382a798db743
~ Eulogy ~

Good Morning and Welcome,

Most of you here today will recognize me as one of the Van Zandt boys, I am Kerry, the youngest. John Herbert Phillips is my Uncle.
Please join me in sharing my condolences to Bridgid, Trevor and Maura, as well as his grandchildren, Stephanie and Kieran. Also condolences to John's sisters, Joan (mom) and Aunt Barbara. John and Bridgid's daughter Eileen, and John's youngest sister Cynthia, having passed away a few years ago now, come to my thoughts as well today.

How many of you have a story to tell of the intersection of your life with that of John Phillips?

How many of you have a story you would like to tell, but have to be selective in the audience that hears it?

John was born November 3, 1934, in the hospital here in Lashburn, the second child to Bert and Alice, homesteaders just a few miles north from here. I cannot speak to hardship he must have endured back then ----- having 3 sisters, where I only had 1.

John and his sisters attended the Gully School, roughly 3 miles from their home. Grandma Phillips, in her write up of early times South of the Gully, gives an indication that John was destined to be tinkerer, mechanic, and jack of all trades. He used to keep the bicycles operating for the riding to and from school. Growing up on any Saskatchewan farm in the 30's and 40's would have had its challenges. I think especially so for the Phillips. I read in Grandpa's writings that 'after 25 years farming they had gathered together enough money to buy wood to build a new barn'. When Grandma came over to Canada, married, and settled in to their home around 1930, she wrote that wedding money from England provided comforts such as linoleum for the living room, a table and chairs. And all the years on the farm, the family had only a wood stove. In fact Grandma never had an electric stove until 1969 when they moved to town. Chores were indeed chores then, including taking care of a cow named Ginger. But Mom tells me of John's early times, being distracted by Jim Farrell, stopping there after school, coming home late, and being in a wee bit of trouble. It sounded like a regular occurance, so Ginger likely didn't see much of John. Those after school hangouts were reflected in the friendship Jim Farrell and John carried in to adulthood, and Jim standing up with John in 1967 when John and Bridgid were married.

The Gully school was not the end of formal learning for John, but it was the end of classrooms. Bridgid tells me he did advance a respectable 2 more grades via correspondence, and also attained his Mechanics license in his 20's.

As with so many young men, then and now, John was ready to get life going. And even though he farmed for 25 or so years later in life, I'm not sure if farming was his passion. I have heard that he had wanted to explore the artistic side of his talents as a young man, and go to college, but regrettably never had that opportunity, as life then was not so accommodating (or Grandpa) to such trivial things! Trevor, you might speak to that
as I surmise your time at the Alberta College for Arts, was a reflection of that unrealized opportunity for your Dad. Maura and Trevor hold some of John's art creations in their homes.

Here we need to divert from my words, and hear words from the man of the hour himself. John's write up in the Lashburn History Book, tells portions of his life story better than I, or anyone, ever could. So please indulge me as I read excerpts from his writing –

"I was never around Lashburn very much as I worked at various places on construction, but in winter I worked for E.O. Lindeblom, tinsmithing and wiring. And also at Dood Donalds I.H.C. as a mechanic. Then, in 1962, Pat Brett and I formed a partnership and bought Ferdie's Service Station, which is now the C&L. We fixed 'everything', from tea kettles, to cars, trucks and tractors.

We must have looked prosperous because we got broken into about 3 times a year. I used to sleep there and one time, a guy climbed in my bedroom window. I was sound asleep and he stepped on the phone, which was on a coke box beside my bed. It tipped over and he stepped on my pillow, which woke me. I let out a yell and a lingo of words and he dove head first out the window and in to a pile of scrap iron and parts. I could hear him groaning and running through the iron, so I whipped on my pants and made a few circles with the car, but never saw him. Another time, some sleepy looking guys were hammering on the door at 3 am wanting gas. I just took a look and went back to bed. I couldn't sleep, as they were still making funny noises out there, so I got up and took the 303, which was always loaded beside my bed, and went out the back door. As I came around the corner, I accused them of trying to break in , which they denied with their hands up. I gave them $2 worth of gas and they left. Next morning I opened the shop doors and a big gust of wind blew in and the window beside the door fell right out and broke. They had picked all the putty and clips out, so I wasn't far wrong. Allan Van Zandt , who had his electric shop in our building, came along and we laughed about it. He went out on a job, and in the meantime I put a new window in. It was the only clean 1 out of the 18 on the front. Al walked up and went to put his head in to say hello and broke my new window! We used to have lots of good laughs and used to get pretty grumpy too (not quite as bad as the C&L however)!

Continuing on..

In 1967 I got married to Bridget Fennell, who came to Canada in 1959 from Shinrone, Ireland. Bridget nursed at various places before coming to Lashburn Union Hospital. We bought a house in Lashburn where we lived until we moved to the Battle River farm around the time the garage was sold. We bought the farm from Melvin Gardiner. " – end of Johns words

John and Pat Brett sold the B&P Esso to Winston and Glen in around 1971, which means John and Pat had the garage for 9 years (and they had had enough). Shout out to C&L, Winston Chappell (since departed) and Glen Lypkie, the C& L survives to this day, some 50+ years later, a valued fixture in the Lashburn community.

Bridgid and John were married April 19th, 1967 at the Catholic church up on main street. She tells me they met right here in the old Community hall at a dance. It seems very poignant that she is here on this property, 55 plus years on to say goodbye.

Off they went on their honeymoon, a road trip to the west country. City stops, then Banff and Jasper, as Bridgid recalls. Their mode of transport was John's pink car, a caddy, as she remembers it! It shouldn't have surprised me, him having a pink Cadillac, or a motorcycle, and an airplane, all before they came together. They must have been quite the talk of town back then, this rowdy farm boy turned businessman, and nurse from Ireland with the accent and a past no one had any idea about. They returned to a life here in town, lived in Chappells basement for a time, then to house south of the sportsgrounds, before they bought their first house next door to Jock and Lil Mitchells.

And in between 1968 and 1970, along came Trevor, Eileen, and Maura to the family.

After selling the garage in 1971, the farm became their new endeaver. First item of business was turning an old house, used for a time as a grainery, back in to a livable structure for themselves and now kids. Not only did they have to 'renovate the existing structure, an addition was added with a garage below and bedrooms upstairs. I still remember those stairs, which I am not sure ever had a railing. Farming provided John
and Bridgid with good friends and neighbors, a shared goal, and allowed Bridgid to step back from nursing. In those days John, Ken & Dick Atkinson, Fred Davis, and others used to meet up at the crossroads south of the river to swap stories, experiences and a few beers on the endgates of their pick-ups. Wouldn't it be interesting to have a snapshot of those times, and conversations.

Trevor and I were talking the other day about his cousin visiting the farm in the 70's. Lawrence was from New York City. Can you imagine a kid that had never seen a live farm animal, coming to Saskatchewan in the 1970's, and ending up at John Phillips kitchen table. The one thing we both remember is Lawence getting called a 'horse's ass' for some trouble he and, maybe Trevor, got in. Lawrence didn't take it too well, and after having a good cry was ready to go back to the city.

Ten years living on the farm was enough for the Phillips. Selling off the cattle allowed them to buy a lot in Lashburn, and for John to build another house. It eventually led to selling the farm and John becoming semi-retired!

So many of us have a life event that defines retirement. John Phillips did not live or work by convention. And retirement was no different. Around the mid eighties, with the sale of the farm, John had time, and some money, on his hands. Turtle lake was calling! Many of you will have stopped by their cabin at Turtle, enjoyed a beverage around his fire pit, marveled at the eclectic accumulation of 'things' that found their way to that spot. John was not a classic hoarder, but he definitely would not send to the 'nuisance grounds' something that he 'might' be able to repurpose in life.

No one was better at haggling a deal, or sniffing out a sale at Nelson Lumber, or any other number of stores in Lloyd. He would acquire items for building on the house in town, or the cabin at the lake, long before he needed them. I am pretty sure not everything he brought home was used as intended. And that stuff needed a place to be stored, like a shed. John truly was a happy man if he had enough sheds. And sheds in total, between home and the lake, and later on in Lloyd, were a'plenty. John truly was in 'Bliss'! Ask Maura and Trevor how happy all the contents in these sheds have made them! The lake property was a true reflection of John, he designed it, built it, spent a lot of time at it, and stopping by there you were likely to find him and a dog somewhere nearby. In the end, John realized that he had to let it go. I think his acceptance of aging was commendable, given how much he was 'out and about' all his life.

I want to tell a memory I have of John. In the 1960's, John got his pilot's license and bought a Cessna 170 taildragger with Pat Brett and Francis Tucker, I believe it was. He flew it from both Iver Reckwells field outside town, or from the farm where he had his own runway. I believe transport rules dictate that one is to fly a minimum altitude above the ground, say 500 feet. Ha, John was hardly ever known to fly a maximum of 500 feet. Myself, I got quite a few flights in that plane. I remember flying south over (on) the battle river road approaching the river hill, and banking with the road as it plunged and turned down the hill. I can just imagine how many times he did this over the years, and how many of his Neighbors got a start when he appeared 200 feet above the road on that corner. Dragging the tail through the crop at landing was another memory, even though he had a plenty long air strip to land on. My best memory of his plane was during one of the Softball weekends in the late 70's I believe it was. John was asked to give Peter Ganneau a lift so that Pete could perform a few aerial maneuvers before deploying his parachute and landing at the ball diamonds. John's plane was not really designed for this, and it's engine was not the most powerful. Peter asked for the door to come off so that he could exit and stand on the wing strut before letting go. The door was a problem. So off it came. It was also a hot day, which meant the air was thin, and so climbing would take time, and stress a plane that never flew more than 1000 feet above the ground. Then along I came, and said "hey, can I come up too?". John was not thrilled to say yes, but I was slight of build, and I think he saw an opportunity to have some fun with his nephew! So up we went, climbing and climbing, the 3 of us, John and Pete up front, the door off the right side, and me in the back seat. I know we went a few thousand feet up to give Pete some time before he would open his chute. When the right altitude came, Pete stepped out on the wing strut, readied himself, looked back at us, let out a hell raising shriek, and was gone! Wow, talk about adrenaline pumping inside the cockpit! Uncle John immediately banks hard right, tips us on edge so that we can watch Pete freefall out the 'missing' passenger door. I think you can imagine I was pretty much 'done' by then. But John wasn't. Never one to miss that opportunity, he needles me for still sitting in the back and not being able to enjoy the flight down to the ground, including Pete's open chute. You see a lot less in the back seat of what goes on out the front windshield. So he says "Are you just going to sit back there, or are you going to come up front, and balance the plane for landing?" So there I was, thousands of feet above the ground, with my Uncle John, and removing my seatbelt and climbing into the front seat, with no door or parachute, and wind at 80 miles an hour buffeting my progress. As far as Mom and Dad knew, I was at the ball diamonds, or hanging out with Wally Retzlaff. I am not sure their reaction to those events but you can imagine had it been anyone other than John Phillips, something might have been said!

In talking to Trevor and Maura the other day, they both told me that they too got to go up for the same thrill, dropping Pete in to the abyss from a doorless airplane. Pretty special memories for all three of us. Later in life my, first flight in a commercial plane was pretty mundane, compared to flying with my Uncle!

I think everyone here would agree that Bridgid, Trevor and Maura, shared with the community, a generous amount of John's life. John very much was enjoyed in whatever community he was a part of, witnessed by the turn out here today.

I never got many conversations in with John in the past 20 years or so. But I know he never changed much in personality. He was the kind of fellow you could go talk to about pretty much anything, and let your guard down in doing so. He would listen, give his advice, throw in a zinger or two, and away you'd go. Calling one a 'knucklehead' never seemed to deter me, or anyone else for that matter, from having more conversations with him. John really was special in that regard. When I listen to the radio and Billy Currington's song, 'People are Crazy' begins playing, I think of my Uncle John! If anyone, he would be the guy to swap stories with a fellow at the bar, and have that moment in time open a door of opportunity for him. Such conversations never resulted in John becoming a 'Millionary', but I think his genuine caring and good nature (yes it was in there) are reflected in the words of that song, at least as I remember him. Think of John next time you hear it on the radio!

So as I close I would like to see from you all one last nod in agreement, that we were lucky to have had moments in our life, where we intersected with John Herbert Phillips, had a laugh or two, or a beer or two. And we thank Bridgid and her family for giving us this opportunity, sharing John one more time, so that we, as well, can say goodbye!

From the Phillips Family

We would like to thank everyone for their kind words and condolences. Dad always had stories to tell and very much enjoyed a good conversation. Dad talked often about his friends that he missed very much. I know that i'm late getting this in the paper, so many things I wanted to say but really the only words are " Our dad was the best".
Funeral Service
11:00 am
Monday, October 17, 2022
Lashburn Community Hall
Box 25
Lashburn, Saskatchewan, Canada
Share Your Memory of
John
5101 - 50 Street
Lloydminster, Alberta T9V 0M2