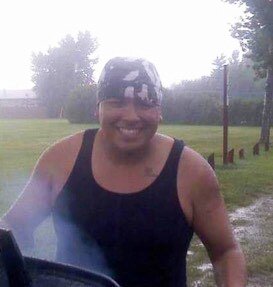 Obituary of James Jamie Lewis
Jamie "Jamie" Wilfred Matthew Lewis away at Onion Lake, Saskatchewan on April 14, 2023 at the age of 41 years.
Jamie is survived by: his parents, Corrine Lewis-Lariviere and Peter McGillvery; special uncle, Victor Arcand; siblings, Blaine Lewis, Jesse Lariviere-Lewis, Nicole (Jacob) Lewis, Kristy Lewis, Shari Heathen, Shana Heathen (Greg) Parenteau and Shaylene Heathen; daughters, Jennaya (Jarrett) Lewis, Shania (Garren), Athena Lewis, Kaylee Lewis,Mya Lewis-Naistus, Lily of Cold Lake and Aimee Lewis; grandchildren, Heavenly and Jarreya; as well as numerous uncles, aunties and cousins.
Jamie was born December 13, 1981 at Paradise Hill, SK to Corrine Lewis-Lariviere and Peter McGillvery.
Jamie was a fun, loving dad, son, nephew, mosom, uncle and friend.
He was always respectful; he had a loud laugh and was a loudspeaker. He loved to joke around and tease everyone.
Jamie used to call his younger sisters, Shari, Shana and Shaylene the 3 Sausages. He had a nickname for his sisters and his daughters. No matter what, even if he was just going to the store, he would always say "I love you". He was never shy to say "I love you" to whoever he talked to. He loved to give hugs.
In his teen years, Jamie loved Basketball. If I lost him, I would always find him shooting hoops. Living in different cities Saskatoon, Regina, Edmonton and Calgary, Jamie made friends all over with all nationalities. He knew how to speak different languages his friends would teach him; he was always a fast learner. Jamie started boxing in 1995-1997 and won a couple medals. He made the Saskatchewan Summer games and travelled to Minnesota USA and Victoria for Basketball; he played as #4.
Jamie moved to Calgary in 2014 where he went to Polytechnic to learn Carpentry. He graduated and received his Journeyman certificates. He was so proud of what he built; he always made sure his job was done right. He never did anything half ass. He loved to fix and build things and would offer help to whoever needed it.
Before his passing, he would go visit his Kokom Rosalie everyday. Jamie loved his Kokom so very much.
Jamie was very loved. People would tell him he looked like the Rapper "Nelly".
I remember one summer, we went to Little Fishing Lake to swim and as he dived into the water, his swimming shorts came off when he hit the water. He yelled out "my swimming shorts came off!!", everyone started laughing. After swimming, he would always be the chef, he loved to cook. When he cooked, you can be sure to have an awesome meal, he cooked every meal with Love.
Jamie, you are surely going to be missed. Your loud laugh, your dimpled smile, your protectiveness; especially your big hugs, and hearing you say "I LOVE YOU". R.I.P
The Funeral Service for Jamie will be conducted from Onion Lake Log Church, Onion, SK on Saturday, April 22, 2023 at 11:00 AM.
James funeral card can be viewed or downloaded from the link below.
https://indd.adobe.com/view/9b879922-36c0-46ed-b802-410ffbd0a615
Wake
12:00 pm
Wednesday, April 19, 2023
Onion Lake Log Church
.
Onion Lake, Saskatchewan, Canada
Funeral Service
11:00 am
Saturday, April 22, 2023
Onion Lake Log Church
.
Onion Lake, Saskatchewan, Canada
Share Your Memory of
James
5101 - 50 Street
Lloydminster, Alberta T9V 0M2