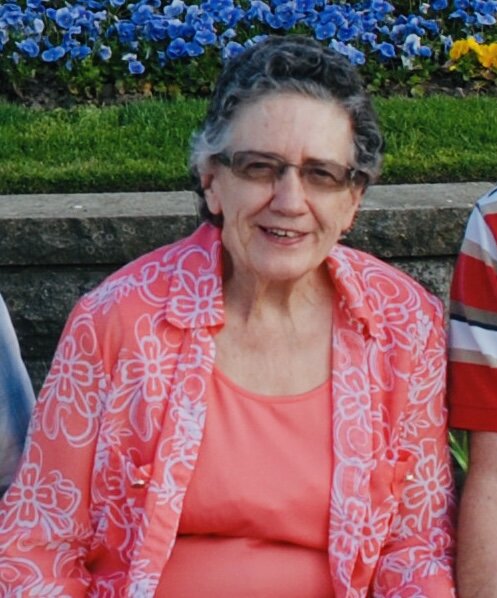 Obituary of Ruth Stellmacher
Winnifred Ruth Stellmacher passed away at Lloydminster Hospital, Lloydminster, Saskatchewan on Thursday, June 8, 2023 at the age of 85 years.
Ruth is survived by: her two sons, Daryl Stellmacher and Neil Stellmacher; sister, Clarice Ball (Bert); brother, Lorne (Ellen) McAlister; and numerous nieces and nephews.
Ruth was predeceased by: her husband, John Stellmacher; parents, Clarence and Winnifred McAlister.
The Funeral Service for Ruth will be conducted from McCaw Funeral Chapel, Lloydminster, Alberta on Thursday, June 15, 2023 at 11:00 AM.
Donations in memory of Ruth may be made to Dr.Cooke Extended Care Rec. Board or Alzheimer's Society.
Ruth's funeral card can be viewed or downloaded from the link below.
https://indd.adobe.com/view/69c3d797-a455-4818-969d-ac76f02f0e28
RUTH STELLMACHER EULOGY ~
Winnifred Ruth McAlister was born July 3, 1937 in Edmonton Alberta.
The first child of Clarence and Winnifred McAlister. Mom never did like her first name and would tell everyone she met for the first time please call me Ruth. Judging by the captions under some of her baby pictures Mom was always referred to as Ruth.
Mom grew up in Edmonton with sister Clarice and brother Lorne. Mom's first job or at least the first job she would talk about was as a secretary working in the corrections department of the Alberta government. We always used to tease Mom that nobody works for the government you are just employed by them. Mom always countered that she typed lots of correspondence related to the provincial jails and was responsible for reviewing and recommending which movies would be shown to the prisoners. That just proved our point employed by but not working for the government.
Mom met her future husband at a church youth group and married John Victor Stellmacher on November 14, 1958 in Edmonton Alberta. They moved to Drumheller, Alberta where Dad was employed in the Oil industry and Mom was a happy housewife and kept busy in the local church. A couple years later first son Daryl was born.
In 1963 they moved to Lloydminster where Dad had applied for and got a great job working with Husky Oil. In 1964, second son Neil (me) was born. Again Mom was a content stay at home Mother. As we children grew Mom became a Hockey Mom attending countless games to cheer us on. Since Dad was the coach, Mom also became the peacekeeper between all the other Hockey Mom's both on our teams and on the teams we played against. Mom used to take a huge yellow coffee maker to the games and hand out free coffee to everyone. I guess that is why she became so popular in the cold hockey arenas.
One year Mom decided to try being a teacher's aide for the kindergarten class at the Martin Browne school. From what Mom told us her chief function was to sit with the children who misbehaved in the time out area. This gave Mom a chance to tell those misbehaving children she loved them. When one of the children replied I never hear that at home, Mom could hardly believe it and decided one year of being a teacher's aide was enough.
Instead Mom decided to become an Avon lady which she continued at for 39 years. Mom didn't go into houses but rather sold over the phone. You knew Mom was selling when you would hear her tell someone "I will order both colors of lipstick for you. The one you don't like just return it to me for a refund" or if she was talking to Avon head office in Quebec , her first words were always "speak English". Since Mom never did learn to drive, we always ended up being Mom's taxi when she delivered her Avon orders.
Mom always enjoyed going to the lake and being a spotter in the boat while the rest of the family did some waterskiing. Eventually we talked Mom into trying to ride on the tube behind the boat. That was OK until she fell off the tube one time and blamed it all on Dad for taking her over the rough waves. After a lot more convincing we got Mom to try a knee board behind the boat. She continued kneeboarding until sometime in her seventies. Just short rides because if Dad ever took her for too long a ride she would stand in the water afterwards with her hands on her hips and say "John when I give you the back signal I want you to take me back immediately".
Mom was always a great cook who had no problems substituting one ingredient for another if she didn't have what the recipe called for in the house. This made for some rather interesting chocolate chip cookies. If the batch of cookies was really good just enjoy them because we knew they may never be repeated exactly the same way again. Sometimes the substitutions turned out to be a disaster like the time she decided to add tomato paste to a batch of cinnamon buns. Yuck I can still taste them and remember seeing Mom throw them in the garbage before Dad got home from work.
Mom was a cleaner who always kept the house immaculate. To this day, written beside the light switch in the furnace room is "Ruth Stellmacher was here, cleaning as usual, scrub woman of 47th street". Mom would throw things out constantly. When we had a burning barrel who knows how much stuff was burnt to hide the evidence of something else discarded. Mom had another favorite disposal place for food no longer wanted… the toilet. We can never forget the day Dad came home from work and Mom told him the toilet was plugged. Dad asked what she had attempted to flush now. Nothing Mom said so Dad tried everything to get the toilet unplugged. Nothing worked so Dad took the whole toilet apart only to find the core stem of a cabbage perfectly stuck in the bottom of the toilet. Mom still denied any knowledge even when presented with the evidence. Still we never left on a vacation before the house was spotless because Mom always wanted to return home to a clean house.
Mom loved annual vacations usually in January to a warm tropical island in the Caribbean or Hawaii. During one such vacation Mom met a waitress named "Winnifred". Mom told her that was her first name as well but she preferred to be called Ruth. The waitress replied "why you no like Winnie" and "you have hairy arms."
Mom had a great love of Southern Gospel Music. She attended every concert she could. Whenever the American based groups were performing in Edmonton or Red Deer she wanted to go. This also led us to taking her to the National Quartet Convention in Louisville Kentucky for 14 straight years. Then for Mom and Dad's 50th wedding anniversary, Daryl & I took them to a Praisefest event in Tennessee hosted by one of her favorite groups - Greater Vision. Mom loved the chance to talk with the singers but especially loved the songs. We are singing some of Mom's favorite songs today. She especially loved a recent song called All My Hope. Mom could never remember the verses but she knew all four lines of the chorus which are…
All my hope is in Jesus
Thank God my yesterdays are gone
All my sins are forgiven
I've been washed by the blood
We also had several nicknames for Mom. One was Commandant when we loved to watch Hogan's Heroes. Another was Bertha Belt Burner when she sucked something into the vacuum cleaner that caused the vacuum belt to start burning. Mom just kept on going until the whole house smelled like burnt rubber. But the nickname that clung to her was Boss. Mom was in charge and to acknowledge that fact we affectionately call her the boss.
Mom passed away at 10:15 PM on Thursday June 8. For the last several days in the hospital she was basically unresponsive. One afternoon we put the headphones on her and hooked them up to her IPOD that had over 1200 Southern Gospel Songs on it. One of the doctors came into the room and asked what we had her listening to. We told him the only music she listens to is Southern Gospel. The Doctor asked "is she a born again Christian"? We told him yes we all are and then we asked the doctor are you ? The Doctor said yes he is and also is a minister. He also said "We all know there is hope beyond what Winnie was experiencing." He was one of the few people Mom would ever allow to call her Winnie.
During what would be Mom's final hours, I began to sing some of Mom's favorite hymns to her. I noticed a small tear coming from the corner of her firmly closed eyes. Then the unresponsive eyes opened wide and Mom was looking all around the room at something. There was a twinkle in her eyes that I had not seen in years. Daryl had gone home to get a bit of sleep and when he returned to spend the entire night in Mom's room I told him what had happened. I left for home and when Daryl called a couple of hours later to say Mom had passed, I asked him about her final moments. Daryl said he also sang some favorite Southern Gospel songs to Mom for about 1 hour. Mom's eyes were again firmly closed and she was again unresponsive. Then as he sang "What a Day That Will Be" to Mom, once again her eyes opened wide and she looked all around the room with the same sparkle in her eyes. Daryl said to Mom I have no idea what you are looking at but you are blessing me. Mom closed her mouth which had been wide open for breathing and a little smile appeared. After a couple more difficult breaths Mom was gone. We believe Mom had seen a small glimpse of heaven, shared it with us by the sparkle in her eyes and had no more desire to stay here.
So how would I sum up Mom's life in one word. The word would have to be faithful … faithful to her husband, faithful to her family but most of all faithful to her Lord and Savior Jesus Christ.
Finally, let me share the words of a song Daryl heard on Enlighten the Southern Gospel radio station on XM just before he began to write this eulogy. You can all be happy I am going to read them and not sing.
The song is called Never Been
There are tears when we come into this world
And there are tears when we say good bye
But in my grieving I remember
The ones who leave aren't the ones who cry
There's a land you always longed for
And Hallelujah you've arrived
I've never been more broken hearted
But you've never been more alive
I know you're hearing angels singing
Neath a clear and cloudless sky
Where all your hopes and all your questions
Now at last are satisfied
There's a land you've always longed for
And Hallelujah you've arrived
I've never been more broken hearted
You've never been more alive
Knowing you are home forever
I can smile with tears in my eyes
Though I've never been more broken hearted
You've never been more alive.
Funeral Service
11:00 am
Thursday, June 15, 2023
McCaw Funeral Chapel
5101 - 50 Street
Lloydminster, Alberta, Canada
Share Your Memory of
Ruth
5101 - 50 Street
Lloydminster, Alberta T9V 0M2