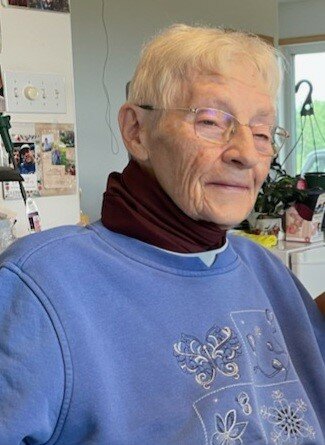 Obituary of Dorothea Mayhew
Dorothea Myrtle Mayhew (nee Giles) passed away peacefully at home on June 19th, 2023 in Harlan, Sk at the age of 83 years. Mama declined fairly quickly after multiple cancers ravaged her body. Mama dealt with many ailments in addition to the cancer, most of which came with severe pain, yet she never complained. We take comfort in knowing she is free of pain & no longer suffering. Our wish, along with our Mama, was for her to be able to remain at home until the very end, & that she did. Over the past while during her decline her dietary needs kept changing & wasn't even able to eat puddings & jello anymore. She would often say, "one can live a long time on clear fluids alone." Well, that she did that & then some. We joked amongst ourselves that she was trying to prove her point to the very end even though she was in a comatose state since she was so strong & held on far longer than expected. Mama likely said to herself in her comatose state "I'll show them, I'll show them I was right." Of course, Mama was right!
Mama was born on May 7th, 1940 in Lloydminster, SK to Eric & Agnes Giles. Mama was very proud to be from the small, tight knit district of Harlan, SK. There's nowhere else she would rather have been to live out her life to the very end.
Mama has survived & will be deeply missed by her children, Shawn (Marie Perkins) Mayhew and Carmella (Shawn Dean) Mayhew; her grandchildren; Julianna Perkins (Marie's daughter), Bronson (Danielle) Cook, Kayla Cook, Tanisha Cook, Tashina (Delaney) Cook and Dante (Cassandra) Cook; her great- grandchildren; Jade, Kinsley, Bexson & their unborn son, Kingston; Desai, Kai, Harley, Maverick, Camila & Kaci; Soraya, Zane & Avery; Sierra, Destinee, Diaz, Adalee, Graden & Aylin and Maggie; her brother Don; brother-in-laws Garnet (Iva) Mayhew, Orval (Rita) Mayhew, Carl Mayhew & sister-in-laws, Rosalie & Sandy Mayhew, along with numerous nieces & nephews.
Mama was predeceased by her infant brother whom she never met, Wesley; her parents, Agnes & Eric; her husband, Ed; her ex son-in- law, Clinton; her brother- in-laws Basil & Willard; her sister-in-laws Iva & Jean; her parents-in-law, Annie, Edgar & Hilda; her maternal grandparents, Earl & Myrtle.
Mama spent her early years in the rodeo scene. Chariot racing mainly & she did some steer riding. She was in her glory, doing what she loved. She had a deep love of horses. She was heavily involved with the 4-H club until she aged out. She remained involved with the 4-H club for many years after she was no longer a member. She was very successful in 4-H & had many well deserved opportunities as a result. She worked for many families in & around the area helping out where needed. Many times her work duties required her to live in the home of the family for periods of time. These families always remained close to our Mama & she had many fond memories as a result of her services.
Mama met Ed, our father & they were married in April of 1966 in Vermilion, AB. Shawn arrived in 1968 & I, Carmella, arrived in 1975.
Mama did what she had to do to provide for us kids. In order to make ends meet, Mama worked out of the home cooking in road construction camps (seasonal) during the week, in addition to taking care of the home & farm duties on the weekends. Us kids would go along, along with a whole menagerie of critters we had growing up. Mama was always very grateful to her bosses for giving her the opportunity to work as she had no formal training as well as allowing us kids to accompany her as she had no choice but to have us with her. Mama & us kids were treated very well in the camps. Many lifelong friendships were made as a result of paths crossing. One month prior to her passing she was able to meet a friend she had made who was the wife & mother of two of the road construction crew. It took 43 years for them to finally get to meet each other after keeping in contact for 43 years via phone, cards/ letters, parcels, florists, etc. Needless to say, it was an emotional meeting for both Mama & I.
Mama loved her horses, especially her Rox & Gazelle. She loved her many dogs & critters of all sorts. She always took in the injured, abandoned & disabled. She was a miracle worker & was able to save them, she always knew just what to do. Many years ago Mama had found a young colt in a badger hole. She raised that colt that later became known as the legendary TRANSPORT, a World Champion in Saddle Bronc. Transport was inducted into The Canadian Rodeo Hall of Fame on Nov. 11, 1995. Mama was very proud of this.
Mom had an immense love of watching, listening & feeding the birds, she really knew her birds. She looked forward to the arrival of the ones that migrate back & forth. With her rapidly failing eyesight we were so grateful she was still able to see the birds arrive this year, see the leaves turn green & see her many flowers & flower pots we bought for her as we knew our time with Mama was short & it would be her last spring.
Mama never had much in the form of convenience in the early years. Mama worked hard, very hard. Mama hunted and had one heck of a shot. We never had much for store bought foods. Most of what we consumed were homegrown fruits & vegetables from a massive garden, farm raised meats, free range chickens & eggs, milk, cream & butter from the Jersey milk cows. Everything was made from scratch. She worked hard canning & freezing fruits, vegetables & meats. She made homemade bread & buns, chocolates/ candy. Mama baked heavenly pastries & desserts & cooked wholesome, amazing meals. We were indeed very lucky, although I never really realized at the time how lucky we really were. She was an amazing cook & her recipes will be cherished. Mama was very talented & had a wide array of interests, she excelled at everything she did. There was nothing our Mama couldn't do. Mama could create anything she put her mind to. Some things Mama enjoyed doing was her love of fiddle music, she even learnt the fiddle & also played the accordion & some keyboard. Mama enjoyed wagon rides & took every opportunity to go on one. She could spend hours card shopping, grocery shopping at the Co-op & trips to the greenhouse. Mama loved any excuse to go eat at Spiro's restaurant & without fail would order the same thing every time.
Mama always thought of others & put others first. Mama always made an effort to show she cared. Mama would give flowers on days not only of special occasions but especially on days that marked the anniversary of someone's death of a loved one, or what would have been someone's birthday, or Mothers Day flowers to those who had lost their mother or child & were facing their first Mothers Day after their loss, or first Christmas without their loved one. In addition, mama always said it's important to give flowers while people are alive so they can enjoy them & not just at someone's death. Mama gave many bouquets of flowers to people JUST BECAUSE. Mom was so faithful in making phone calls, whether it was a birthday, anniversary, call of concern, just checking in on you call, or calling to see if you made it home safely. Mama had a well worn tattered calendar that she would reference & edit as changes were needed. I'm gonna miss receiving those calls of concern. I'm also gonna miss her answering my daily calls to check on her at 7:30pm every evening. Mama was very practical & would give practical things that people could truly use in times of sorrow, sickness, unexpected family emergency, whatever the occasion, or for no reason at all. She always threw in special touches that made things more personal/ suited to the person or family such as their favorite candy, flavor of chips, she took note of what each person liked. She would even include the animals in the person's home that she was gifting to. Mama always stated, "do your living while you're living." She also, without fail, would literally stop & smell the flowers wherever she went. Outdoor arrangements, indoor displays, it didn't matter, she would be stooped over sniffing the flowers.
Mama always showed immense strength, resilience & perseverance throughout her life which Shawn & I now have as she set the perfect example for us. Mama made sure Shawn & I were prepared for what life could throw at us, taught us the importance of having a good work ethic & the importance of standing for what you believe in, even if it means standing alone. Before Mama passed we assured Mama that we would be okay & it was okay for her to let go.
At Mama's request, there will be no funeral service. A private family Interment will be held at a later date. Donations can be made to the Harlan Soldiers Memorial Hall or donour of one's choice.
We, the family, would like to thank everyone for your kind words, love & show of support in multiple ways over the past while. We thank you all from the bottom of our hearts. All the love, concern, thoughts & prayers are truly appreciated. Thank you to those who made a monetary donation in our Mama's memory. Special thanks to the Paradise Hill Home Care nursing staff who advocated for Shawn & I to receive the necessary medications, supplies, equipment, etc so we could continue to keep Mama home where she belonged. They checked in with us daily & allowed us to manage Mama's care the way we had hoped to right from the start. When Mama left us we felt like we achieved what we had hoped & planned for Mama…to be home surrounded with her birds, flowers, critters & family. Special thanks to our spouses who were so helpful & understanding during those 3 plus weeks…we couldn't have done her end-of-life care without you both. Special thanks to the McCaw family for their compassion, kindness & allowing Shawn & I to assist with the whole process right from the moment they came to pick up our Mama right up to the end when she was placed for cremation, including operation aspects & visualization of the smoke. Allowing us to be included has helped us process our loss. Mama always joked when passing by the crematorium…she would look towards the crematorium & say, "yup, one day i'll be going up in smoke up that chimney", & that she did.
For God so loved the world that He gave his only begotten Son, that whosoever believeth in him shall not perish but have everlasting life. John 3:16
Shawn Mayhew, Marie Perkins & family
Carmella Mayhew, Shawn Dean & families
Dorothea's memorial card can be viewed or downloaded from the link below.
https://indd.adobe.com/view/acc7e5b5-ed4b-4cb4-a54d-0a508ce5c3c8
A Memorial Tree was planted for Dorothea
We are deeply sorry for your loss ~ the staff at McCaw Funeral Service
Share Your Memory of
Dorothea
5101 - 50 Street
Lloydminster, Alberta T9V 0M2