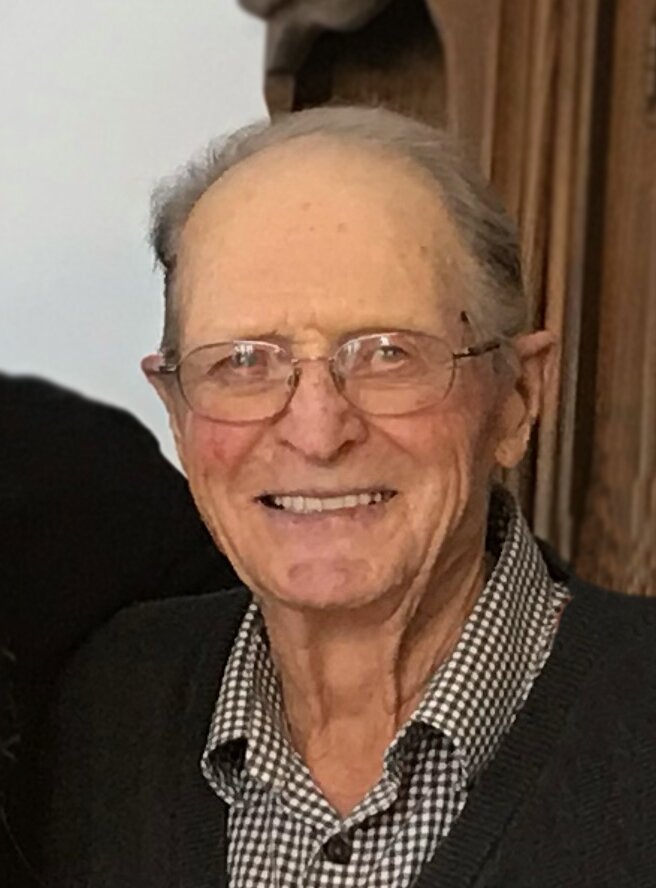 Obituary of William Handel
William Alvin Handel passed away at Lloydminster Hospital, Lloydminster, Saskatchewan on July 1, 2023 at the age of 92 years.
William is survived by: his children, Vern (Julie) Handel, Brenda (David) Bailey, Ron (Laverna) Handel and Sheldon (Denise) Handel; fourteen grandchildren; eighteen great grandchildren; two great grandchildren; and numerous other relatives.
William is predeceased by: loving wife, Inge; his sons, Bernie Handel and Duane Handel; grandson, Cory Handel; and parents, Otto and Katharina Handel.
A public viewing in memory of William will be held at McCaw Funeral Chapel, Lloydminster, Alberta on Monday, July 10, 2023 at 7:00 PM.
As per William's request, a private family service will be held on July 11, 2023. Please note, a recording of the service is posted under William's obituary.
Donations in memory of William may be made to Cross Cancer Institute.
William's funeral card can be viewed or downloaded from the link below.
https://indd.adobe.com/view/d21b833a-6613-4f59-902c-04a07e771fcf

Eulogy ~ My name is Avel William Espiritu, one of William's many grandchildren. We affectionately called him "Opa". It is a profound honor to be here to deliver his eulogy. Today, we gather to celebrate the extraordinary life of our beloved father, grandfather, great-grandfather, cherished friend, devoted brother, and loving husband. As we reflect upon the legacy he leaves behind, we are reminded of the profound impact he had on our lives and the lives of all who knew him. With his gentle spirit, unwavering love and steadfast support, he touched our hearts in countless ways.
William Alvin Handel was born in Lloydminster, Alberta on a Monday, March 23, 1931. He was born with the name Alvin. He didn't care for that name, so he changed it to Wiliam. He was the middle child to his older brother, Jack, and younger brother, Walter. In his early years, when not working on the farm with his father, Otto, and mother, Katharina, he would spend time with his brothers hunting magpie eggs and gopher tails for half a cent. Life was hard in the early years with many struggles. Imagine, no electricity, no plumbing, dirt poor. They would fish in the summer, put them in barrels and eat them during the winter. From a young age, he learned the value of hard work and he carried that on through the rest of his life. Opa ingrained in us the belief that hard work was not solely for the purpose of acquiring wealth, but rather to save, share with our loved ones and pass down to future generations.
We remember Opa saying that it would be tough for anyone to be a farmer now-a-days, especially because he liked the traditional way of farming. He would keep his summer fallow black and then seed it, rather than no till and spray chemicals. He designed his own open floor plan home and built the red hip roof barn at the old home place, and it's still standing today at the homestead. We remember Opa admiring it every morning when he was sitting at the table eating his oatmeal or drinking coffee on the porch. We remember cruising around with him while he checked the crops. We remember three meals every day, 7-8 in the morning, noon, exactly, supper at 5, and supper was not done until we had dessert. For Opa, farming was not a business, it was tradition, a way of life. He would say he never made a nickel farming, yet he turned one quarter section into eleven.
In the summer of 1954, William met Ingeborg and even though she could not speak English, he could speak German and they were married on a typical spring day on March 22, 1955. They both knew that after working hard, then you can rest. They rested by keeping active in the community, helping each other, helping family or helping neighbors, dinners and special occasions at the homestead, making a rink for the kids, or going ski-doing, or to up to the cabin, and taking all the kids water skiing, or travelling every summer to BC to pick cherries, stopping for food because you never ate or drank coffee in the car. Opa would drive at a leisurely pace, no rushing or speeding, except for the rare occasion when he spotted a gopher on the road, prompting a momentary swerve and burst of speed. Later in years, we remember Opa would love to sit in Oma's chair and doze. Enveloped in Oma's blanket, he found solace, reminiscing, and immersing himself in the warm embrace of cherished memories and nostalgia.
Opa was our unwavering support, always available to provide guidance and love without conditions. He had a balanced approach, firm yet fair in his interactions. Above all, his kindness and gentleness were evident in his eyes and smiles, revealing his deep affection for us. He never resorted to yelling or punishment, even in challenging moments like when we almost set the house on fire. Opa wasn't one for hugs or verbalizing emotions, preferring to quietly express his affection through his actions in the background. He often referred to himself as the "last one", but to us, he was a legend. We love him. We miss him.
Public Viewing
7:00 pm
Monday, July 10, 2023
McCaw Funeral Chapel
5101 - 50 Street
Lloydminster, Alberta, Canada
Share Your Memory of
William
5101 - 50 Street
Lloydminster, Alberta T9V 0M2