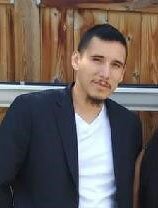 Obituary of Christopher Cook
Christopher Jordan Cook (Furfur) was born February 8, 1994 in Loon Lake, SK to Doris Ben of Makwa Sahgaiehcan First Nation and John Edward Cook of Onion Lake, SK.
Christopher was a dedicated father, son, brother, and uncle. He had a genuine and compassionate heart. His love was real. He made you feel safe and accepted.
Christopher never had an easy life, but he made the most of it every single day. He lived his life to the fullest and left a legacy for those who truly loved him.
Christopher had gifts: such as charisma, mentoring, and coaching. He would brighten up a place as he walked into any room being friendly with everyone with his charm and his words. Christopher was always a risk-taker, adventurer and world-class traveler. He loved to hunt. He had his own moving company called Golden Prime Services. He was a self-taught mechanic and he loved to work on his cars constantly finding ways to deck out his ride. He taught himself how to play guitar. As a kid, he would do tricks on his scooter and skateboard all over Saskatoon.
Christopher loved to play Runescape. He would always get mad if he lost his D-claws in the wilderness and PVP (Player vs. Player) so he would always get someone to farm and XP for him.
Christopher is survived by his loving parents: Doris Ben and John Edward Cook; his children: Christopher Jr. Cook, Jennifer Cook, and Evarleigh Moosomin; his siblings: Angel (Bryan) Angus, Stephanie Gamble, Sondra Gamble (Fabian), Christina Gamble (Preston), Gabrielle Ben (DeeJay), Micheal Ben, Beyoncé Tataquason, and Gary Cook; his special friends: Grace Woo, Maria Moosewaypayo and Larissa Moosomin; and numerous nieces, nephews and countless relatives.
Christopher is predeceased by: his grandparents: Joseph Bear and Edna Ben; and Eva Cook.
Wake Conducted From
Onion Lake Communiplex
Onion Lake, Saskatchewan
Wednesday, September 27, 2023 at 12:00 PM
Wake Conducted From
Simon & Alma Community Hall
Makwa Sahgaiehcan First Nation
Thursday, September 28, 2023 at 12:00 PM
Funeral Service Conducted From
Simon & Alma Community Hall
Makwa Sahgaiehcan First Nation
Friday, September 29, 2023 at 11:00 AM
Christopher's funeral card can be viewed or downloaded from the link below.
https://assets.adobe.com/id/urn:aaid:sc:US:bb31dfc2-20b1-46f4-b07c-8348c41871ef?view=published

Wake
Wednesday, September 27, 2023
Onion Lake Memorial Communiplex
Onion
Lake, Saskatchewan, Canada
Share Your Memory of
Christopher
5101 - 50 Street
Lloydminster, Alberta T9V 0M2