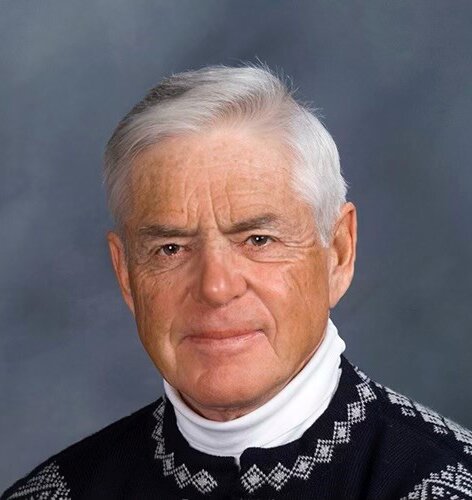 Obituary of Garry Meadus
Reginald "Garry" Meadus passed away at Lloydminster Continuing Care Centre, Lloydminster, Alberta, March 5, 2023 at the age of 88 years.
Garry was born in Hanna AB, on September 26, 1934 to Elvirda and Percy Meadus. He was the youngest of their 3 children; he had an older brother, Howard and older sister, Gloria. At a young age the family moved to Sedgewick AB, which is where Garry grew up. Garry was very athletic and became somewhat of an aggressive short stop according to a family friend Austin Smith. His baseball career took him through-out AB and SK. Dad also had an appreciation for sports cars and Harley-Davidson, as he owned a few in his younger days, everything from a jaguar, to an M.G., to an Austin Healy. Dad was hard working, he worked road construction and in the oil-field as a younger man, and I'm sure his favorite job was working on the Jasper Park golf course where he played countless rounds after work. He discovered the Phys. Ed program at the U of A as it just clicked with his love of physical activity. It was at the U of A that he met Patricia McCleary and they fell in love and in 1962 they were married and eventually had two sons, Scott and Michael. Upon graduation, dad embarked on a teaching career that started at the Sedgwick High School. They then moved to Edmonton where dad continued to teach at the Britannia Junior High in the city's west end. In 1963 Dad was hired at the new Northern Alberta Institute of Technology to head up the student services area. This was a career he truly embraced as it allowed him to get in on the ground level of a new school. He was afforded the opportunity to mold a program that embodied his humanistic philosophy. He created a Student Services division that continues to reflect the student-centered principles which it was founded. In the late 60's and early 70's Dad would continue his post secondary education at both the University of Oregon and Oregon State university where he would earn 2 masters degrees; one in physical education and one in student services. It was with this job at NAIT that he along with 3 other administrators from similar institutions in the province established the ACAC (Alberta College Athletic Conference). The ACAC would grow to become the premier college athletic conference in the country. The ACAC was a source of great pride for Dad and he was especially proud of the many teams that NAIT produced that would go on to win national championships. He was even more proud of the thousands of students that graduated from NAIT and went on to have successful careers and families. Along with the sports it was also important that all the students attended NAIT have a comprehensive support system that included counselling, libraries, and intramurals. Dad would take my brother and myself to many student association and athletic events.
Most important to Dad was family, both he and mom were amazing role models as parents. They made sure that as a family we experienced amazing camping trips and ski trips. They spent endless hours supporting whatever sports or activities my brother and I were into. As mentioned earlier, Dad loved being physically active and was somewhat of a gym rat and runner. Sometimes we wonder how he managed to attend all his meetings and still find the time and energy to work out. In the winter, he ran countless laps on the running track in the arena and in the summer it was a lap around the municipal airport.
After retiring from NAIT dad would continue as the commissioner of the ACAC, and he would have to read through all the game sheets that were sent to his office in his home. Occasionally, having to dish out player/coach suspensions for the rule breakers. Also at this time, Dad would become a ski instructor at Snow Valley, just off the Whitemud freeway on the city's south side. Dad would teach skiing for another 16 years after his retirement from NAIT.

In 2010, both he and mom made the decision to move from their Edmonton home in the west end, where they lived for over 40 years, to the city of Parksville on Vancouver Island. It was there that Dad would tell me he was happy not to shovel any more snow and 'that you don't shovel the rain'. Both mom and him loved to play golf in their retirement and living on the island allowed them to have an active retirement.

Dad and Mom would make regular visits to Mike's family and my family. They did not miss one of Kirsten and Savannah's dance recitals and would make regular trips to ski with Kaleigh and Alanna. It was usually after the dance recital they would travel to their cabin at Missawawi Lake in the Lac La Biche area. Dad loved spending his summers at the cabin just puttering away either cleaning up the lot or the cabin. They were always happy to host mine and my brother's friends for many weekend shenanigans. Dad also was an amazing boat driver, lots of laps of the lake were made pulling my brother and myself on skis and knee boards.

In the summer of 2022, dad and mom made the move to Lloydminster to be closer to family. Here, they moved into a seniors living home. Dad enjoyed going for drives and taking Andie (our dog) for walks. In the summer of 2022, Mike and dad were able to make one last trip to the cabin at Missawawi Lake, which dad truly enjoyed. On March 5th 2023, dad passed away peacefully in his sleep at age 88. The whole Meadus family would like to thank all the staff at the Dr. Hemstock, the Lloydminster Hospital, and Lloydminster Continuing Care for their help and support with dad.
Dad was very proud, yet humbled, by his many sports accomplishments which include: being the first person to be inducted to the NAIT Athletics Wall of Fame, the ACAC Hall of Fame, the Edmonton Sports Hall of Fame, and lastly the Alberta Sports Hall of Fame.

Garry is survived by: his wife, Pat; sons, Scott (Trish) and Michael (Chantal); daughter-in-law, Andrea; granddaughters, Kirsten (Quaylan), Savannah, Kaleigh and Alanna; nieces and nephews, Dianne, Kelly (Daryl) and Ken (Christine); and grandnieces and grandnephews, Lori, Shamus, Beckie, Dana and Colette.

Garry was predeceased by: his parents, Alvirda and Percy; brother, Howard; sister, Gloria and her husband, Frank; and grandniece, Annetta.
A Private Family Graveside Service for Garry will be held. A Celebration of Garry's life will be held at the NAIT gymnasium in Edmonton, AB on Friday May 12, 2023 at 11:00 AM.
Donations in memory of Garry may be made to NAIT Foundation. (https://www.nait.ca/giving/how-to-give/donate/donate-online)
Garry's funeral card can be viewed or downloaded from the link below.
https://indd.adobe.com/view/ff4e406c-1387-4c07-9054-b941ee7ba762
A Memorial Tree was planted for Garry
We are deeply sorry for your loss ~ the staff at McCaw Funeral Service
Share Your Memory of
Garry
5101 - 50 Street
Lloydminster, Alberta T9V 0M2