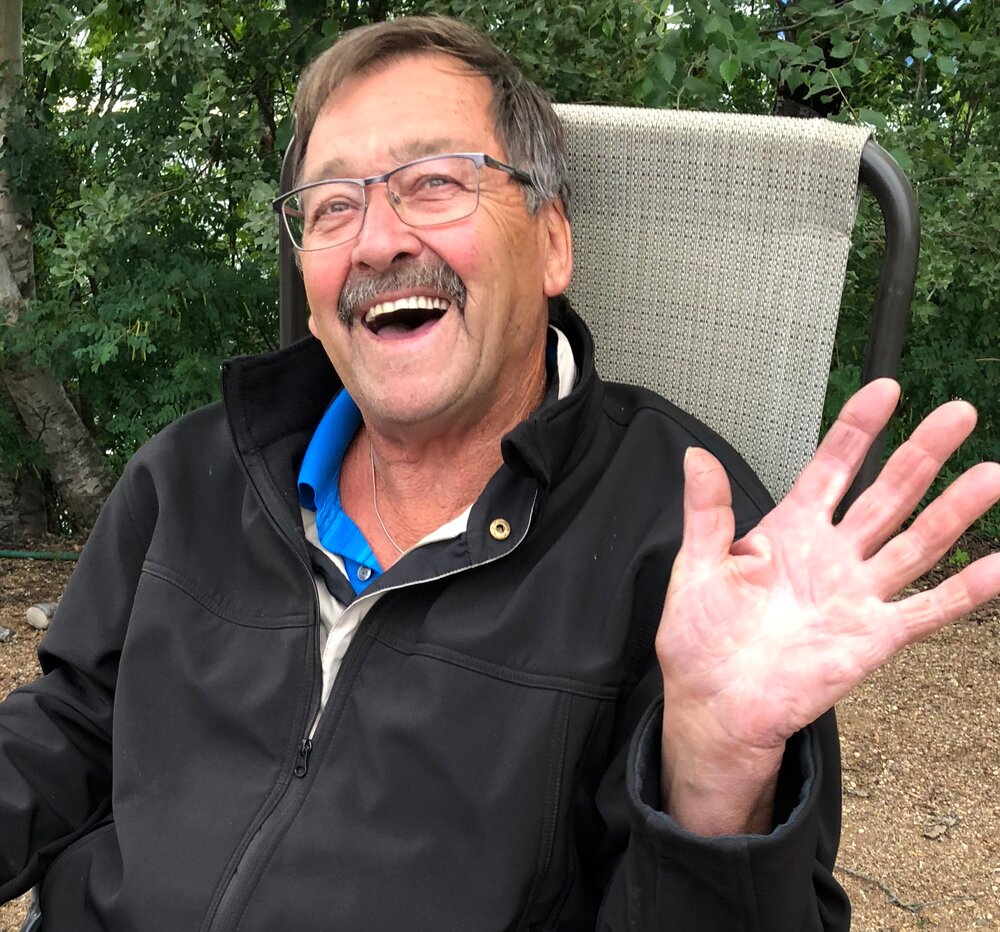 Obituary of James Hohne
Please share a memory of James to include in a keepsake book for family and friends.
James "Jim" Hohne passed away peacefully at Lloydminster Hospital, with his four children by his side, on Wednesday, April 26, 2023 at the age of 73 years.
Jim leaves to mourn his passing his four children: Deanna (Kurtis), Carmen (Brent), Barry (Coralee) and Ashley (Joe); his grandchildren, Jensyn, Gavin, Kamryn, Jayla, Makhi, Jayce, Hudson, Gabby, Kage, Harper and Hayes; sisters, Liz Van Metre, Helen Dehr, Maggie Deibert and Linda Parkin; sister-in-laws, Laurie (John) Boken, Terry Waldorf, Peggy Helboe, Terri-Lee (Don) Hiar; brother-in-law, Blain (Sharlene) Waldorf; friend, Shirley Eastman; and numerous nieces, nephews and other relatives.
Jim was predeceased by: his best friend and loving wife, Gail; parents, Hans and Hedy Hohne; brother, Frankie Hohne; mother and father-in-law, Gerry and Pat Waldorf; brothers-in-law, Ivan Van Metre, Gordon Dehr, Syl Deibert, Greg Parkin, Barry Waldorf and Brian Waldorf.
*A Public Viewing will be held at McCaw Funeral Chapel, Lloydminster, Alberta on Thursday, May 4, 2023 at 6:00 PM.*
A Celebration of life for Jim will be conducted from WLS Convention Centre (Stockade), Lloydminster, Saskatchewan on Friday, May 5, 2023 at 2:00 PM. If you are unable to attend, you may view the live streaming of the service posted on McCaw Funeral Service website under Jim's obituary at the time of the service.
Donations in memory of Jim may be made to Lori Craven Memorial Fund.
Jim's memorial card can be viewed or downloaded from the link below.
https://indd.adobe.com/view/b5a3cb31-2fa5-43d0-9c48-44501cc35e3c
Eulogy ~ On behalf of Carmen, Barry, Ashley, myself and our families, we would like to thank you all for being here today. We always knew this day would come and that we would gather to celebrate this amazing human, but we just never thought it would be this soon. Your love, support and friendship throughout the years and these last few months, weeks and days is a gift we will cherish forever. Thank you for the love and support you have shown us all, we truly are blessed.
Jim Hohne is survived by his four children families, Deanna & Kurtis and their children Jensyn, Kamryn, Jayla and Makhi. Carmen & Brent and their children Gavin and Gabby, Barry and Coralee and their daughters Hudson and Harper, Ashley and Joe and their children Jayce, Kage and Hayes. His sisters Liz Van Metre, Helen Dehr, Maggie Deibert and Linda Parkin. Sister in laws; Laurie and John Boken, Terry Waldorf, Peggy Helboe and Terri-Lee and Don Hiar. His brother in law Blain and Sharlene Waldorf. His friend Shirley Eastman and numerous nieces, nephews, cousins a shit load of really good friends.
He was predeceased by his wife Gail, his parents Hans and Hedy, his brother Frankie, his mother and father in law, Gerry and Pat Waldorf, and brother in laws, Ivan Van Metre, Gordon Dehr, Syl Deibert, Greg Parkin, Barry Waldorf and Brian Waldorf.
We are going to try to make this short and sweet, as dad wouldn't want it to carry on and on...get on with it, he'd say. There is egg salad sandwiches to eat and beer to drink! But it is has been truly hard to put 73 years of awesomeness into words. We could go on and on for days with the memories he has made and the lives he has touched. So we welcome you to share those memories later if you choose when we make our way to the Moose Lodge after the lunch where we will carry on the night. Dad always loved a party and tonight we will drink to Jimmy, so make sure to stop by his favourite neighborhood liquor store and grab a few!
Jim Hohne, the one and only, was born to Hans & Hedy on May 13, 1949 in Saskatoon, Saskatchewan. For the last 73 years, he always took pride in sharing his birthday with his special auntie Bertha. He was really looking forward to one more, but unfortunately God had other plans. Auntie, he always looked so forward to that call with you!
Dad was the oldest of 6 and proudest of being a big brother to Liz, Helen, Maggie, Linda and Frankie. Dad grew up across the street here on the North end and I'm sure 49th avenue has seen it's share of bike gangs and ball games with dad, the Valette boys and many more. As a youngster, it came easy for dad to make friends, some more loyal than others...haha....One story dad told us was when Grandpa Hohne had got a call from George Matheson saying he wanted him to take dad down to the store cause he had a complaint. Dad was blamed for stealing cigarettes. So Grandpa hauled dad down to Matheson's Grocery, and said to George, this is Jim Hohne, and George said that's not Jim Hohne. Grandpa said sure the hell is, he's my son. Well that's not the kid that stole the cigarettes!! Dad said "damn that Dicky McCaw had used dad's name. Dad said he wasn't scared of much but that belt was always the fastest thing coming off of grandpa's pants and that was one thing he didn't like!
There was one friend that dad could always rely on...and who would have ever guessed that it was the one he used to share a crib with, that would grow up to be his best friend for life! Yes that's right...not sure what went on at nap time, but little Norma Gail Waldorf sure must have had an impact on Jimmy Hohne even at the young age of 4.
The Hohne's and Waldorf's were great friends and it was only a matter of time, before mom and dad realized that they were destined to be together.
Mom and dad vowed their love for one another on August 21, 1971.
Their first child, with beautiful black hair and sun kissed skin was born on May 2, 1974...that would be me..and obviously I wrote this eulogy haha..Next came another beautiful little girl, but this one blonde with blues eyes...hmm..Carmen Leigh on November 2, 1977. Although I'm sure dad was content with his two amazing daughters, he longed for that offspring that would carry on the Hohne name and voila, the bouncy, I mean bouncing, big beautiful boy, Barry James was born on October 2, 1979. He got his boy and I'm sure everyone in Lloyd received a phone call and blue ribbon cigar! A few years had passed and the family of 5 was about to grow by one more...mom and dad returned from a work trip to Los Angeles and I overheard mom tell auntie Diane that she was pregnant and that dad didn't know yet. Tell me that at 9 years old that wasn't the hardest and most difficult secret to keep! And on July 23, 1984, the beautiful Ashley Lynn completed the Hohne family and us fab 4 were their pride and joy.
Although dad wore many many hats and he was so proud of them all, we will touch base on a few of the more significant ones.
THE SON – Dad always portrayed so much love for his parents. He was proud of being a Hohne and he honoured the name well. He respected his parents in the most admirable way and this also was true for his aunts and uncles. He was always there to help or lend a hand at the drop of a hat. When the Waldorf's and Hohne's united through the marriage of mom and dad, there was never a hesitation of where he stood with his in-laws. He was a model son and son in law and even though G&G's aren't around to help write this, we know they would agree. I do know dad struggled with losing his mom at such a young age and the fact he never got to say goodbye, he brought that up a lot. He knew how his heart felt because of this and we want to believe that last Wednesday when he took his last breathe, he waited for his 4 kids to be there to bid our farewells. Even in his last few moments, he was selfless.
THE BROTHER – Dad was a proud brother. He didn't have much to give, but what he did was priceless. His advice, his knowledge, his help with almost anything, but most importantly his love! His siblings will be forever grateful for all he did for them. From Renos and demos, to working along side them, or even building urns, he always tried to give them whatever he could, he could fix anything. Although it may not have seemed that way in their younger years, as I have been told that dad never wanted any of his sisters hanging around him. Sister Maggie said dad called her a brat and she'd stand in the middle of the room screaming. Sister Liz shared that she always wanted to hang with dad, only to be told it was boys only. When sharing stories these last few days, they said that this all seemed to change when mom came into the picture. Dad became a real good friend to them all. And there was no exception with his in-laws. He always tried to keep peace within the family, always staying out of the drama, but was always an ear for anyone. Sister Terri-lee remembers dad trying to get her and her friends involved in a Moose Youth Group, thinking to keep them out of trouble or his support he showed her when she wanted to take off and join in the World Federation Wrestling circuit! Sister Linda said he was that big brother who wanted everyone to go for a ski behind his boat at Perch Lake and would promise her he'd turn around if she fell. In a nutshell, Dad as a brother and brother in law truly made their lives better for being part of their family. He gave the best advice and the best hugs! Sister Laurie claims he may even have been the favourite of the Waldorf kids...as when dad would go for supper at G&G Waldorf's, Grandma would always make them go elsewhere so Jim could have a nap on the couch. And just to clarify, when I say sister, thats just what dad called all his siblings and in-laws...brother and sister, sister Liz, sister Helen, sister Maggie, sister Linda...etc...,no nunnery reference, believe me!
PAPA MOOSE – Dad was the epitome of Mooseheart. In 1977 dad followed in his father's footsteps and became a proud Loyal Order of Moose member and on May 30, 2015 he received the highest honour that will ever be and that was the Pilgrim Degree of Merit. He accepted this with honour and we were all so very proud of him! In 2021, Dad was awarded the Lifetime Achievement Award which truly displayed the dedication he had towards the Moose. Belonging to the Moose meant more to him than just a fraternity. It was family. I'd be truly surprised if anyone in this room never had dad try and sign them up as members! He was dedicated and took pride in the fact that he and mom were so heavily involved and even though lives got busy, us kids would try and make sure we took in as many Moose events we could. For it was there and then that dad was so truly proud. The family dances were by far his favourite for it was those nights he proudly showed off his moves. From two steppin with his grand daughters to the macarena, Jimmy had a way to liven up the dance floor. Dad continued on his duties year after year and took in many moose conventions and events. This allowed him and mom to see many places, such as Las Vegas, Minnesota, Nashville, Florida and many more. He made some true and amazing friends over the years and our family is better off for it. The Moose Lodge is still a huge part of our lives today and we are grateful for the dedication of both our parents. From this us and our kids will always have a place to gather and are thankful for the memories and connections that will carry with us for the rest our lives. The crib tournaments, breakfasts, poker nights, Christmas parties and bingos...Oh the bingos, will never ever be the same without his presence. Speaking of presents, dad's role of Santa really took off at the Moose Lodge family parties. His love for this, continued on and he quite enjoyed making his way from houses to events playing Santa Claus even though some kids figured him out with his distinct laughter and memorable voice. There was no better man to play this role. Dad truly was the glue that kept everything together there. When he fell ill and had to back away, I'm sure Rick can testify that he did a lot more than what was seen on the outside to keep the lodge going. Today, his fellow Moose members will give him their final farewell with the Moose Honour Guard. Thank you to all the members who could share this day with us.
THE BOWLER – Looking around this room, I see there are many of you that crossed paths with dad because of bowling. At the very young age of 8, Jimmy put on a pair of bowling shoes and the rest was history. At the age of 11, Jimmy Hohne, with an average of 121, and his teammates, Ronnie Gunn, Rodney McLean, Keith Lange and Ronnie George also known as "The Wellwishers" headed to Toronto to the Bantam bowling championship. He always talked of this experience and he was so proud. His passion for the sport ran deep and at the age of 3, every one of us kids put on our first pair of bowling shoes. Dad was always proud of his kids and grandkids for carrying on with the sport, as well as his extended family for taking part. The support and guidance he showed everyone that came through the doors of the bowling alley will always be remembered and appreciated by many of us in this room today. Whether you liked it or not, he was always coaching you..."reach and rub", "half it up" "just throw the damn ball", were some words of encouragement you'd hear him say.
His style and grace on the lanes was one to acknowledge. The man had a golden arm. Not sure how many of you can say your dad bowled on TSN...my dad did twice!! We have VHS to prove it, which has been played over and over again these last few days at dads house...grandkids were pretty star struck!
Because of mom and dads involvement with the alley and bowling, us kids will be forever grateful for the connections and friendships that have turned into family and lifelong memories. We can't even describe the countless hours spent at the alley including afters schools, weekends and I even had my own key to go after the bar closed haha
So next time you are taking in a thunderstorm, and that crash of thunder rumbles and the lighting strikes, just know that Jimmy just threw a perfect game! ...
Thank you dad for all you did for the sport...bowlers, you know what to do...ZIGGY, ZIGGY, ZIGGY....
OH YA, WE SAID THIS SHORT AND SWEET...BEAR WITH US FOR A BIT LONGER...
THE CARPENTER – Daddy's hands...these hands could fix everything they touched. Dad really was the fixer of everything. He was a quality builder and he took great pride in his craftsmanship. There are not many houses in Lloydminster that don't have a piece of Jim Hohne's workmanship. He really did touch every corner of this city with his work. If you had a house built by Triangle Construction or Value Master Homes, then you have a great built home! Loved driving around Lloyd with dad when he would point out the houses he built! When our family moved out to the acreage, dad decided he needed to build a barn! Not necessarily for farm animals, but he made sure it held a couple hundred friends for barn dances! Every August for Mom and dad's anniversary we hosted a barn dance. There would be a pig roast, greased pig races, Ralph Mari and his band in the loft and many drunk wanna be cowboys! And to this day that barn is still standing and oh the stories it could tell.
Dad always had the right tool for the job and if he didn't have it (which was rare), he still got the job done! His garage was his happy place. Dad could tinker all day in there and it got to be so frequent that we had to put an intercom in the garage to call him in for supper! Anyone that visited dads garage knew it was an organized disaster, random pieces of wood, hinges and screws...but the would always be used for something so don't ever throw it out! This went hand in hand with his days of managing the Restore. Dad always found a purpose for something.
He knew where everything was at any time, but when it came time to for a party, it was put away to make room for the drink table and dance floor! During his home building days, many friendships were formed and turned into family, some to this day we still call aunties and uncles.
As us kids grew, we could always rely on dad to help with anything we had to build or fix in our house or yard. Always our first call. He had to teach the son-in-laws a few things and those will be lessons they will cherish for the rest of their lives I'm sure. There will not be too many times going forward that we won't want to pick up the phone to ask that question or get that approval. Many in this room have been schooled by dad when it comes to carpentry. He always commented and complimented on the job you did, but if he saw a flaw or mistake he wasn't scared to point it out. He really did have magic hands.
THE FRIEND – Everyone had a friend in Jim Hohne. The man could walk into a room of strangers and leave with an armful of friends. This trait probably made me most proud to be his daughter. His smile lit up a room and his laugh was hands down the best! People were drawn to him wherever he went. He had the ability to make everyone feel special and loved. He was loyal and always had your back. When you are a good person, you attract good people and dad was surrounded by many. Some are down the street, some are right next door and some are across the country, but wherever you are, if you were his friend, you were loved and appreciated. Last fall, dad picked himself up a 94 Mustang convertible...wasn't the right colour though, so his good friends, Ron Souster and Brent Steeg came to town and took it home with them this past winter and had it painted. Dad was looking so forward to having it back. He was going to do some touring. When we found out about the cancer, he was a bit concerned that any treatment he had would take his hair and it wouldn't flow in the wind...well unfortunately dad never got to see the beautiful finished product let alone drive it as the day he went into the hospital was the day it was delivered. You may have seen it sitting outside today, so Barry, Carmen, Ashley and myself are going to take him for one last rip in it, before we lay him to rest. Thank you to Ron and Brent for being so amazing. We love you.
The north end of Lloyd will be a­ little less lively and his famous campfires will be missed. Seeing all you here today, is a true testament of how dad was as a human. On behalf of dad, we'd like you to know how grateful we are for all of you, so many of you stand out especially over the last few months, you know who you are. Would also like to take this time to thank the whole community for the love and support you've shown us. As I read through the thousands of comments and messages that were posted on many Facebook pages, it is truly humbling to us that everyone else has seen what we have known about him all our lives. The man was a LEGEND and we are very proud to see what impact dad had on this community.
THE HUSBAND – Every woman deserves a husband that treats you like dad treated mom. He always tried to be her knight in shining armour and wanted to start marriage off on the right foot which led to living room dance lessons from his soon to be mother in law. They had their ups and downs, but fortunately for us, the major ups and downs created four great kids! But seriously, dad was a wonderful husband and always treated mom with respect. He supported her through the years and was a great caregiver to her during her health journey. Dad recognized the importance of the mother role when we lost mom and he did his best to fill the void. He always made sure to have anniversary and birthday cards on hand! Attend all the grandkids events, babysitting on short notice and playing cabby. Well mom, you must have been feeling the 7 year itch and wanted your Jimmy back. Although we want you here, we are so happy you are together again.
THE DAD – To find the best way and appropriate words to describe dad is difficult. To give this wonderful man the justice he deserves is impossible. There is not one word to summarize our love and respect we have for the one who literally was our world. Some would be love, hero, protector, role model, teacher, supporter and best friend. Because of the never ending love dad showed us, we have all as parents understood what we need to provide our own children with. It isn't the materials and the riches, its the support, the respect and the guidance through life that we will continue to provide our children. He taught us to work hard, but have fun while doing it. He taught us to be kind to everyone you meet, he taught us that it's ok to get down, but you get back up again, he taught us to love and to love hard, and best of all he taught us to laugh through life! Dad, we hope we made you proud and we hope you know we will carry forward with grace and dignity and will always smile with pride to be your children. We love you.
ASH - THE GRANDPA – Jensyn, Gavin, Kamryn, Jayla, Makhi, Jayce, Hudson, Gabby, Kage, Harper and Hayes. Don't ever forget how much joy and love you brought your Grandpa. He was your biggest fan in all you did. When you were around, his eyes got that much brighter, he smiled even bigger, maybe turned down his hearing aids a bit, but his love and pride for you shone like the brightest star. As you can see by the amount of people here today, you shared him with many, but he always made time for you, his special little people. He was always grateful for your help and always enjoyed hearing about your achievements. His cheers and laughs and even some words of encouragement for you or the refs could be heard from every stand he sat in. He was super proud of you all and always bragged about you. The bond that you all share is simply amazing and the strength you portrayed together last week was one of the most beautiful gifts you could have given him. You were blessed with the best. But in general dad loved all kids. They were drawn to him and his happy disposition. He was uncle Jim to many in addition to his own nieces and nephews that he loved so very much.
Dad, really had a love for life and the last few months and weeks we watched him face his challenges with his head held high, not once did we ever hear him complain. He made us so proud and although every part of our being wants him here today, we know he deserved better. The family reunions, the golf course, the lake, the lodge, the impromptu visits, the family gatherings...even if it wasn't his family, will never ever be the same without him. He would have loved to see everyone here today, but I know he has the best seat in the house. The world was a better place with him in it and we will try our best to navigate the rest of our lives without him....at this time please grab your beer or tea.
So please lets give one more cheers to Jimmy and at the count of 3 crack it open! To the best damn dad, grandpa, brother, cousin, friend there ever was!
Please grab your drink and at the count of 3, crack it open....collect tabs
Cheers to Jimmy!
Viewing
6:00 pm
Thursday, May 4, 2023
McCaw Funeral Chapel
5101 - 50 Street
Lloydminster, Alberta, Canada
Celebration of Life
2:00 pm
Friday, May 5, 2023
Lloydminster Exhibition - Stockade Convention Centre
5521 - 49 Ave. Lloydminster, SK Canada
Lloydminster, Saskatchewan, Canada
Online Memory & Photo Sharing Event
Ongoing
Online Event
About this Event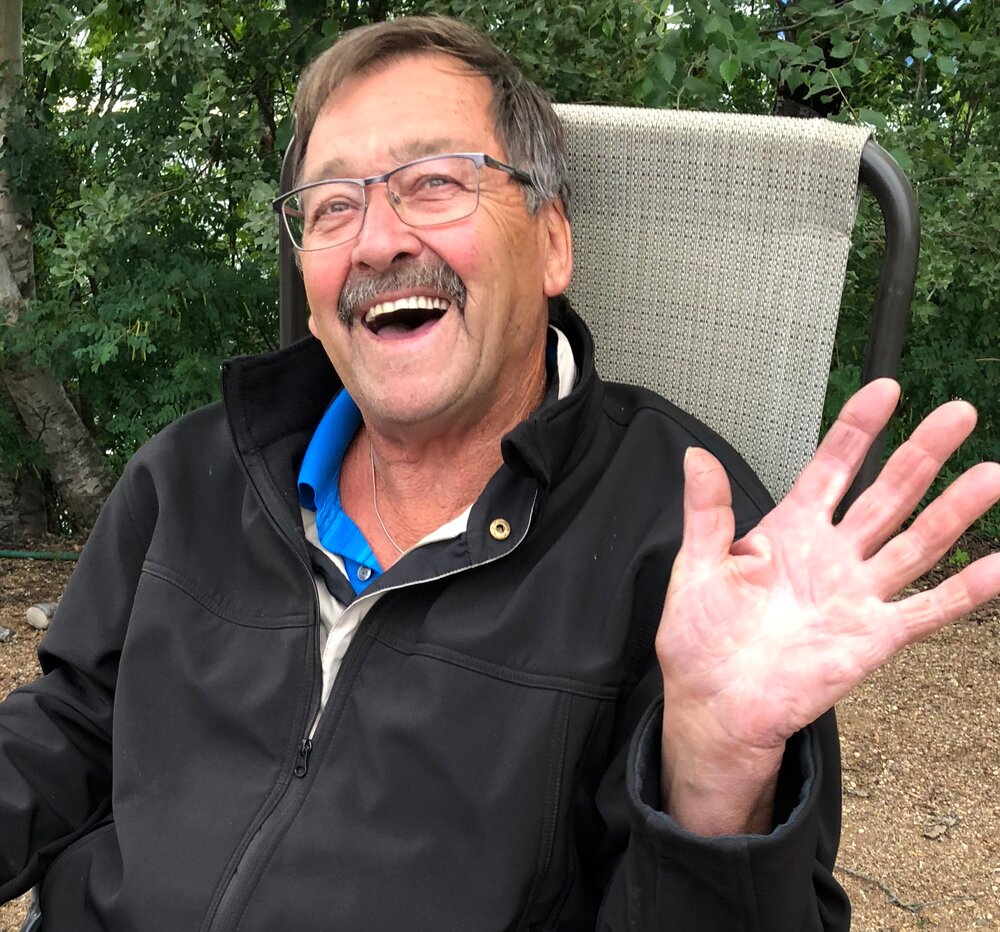 In Loving Memory
James Hohne
1949 - 2023
Look inside to read what others have shared
Family and friends are coming together online to create a special keepsake. Every memory left on the online obituary will be automatically included in this book.
Share Your Memory of
James
5101 - 50 Street
Lloydminster, Alberta T9V 0M2