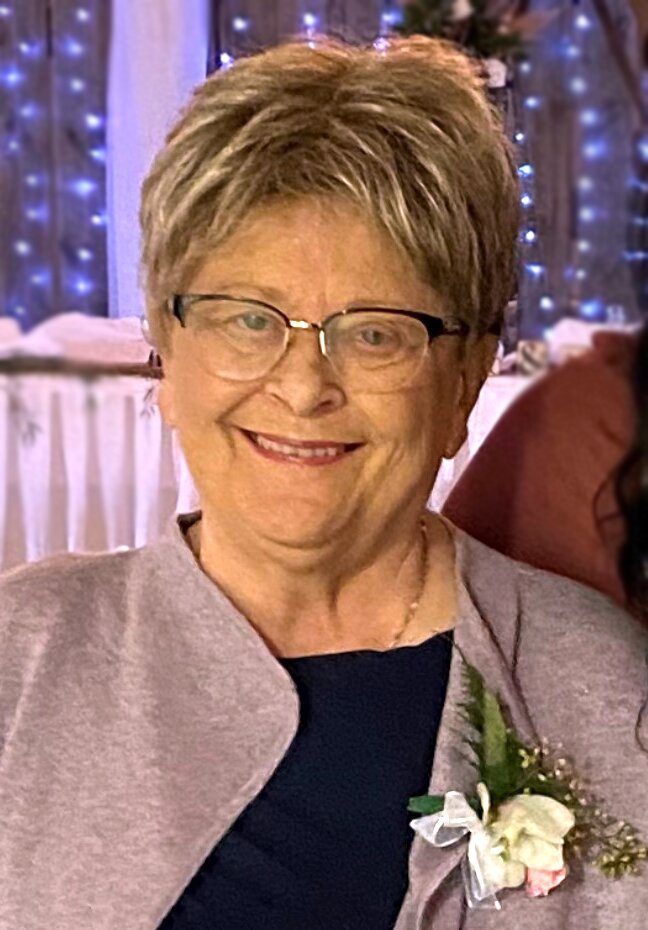 Obituary of Eileen Turvey
Please share a memory of Eileen to include in a keepsake book for family and friends.
Eileen Joyce Turvey passed away June 30, 2023 with her family by her side at the Maidstone Health Complex in Maidstone, Saskatchewan.

Eileen is survived by her loving husband of 56 years Harold, son Warren (Jana) Turvey; daughters, Diane (Darwin) Pollard and Tanya (Jeremy) Plamondon; grandchildren, Mataya, Amanda (Tyler), Brady, Jordyn, Jenna (Jayden), Jayden (Keanna) and Ryder; 2 great grandchildren, Bentley and Carter; sister, Marilyn (Bruce) MacDuff; sisters-in-law, Bev (Norman) Krivoshen, Margaret Froh and Caroline Klinger, as well as several very special nieces and nephews.

Eileen is predeceased by her parents Hilbert and Alice Klinger; parents-in-law, Frank and Dorothy Turvey; brother, Melvin Klinger; nephew Brent MacDuff.

The Celebration of Life for Eileen will be held at the Lashburn Community Hall on Thursday July 13, 2023 at 2 PM. For those unable to attend the service it will be live streamed, posted on McCaw Funeral Service website under Eileen's obituary at the time of the service.

Donations in Eileen's memory may be made to the Palliative Care Unit at the Maidstone Health Complex or the charity of the donor's choice.
Eileen's memorial card can be viewed or downloaded from the link below.
https://indd.adobe.com/view/8f9a9e6b-d234-4078-8d2e-10a70a076acd
Eulogy ~
Eileen Joyce Turvey was born Feb 23,1945 in Lashburn, Saskatchewan.
The second child of Hilbert and Alice Klinger. She had 2 siblings, an older
brother Melvin, and younger sister Marilyn.
Eileen grew up on her grandparents' farmstead north east of Lashburn. The
old farmhouse was torn down and a new home was built in 1957. In her
younger years Eileen enjoyed figure skating, and curled with Hilbert in High
School when time allowed. She also worked as a telephone operator with
one of her best friends….. Barb Staniforth (Thompson). Many weekends
were spent with neighbors playing cards, or having sleepovers with friends.
She also enjoyed watching Mel play ball all over Saskatchewan during the
summer months. In her teen years she loved Friday night drive-ins and
dances… but ONLY if her chores were done.
In grade 10 Eileen developed an interest in a handsome, athletic young
farmer that lived north of the gully…. Harold Turvey. After graduating high
school in 1963, Eileen attended Robertsons College in Saskatoon earning
her diploma in accounting. She worked at Federated Co-op in Saskatoon
while Harold attended the University of Saskatchewan studying Vocational
Agriculture. She later transferred to the Lloydminster Co-op where she
worked until they were married November 5,1966.
Harold and Eileen set up their first home at Raymond Rooneys on the
Kempton Road about 5 miles from the Turvey farm. Times were hard for
them starting out as they only had one car, a 1958 ford; that Harold would
take to the farm to work 18 hrs/day. In 1967 Warren was born, followed by
Diane in 1969. They built their current home in 1970, and Tanya completed
their family in 1976.
The next several years were spent building their farm operation .. growing
grain, raising cattle, pigs and a few dairy cows. Eileen kept busy as a
homemaker, running kids to activities, hauling the odd bale, and even
chased a cow or two. She enjoyed cooking, baking, canning and always
had a huge garden.
In 1977 Harold and Eileen bought their first camper (a tent trailer) to take
the kids to Ministikiwin Lake for a few days. It was this purchase that made
them realize that time was needed away from the farm… and they
developed a passion to travel. They traded their tent trailer in for a
Winnebago and took their family on countless trips to the Mountains in
Alberta and BC,and many lakes across Saskatchewan. In 1980 they took
their family to Disneyland and have since traveled to England, Grand
Cayman, Mexico, and cruises to Alaska, The Caribbean and Panama. They
also took several trips after harvest to Illinois to visit Harolds' relatives. In
2006 Eileen surprised the kids and grandchildren with a trip to Disneyland
for their 40th wedding anniversary… using the money she saved from her
one day/week job at Weight Watchers. A vacation the kids will never forget.
Eileen was fortunate enough to travel to Vancouver Island by train with
Alice, Marilyn and Carol. It was a trip she talked about fondly for years.
Eileen and Harold found their winter paradise after a trip to Hawaii in 1989.
They purchased a timeshare in 1997 and stayed 4-7 weeks every year,
until Covid stopped travel in 2020. They made lifelong friends from all over
North America. Unfortunately Eileen's health did not allow them to visit
there again before her passing..
Eileen was blessed with 7 grandchildren. Mandy, Brady, Jordyn, Jenna,
Jayden, Mataya, Ryder…and 2 great grandchildren Bentley and Carter. Her
family was her world. She supported her kids in everything they did, and
that carried on to her grandchildren. She was at every gymnastics, hockey,
lacrosse,soccer, softball, rugby, basketball, volleyball game she could
possibly go to.. Even if she didn't know all the rules. That was about the
only downfall to her vacations.. she missed a lot of winter sports… but was
always back in time for the playoffs. 4-H beef and sheep shows became a
huge part of her summer schedule. She also loved to hear Jordyn sing and
would attend as many of her shows she could fit in… even if they would go
into the early morning hours.. Grandma was there as her biggest fan.
Eileen was always willing to be a stand-in 'mom' to her grandkids.She often
filled in on field trips or transported sports teams when their parents were
away on holidays or busy working. She was worried about everyone and
needed to make sure they were looked after. The summer Jordyn was born
she took Mandy and Brady in for 11 weeks while Diane was in the hospital.
They remember that as one of their best summers camping with grandpa
and grandma. She was always home for the bus when Warren and Jana
were still at work, making sure Mataya was looked after. She also filled in
as a nurse when the kids were sick .. I remember Jenna had chicken pox
and she stayed with grandma. Eileen gave her a 'bell' to ring every time
she needed something. Pretty sure by the end of day 5 she wanted to flush
the bell… I think Eileen made up for it though. During her stay at the
Maidstone Hospital I think the nurses would have a few things to say about
Eileens' bell ringing.
Although Eileen loved her grandchildren, I think her son in laws (Darwin
and myself) may have ranked higher. No question she loved Jana, but we
were a certain kind of special to her. Darwin and I took turns being her
favorite..I remember the first supper I had at their place. Must have been
roast beef or turkey… as those were her specialties. I overheard her
stewing in the kitchen about the 'lumpy mashed potatoes' so of course I
used it to my advantage. When we sat down I took a bite and said 'these
potatoes are lumpy' Eileen was flustered and said "I KNEW IT" …They
tasted great, she was an awesome cook.
Darwin also kept Eileen on her toes. A few years back the men were going
fencing so she made lunch and sent it in a cooler. While they were eating,
Brady had shot a squirrel.. so Darwin decided it would be a good idea to
make a squirrel sandwich with the leftover bread. He carefully wrapped it
back up in saran wrap and sent the cooler back to Eileen. That's when I
knew it was my turn to be the favorite for a while.
Eileen had a great sense of humor and was loved by all that knew her. She
was 'crazy' auntie Eileen to her nieces and nephews, a second mom to
many of her kids' friends and a grandma to many of her grandkids friends.
She always said 'I don't like to act my age..that's too boring' Eileen was
always up to play farm, apply makeup with the girls or have a quick card or
board game. A few years ago the older grandkids asked her to play Cards
Against Humanity…she walked into that blind. For those of you that don't
know.. it's a somewhat raunchy game… grandma shocked everyone with
her 'knowledge' and I'm pretty sure she even won!
As Eileen's health began to fail she never turned down a chance to visit
with the kids or go on a lunch date. When you'd ask how she was she'd
always say 'could be better, could be a hell of a lot worse' .
Eileen loved connecting with friends new and old on Facebook. But just to
let you know, recent posts and shares, especially those political in nature,
were NOT Eileen.. Seems Harold took over when he was in Facebook jail
… for the 10th time!
She also loved to 'talk' on the phone, probably stemming from her career
as a telephone operator. SaskTel had to change their phone plans from
'talk all you want.. anywhere across Canada to a limit of 8 hours. They
were losing too much money! I recall someone hiding her phone in the
cupboard above the fridge (it may have been me). It kept her busy for a
few hours trying to figure out where it was every time it rang. She was a
little frazzled but took teasing like a champ..as she could dish it back too.
Darwin decided one day it would be a good idea to buy her a couple of
rabbits from the Fur and Feather show.. just because he 'loved' her so
much. Without hesitation she went straight to the pet store in the mall and
bought him the loudest, most annoying budgie they had in the store. Just
what every farmer needs.. unfortunately I think he regifted the bird to his
mom for her 'enjoyment.'
Every phone call she'd make to the kids began with 'Hi Dear… and end
with 'Bye for 'Now' What we wouldn't do to hear one of those messages
again.
Eileen, you loved your family and friends immensely and have instilled the
importance of that in your children. They couldn't have asked for a better
role model, friend, mother and grandmother.. And Harold won the jackpot
when he chose his life partner and best friend. You will be missed by all
those privileged enough to know you. It's not Goodbye.. Its 'Bye for Now'...
'I Love you More'
Celebration of Life
2:00 pm
Thursday, July 13, 2023
Lashburn Community Hall
Box 25
Lashburn, Saskatchewan, Canada
Online Memory & Photo Sharing Event
Ongoing
Online Event
About this Event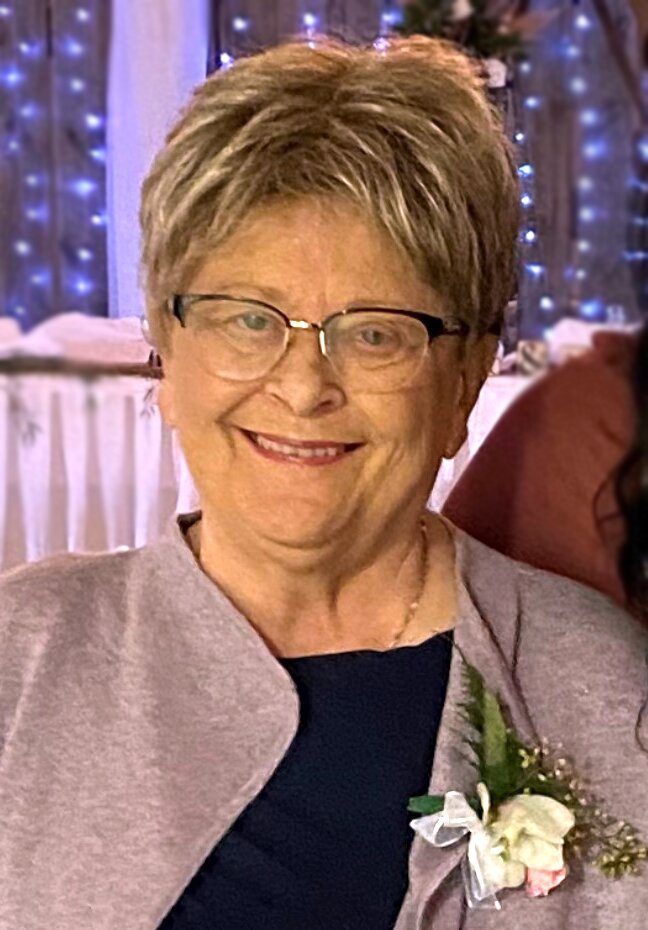 In Loving Memory
Eileen Turvey
1945 - 2023
Look inside to read what others have shared
Family and friends are coming together online to create a special keepsake. Every memory left on the online obituary will be automatically included in this book.
Share Your Memory of
Eileen
5101 - 50 Street
Lloydminster, Alberta T9V 0M2